Tools & Materials
Essentials for a Carpenter's Tool Belt
Keep these core framing tools within close reach.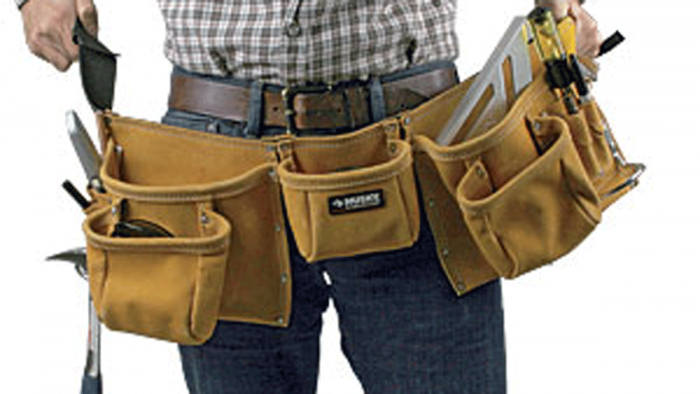 I was recently asked what I thought were the essential tools for greenhorn carpenters and what it would cost to buy them. It's a good question. I have my opinions, but so does everybody else who's been in the trenches. I asked several coworkers who are former carpenters, and we developed a list of core carpentry tools—specifically, the tools that a carpenter needs often enough to keep in a tool belt, itself the first item on the list. I then headed to the nearest home center and bought everything on the list, with the goal of keeping the total under $200.
I got my start in carpentry more than 20 years ago, so although some of my choices are decidedly old school, my emphasis was on high-quality, affordable tools. You should feel free to choose tools based on your budget and on what feels right.
When you go tool shopping, buy good stuff, because there's nothing more frustrating than struggling with bad tools. Assuming you don't lose them, you might still be using some of them 20 years from now.
Don't forget safety gear
While browsing the handtool aisle at a home center, I noticed that relatively little has changed since I outfitted myself more than 20 years ago. One important thing has changed, though: Safety glasses and ear protection are much better than they used to be. I wish I would have listened when people told me to wear hearing protection; my hearing is permanently compromised from noisy equipment and power tools.
| | |
| --- | --- |
| | Safety glasses, $10 Get a pair of both clear and tinted glasses so that you'll be protected in all conditions. If you wear corrective lenses, consider prescription safety glasses (about $200). You'll find it's money well spent when— not if—something happens. |
| | Dust masks, $8/pr. Skip the cheapest dust masks, which offer little protection, and upgrade to a two-strap model with an N95 rating instead. Wear one whenever you're sanding, scraping, cutting pressure-treated lumber, or doing demo. |
| | Hearing protection, $8 Band-style ear plugs, which store around your neck, are always ready—although the plastic band breaks far too easily. Disposable foam plugs work well, but handling turns them gross quickly. Washable plugs are another option ($5), but their 25-db. noise reduction offers less protection. |
Other tools and equipment
| | |
| --- | --- |
| | Cat's paw, $15 Modern Japanese-style cat's paws for pulling nails are a vast improvement over traditional styles. I prefer the style with cat's paws on both ends of the tool, but those with both a cat's paw and a pry or molding bar are equally useful. |
| | Nail sets, $6 You'll want all three common sizes of nail sets for driving nails below the surface in preparation for filling. More expensive versions have color-coded rubber grips, which is nice but not necessary. |
| | 25- or 30-ft. tape measure, $11 On the job site, being able  to measure things that are out of reach is key, so pick a tape with a 1-in.-wide blade for longer standout. The 30-ft. (or longer) tapes are nice, but many are a frustratingly tight fit in a standard tool-bag tape holder. |
| | Utility knife, $4 Retractable utility knives are good for cutting everything from felt paper and housewrap to insulation and drywall. I like this old-school Stanley because it fits in my belt's holder, but models with a quick-change blade ($10) are a worthy upgrade. |
| | Hammer, $28 To me, it matters little whether the handle is wood, steel, or fiberglass, but choose a rip-head hammer over a curved claw. A 20-oz. model with a smooth face is a good general purpose choice. |
| | 3-piece chisel set, $20 More important than the chisel brand is learning how to keep your chisels sharp (see "Building Skills" in FHB #217 and online at FineHomebuilding.com/extras). You'll need only one in your belt for cutting, scraping, and occasional prying, but having a set of 1⁄2-, 3⁄4-, and 1-in. widths should mean that at least one is always sharp. |
| | Chalkline, $8 Chalklines are used for quickly marking long cuts and reference lines. Quick-return chalklines are worth the additional expense when you're snapping long lines like those for wall plates and roof shingles. Use blue chalk when the finished product requires a blemish-free surface; red chalk stains. |
| | Rafter square, $8 Often called a Speed Square, a rafter square is made for marking straight and angled cuts on everything from rafters and joists to trim and siding. Choose one made from thick plastic or aluminum, as thin aluminum versions bend too easily. For another $2.50, you can get a square with a little book filled with rafter tables—probably a good investment. |
| | Pencil, $1 Carpenter's pencils are square so that they won't roll away. Carry two in your belt for when the lead breaks or if you drop one while on a ladder or at another inopportune time. Carry a permanent marker ($1), too. |
| | A two-pouch tool belt, $25 A carpenter's apron is the uniform of the trade and the best way to keep your gear organized and within easy reach. Choose a rig with an easily adjustable belt because you'll have to fine-tune the fit as you add or remove clothing during the day. |
Photos: Dan Thornton
Next:
The Indispensible Rafter Square