Podcast 555: New-Build Questions, Low-Down Lasers, and Drying Behind Tile
The crew talks about concrete used in renewable energy, designing your own home, lasers for low spaces, and drying behind tile.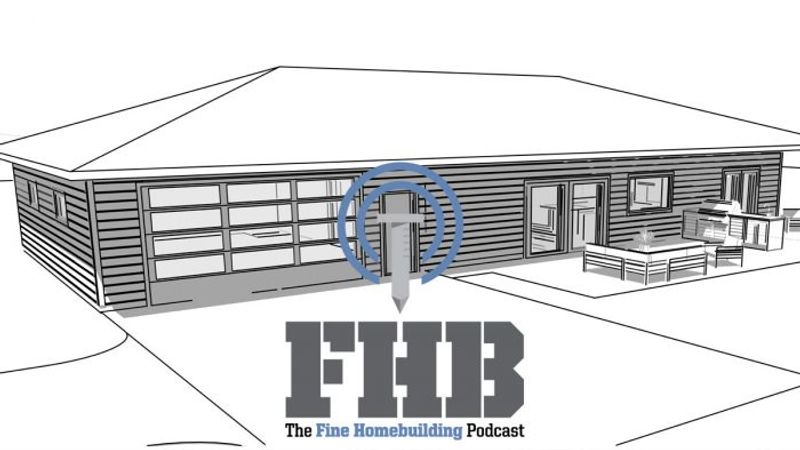 ---
Follow the Fine Homebuilding Podcast on your favorite app. Subscribe now and don't miss an episode:
Help us make better episodes and enter for a chance to win an FHB Podcast T-shirt:
www.finehomebuilding.com/podcastsurvey
Doosadoodle has info on concrete used in large-scale PV installations. Dustin asks about his planned build. Brian needs a laser for low places. Paul asks about drying behind tile with exterior foam.
---
Editor Updates:
---
Listener Feedback 1: On our discussion of concrete used for building renewable energy facilities:
From Dosadoodle on Youtube: For perspective, one solar panel will produce enough energy to save about a 5x5x5 cube of coal (or other fossil-gas equivalent). I've heard panels take ~10% of the emissions they save to produce, so they start with a ~90% savings. So even if each ~300W solar panel takes a cubic meter of concrete—a huge overestimate of any project on a per-panel basis—they still come out ahead of fossil fuels. In reality, it's probably closer to ~5% of a cubic meter of concrete, so we're still looking at about an 80% reduction in emissions.
Related Links:
---
Listener Feedback 2:
Scott writes: Hey podcast crew!
I have a few things I wanted to share after listening to recent episodes.
First, in regards to the future of housing in Episode 545, there was an interesting program the city of Philadelphia was doing for a while called Workforce Housing. The city was sitting on something like 29,000 vacant lots. So they would give a builder a lot if they built on it and sold the home for $230,000 to someone that earned under 120% of area median income.
This did a few things:
-Developed unused lots
-Added starter homes to new housing stock. Builders are incentivized to build large and luxurious. However, the price cap meant these homes were 3 bed, 2 bath, 1500-sq.-ft. starter homes. This is the type of housing that is desperately needed.
-It helped people in the middle, who didn't need grants and assistance, that builders were not building modest starter homes for. Also, the set price meant no bidding wars, just first come first serve.
There is a deed restriction that allows them to sell for only 10% higher each year for ten years (253k year 1, 276k year 2, etc.). This allows this homeowner to realize equity and build wealth, but encourages them to stick around and not "flip" the home. I loved this program as it was a great incentive to build needed housing stock, without being too restrictive.
Second, I wanted to echo the sentiment from Matt in DC from Episode 533 about row houses. We need representation! I live and work as a home improvement contractor in Philadelphia. All of our housing stock here is densely packed row houses. Everything online is so often oriented toward 1950s-1990s 2×4 stick-built homes, and it takes days of digging to find info on homes like the ones I work on. The homes I work on are from the late 1800s, 13-15 ft. wide, with structural brick walls, lime mortar, party walls on both sides, fieldstone foundations, flat-rolled rubber roofs, and horse hair plaster with no insulation. These factors are common in other old homes but typically not ALL together. A fieldstone foundation with a balloon-framed house behaves one way, but can I apply the same control-layer strategy when there is a brick wall on top of that foundation? How about if it's a party wall with conditioned space on BOTH sides? There are so many layers with these homes, and I often can't find content that addresses all of these factors together.
These homes are fantastic, and I think they are a large piece of the housing puzzle (dense, walkable, modest in size, etc.). There are MILLIONS of these homes already densely packed up and down the East Coast, and many of them need some serious help in the coming decades or they will be lost to disrepair. Education on how to work on these homes is crucial. I often feel like these homes are "left behind" in the growing building science conversation. I would love it if FHB found a knowledgeable contributor from Philly/Boston/Baltimore/DC/etc. that knows these homes well to start writing "old row house" specific content.
Also, Patrick, you can easily replace just your roof on a row house. Each brick party wall extends slightly past the roof. You just have to torch down a piece of rubber over this short parapet wall to shed the water onto the main body of each neighbor's roof. The other great thing about these roofs is that you can add a new layer on top without tearing off the old one up to three layers (to code). Throwing down a whole new layer can cost less than $4,000 and last 20 years.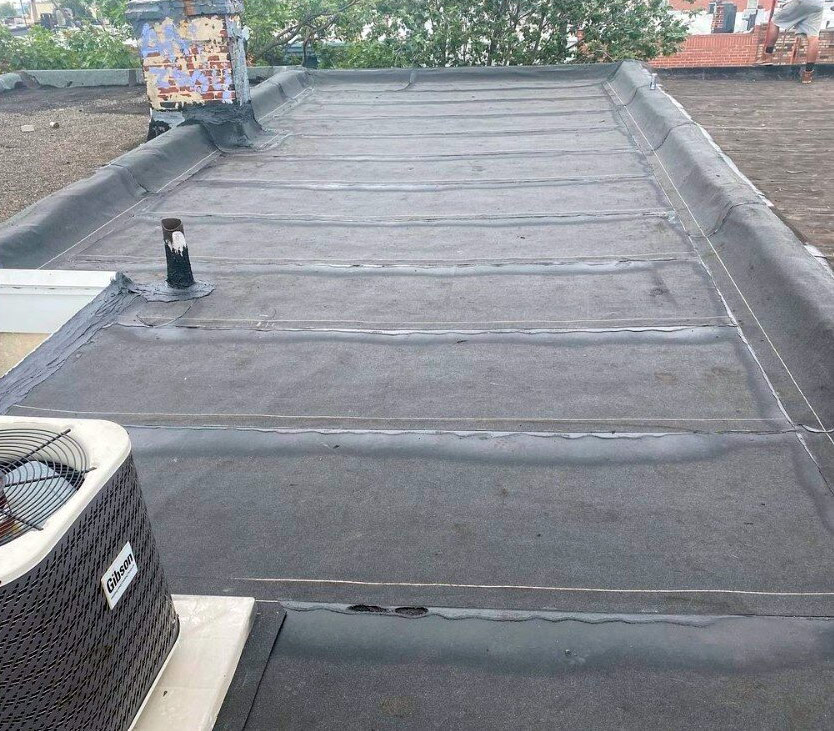 Related Links:
---
Listener Feedback 3:
Dave writes: Hi Patrick and folks!
I forget which episode of the podcast had someone asking about horizontal strapping as it relates to rainscreens, but I have some feedback:
I believe it was Martin Holladay that has cedar shingles over his house with battens every 5 in. creating a rainscreen. As I recall he once spoke about removing some of them and that, many years after the original installation, the battens were still yellow and everything was doing great behind the shingles. I think we might generally overestimate the quantity of water that gets behind siding. If we have enough water getting behind our cladding to cause severe damage, we've likely done something else very wrong!
1a. To my mind the two best things about rainscreens are that they help paint stay on the siding longer and they give our exterior walls a handy space for vapor that accumulates all winter so it can dry in the spring. Maybe the term "rainscreen" is a little misleading… "Ventilated cladding system" is better, but it doesn't exactly roll off the tongue and sounds supremely nerdy, which works for me, and probably you Patrick, but who knows how many glazed-over eyes either of us can handle…
I've used T1-11 ripped width wise (making 4-ft.-long strips) and installed it with the grooves toward the wall. I saw this tip in either FHB or JLC many years ago and thought "well, that's almost too simple to be true!" It's fairly inexpensive and perhaps most important readily available. And it's good practice for young apprentices to learn to use the circ saw safely and efficiently. This material wouldn't work great over rigid insulation, but if you were just installing a rainscreen over housewrap and sheathing, this installs quickly and easily.
That's it for this missive! I always have a gazillion thoughts when I listen to the podcast and a quadrillion questions swirling about my head that I think might make for good radio (so to speak)… but I'll spare you this time!
You all are doing a great job, as ever!
Related Links:
---
Question 1: Do my building plans make sense?
Dustin in Michigan writes: Hi FHB Crew!
I am ramping up to start construction on my own home this spring, and being a long time FHB podcast listener I "had" to run the plans by you and ask some questions.
I will be doing most of the build myself, so the design is simple and easy to build. It is located in the pinky of Michigan (considered a "Cold Climate" by Joseph Lstiburek) on a flat 2.5 acre site that used to be an apple orchard I am hoping to bring back to life.
I will be using Nuduras XR35 ICFs for my exterior wall assembly with LP siding. Heating/cooling will be handled by a 7 Series WaterFurnace forced-air geothermal system and a Zehnder system for fresh-air duties.
Please take a look over the plans I drew and let me know what you think.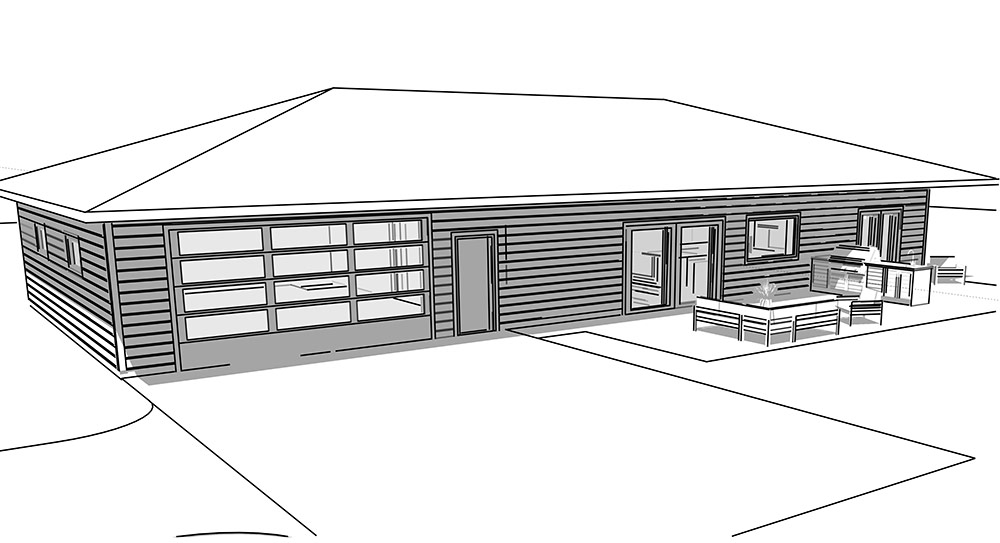 Now the questions:
1: Roof venting: What is the best practice for venting a hip roof with a metal roof? Am I fine with just a ridge vent, or do I need to vent the hips as well? I am also wondering where to place the venting along the southern overhang/soffit. With a 6-ft. overhang do I still vent on the outer edge or closer to the house?
2: Open or enclose the staircase: The forced-air system I will be installing will cover the upper level and basement as it's only two zones. Does it make sense to enclose the staircase to separate the two areas for heating/cooling purposes? I would prefer an open staircase but worry about the basement losing heat to the upstairs in the winter and the upstairs losing its AC downstairs in the summer. Am I overthinking this?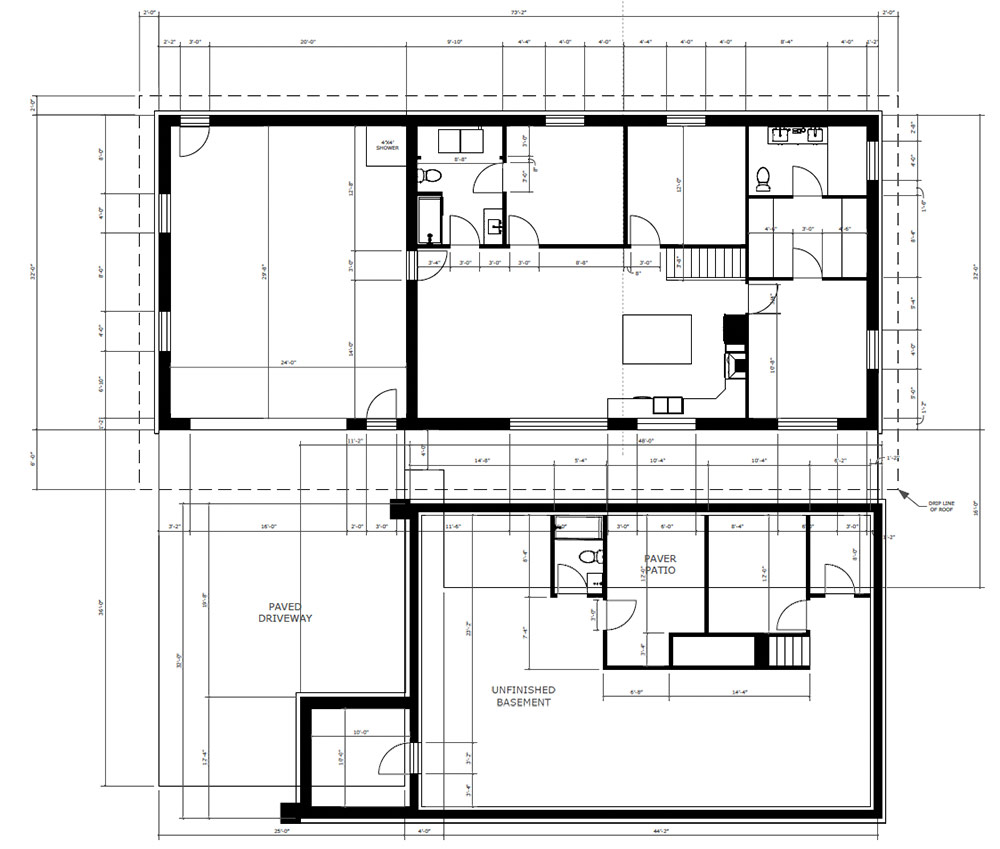 3: Flip Out Window: I have a Flip Out Window spec'd in my kitchen and REALLY like it. I would love to get your feedback on this type of window's performance. I am willing to sacrifice some performance for the functionality of it, but I wonder if the juice is worth the squeeze.
Sorry for the long-winded email. Please feel free to edit it down for the podcast if you would like.
Thanks for all you do!
Related Links:
---
Question 2: Is there a better laser level?
Brian in South Portland, ME, writes: I have a tool question for the pod.
I borrowed a friend's laser level for doing some work in my unlevel basement and ran into an issue a couple of times where the beam on the level was too high, even when just laying the laser on the ground. I wound up creating a jig that allowed me to mark lines below the beam, but that kind of defeats the purpose of a laser.
Admittedly, it was an unusual application with a cheaper-priced unit, but I am wondering if this is something manufacturers have considered, and if anyone makes a model that gets the beam lower to the ground? Some models look like they mount the beam more toward the middle, but it's not something I can get hard numbers on.
Love the pod. Thanks for keeping it going and for answering other questions I've sent in.
Related Links:
---
Question 3: What's the best assembly behind a tiled wall with exterior rigid foam?
Paul in northeast Ohio writes: Hi Podcast team!
I'm in the planning stages for a new master bath in an existing house built in 1981 and located in northeast Ohio. The old master bath will be converted to a walk-in closet once the new bath is finished. That will allow me to work at my usual snail's pace without too much inconvenience or too many divorce-initiating events. Two walls of the bath will be exterior walls, and my question concerns how to handle those walls. The existing exterior walls are ½-in. Sheetrock, 2×4 studs on 16-in. centers, 1-in. rigid foam (EPS I think), a layer of felt paper, horizontal furring strips, and vertical-channel rustic cedar siding. There will be craft-faced fiberglass batts in the cavities. You may have noticed there is no mention of sheathing, because there isn't any conventional plywood sheathing. There may be let-in bracing in the corners, but I don't know because I haven't done any work in a corner as yet.
My preliminary design allows me to avoid any plumbing in the exterior walls, but the side wall of the shower will be on an exterior wall. The shower will likely be solid surface material because easy cleaning is a prime objective for the project. The rest of the bath will likely be tiled at least halfway up the walls. Of course, the solid surface and tile areas will have proper backing and waterproofing behind them.
(Finally, he gets to the question: ) What wall assembly should I use to avoid problems caused by solid surface or tile on the inside and rigid foam on the outside?  Seems to me there is essentially no drying potential in either direction. Is filling the cavities with closed-cell foam the only real option?  If so, I will hold my nose and do it.
Thanks for your advice!
Related Links:
---
END NOTE: Keegan talks about his business, living in Sandpoint, ID
Related Link:
---
END NOTE:
Podcast 555: Members-only Aftershow — Talking with Keegan McAuliffe of Capra Home Concepts
Ian, Keegan, and Patrick talk about running a construction business in Northern Idaho, the many choices when building your own house, and what they wish clients knew about being a contractor.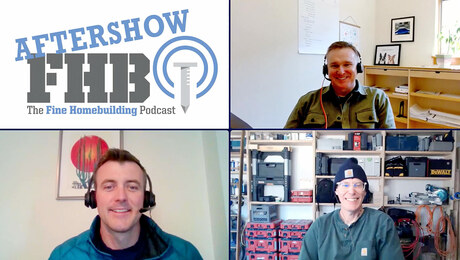 ---
Check out one of our latest Project Guides: Energy Retrofit!

Check out our FHB Houses:

Visit the Taunton Store  •  Magazine Index  •  Online Archive   •  Our First Issues   •  All Access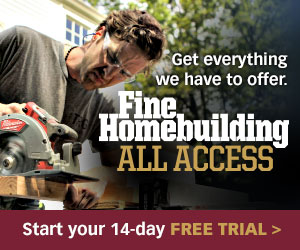 ---
Help us make better episodes and enter for a chance to win an FHB Podcast T-shirt: www.finehomebuilding.com/podcastsurvey
---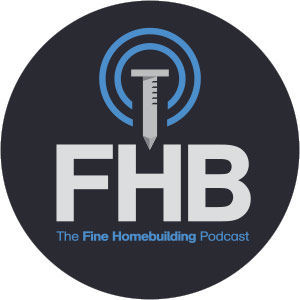 If you have any questions you would like us to dig into for a future show, shoot an email our way:

[email protected]

.
If we use your question we'll send you a FHB Podcast sticker!
---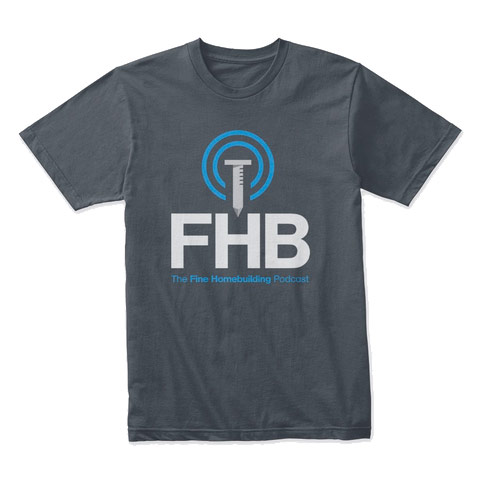 FHB Podcast T-shirts!
Represent your favorite podcast! Available in several styles and colors. Made from 100% cotton. Find the Podcast t-shirt and more cool products in the Fine Homebuilding Store.

---
Fine Homebuilding podcast listeners can now get 20% off anything in the Taunton store, including Pretty Good House.

Use the discount code FHBPODCAST to take advantage of this special offer.

"Finally, knowledgeable people talking about building reasonably-sized, high-performance houses for normal people with real budgets!"
— DanD, VA, 8/19/22, Amazon.com review
---
We hope you will take advantage of a great offer for our podcast listeners: A special 20% off the discounted rate to subscribe to the Fine Homebuilding print magazine. That link goes to finehomebuilding.com/podoffer.
The show is driven by our listeners, so please subscribe and rate us on iTunes or Google Play, and if you have any questions you would like us to dig into for a future show, shoot an email our way: [email protected]. Also, be sure to follow Fine Homebuilding on Instagram, and "like" us on Facebook. Note that you can watch the show above, or on YouTube at the Fine Homebuilding YouTube Channel.
The Fine Homebuilding Podcast embodies Fine Homebuilding magazine's commitment to the preservation of craftsmanship and the advancement of home performance in residential construction. The show is an informal but vigorous conversation about the techniques and principles that allow listeners to master their design and building challenges.
Other related links