How-To
Adequate Roof Venting
Builder Mike Guertin gives sound advice on gable, ridge, and soffit vents.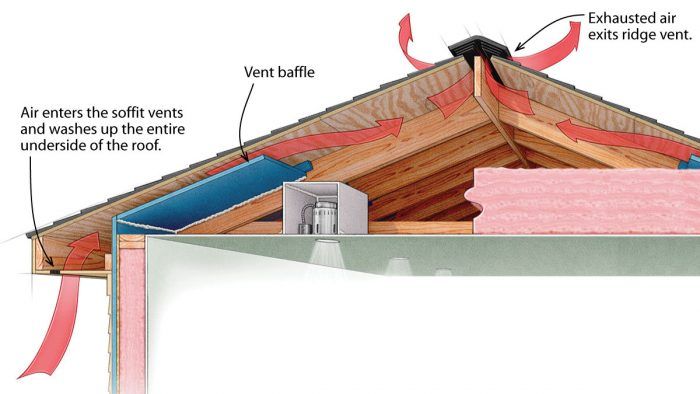 Q:
I am having the shingles replaced on the roof of my ranch-style house. The roofer is concerned about attic ventilation and recommends installing a ridge vent and closing off the existing gable vents. He also says that the rectangular metal soffit vents may not be adequate and recommends installing more to eliminate the risk of the roof sheathing rotting. There are five vents in each soffit, and they measure about 4 in. by 16 in. each. Is it necessary to close off the gable vents? If so, how can I do that? Do I have to remove them and fill in the void with siding?
And how do I know how many soffit vents to install?
Mark Villar, Middletown, CT
A:
Editorial Adviser Mike Guertin replies: If the roof sheathing hasn't begun to rot already, it's unlikely that replacing the roof shingles will cause it to occur. Still, it's a good idea to address ventilation to reduce attic heat in the summer and to reduce the chance for ice dams in the winter.
Most likely, the roofer is recommending closing off the gable vents when adding a ridge vent to prevent short-circuiting of the air. When gable vents are left open, air can enter through the gables and bypass the soffit vents. If air flows in through the gables and out the ridge vents, the entire roof doesn't receive the full effect. The air isn't entering through the soffit vents, traveling up the underside of the roof, and exiting through the ridge vent. You don't have to remove the gable vents, though. Just screw a piece of rigid foam or plywood over the vent from the inside. When the siding is replaced, the old gable vents can be removed and the openings filled.
The standard equation for older homes that don't have air barriers and vapor retarders (now required) is 1 sq. ft. of vent area for every 150 sq. ft. of attic floor. If your house is 26 ft. wide by 48 ft. long, you have a 1248-sq.-ft. attic floor and need 8.32 sq. ft. of total vent area. If, however, the attic floor has been air-sealed and has a vapor retarder between the inside of the house and the attic, the equation is 1 sq. ft. of vent area for every 300 sq. ft. of attic floor.
Ideally, this 8.32-sq.-ft. total vent area is split: 4.16 sq. ft at the ridge and 4.16 sq. ft. at the soffits. Each type of vent has a range of effective vent area per linear foot—this is called the net free vent area (NFVA). Ridge-vent NFVA ranges from 14 sq. in. to 18 sq. in. per lin. ft. (Check manufacturers' instructions for the ratings of specific products.) If 46 ft. of ridge vent (often it does not extend to the ends) is installed and the product has an NFVA of 15 sq. in. per lin. ft., we can take 46 ft. and multiply it by 15 sq. in., which equals 690 sq. in. Converted to square feet (690 divided by 144), the total is 4.8 sq. ft. This ridge vent supplies 4.8 sq. ft. of NFVA, which is just over half of 8.32 sq. ft.
You can't have too much soffit venting, but it's worth noting the minimum requirements. Usually, 4-in. by 16-in. soffit vents are rated for 26 sq. in. of NFVA each. With a total of 10 vents, you have a total of 260 sq. in. (1.8 sq. ft.) of soffit-vent area. Since you need at least 4.16 sq. ft. of NFVA, you'll need to add 14 more of the 4-in. by 16-in. soffit vents (for a total of 4.3 sq. ft. of NFVA in the soffits). If the soffits are wide enough, you can remove the existing vents and replace them with 8-in. by 16-in. vents, which provide 65 sq. in. of NFVA per vent. With 10 of these large vents, you'll end up with a more adequate 4.5 sq. ft. of NFVA in the soffits.
From Fine Homebuilding #257, pp. 80-81, January 6, 2016
Previous:
A Crash Course in Roof Venting
Next:
Attic-Ventilation Strategies