Tools & Materials
Use a Press Tool for Plumbing Connections
The Milwaukee M12 press tool has become a popular alternative to soldering copper for plumbing connections.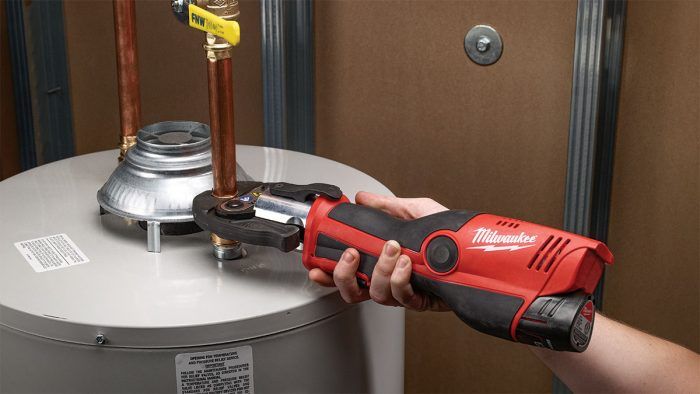 We've all heard the phrase "Time is money." When it comes to plumbing, truer words have never been spoken. As with so many other industries, technology has changed the plumbing world. At the company I work for, Erik Nelson Plumbing in Minneapolis, the Milwaukee M12 press tool has almost completely replaced soldering copper for plumbing connections. As a third-year apprentice, I have seen soldering done only twice on job sites; that's because using a press tool is faster, easier, and safer.
Soldering is a skill that requires a lot of practice to perfect. By contrast, using a press tool is intuitive. Being able to make connections with a press tool has given me a ton of independence as a plumbing apprentice. After only a handful of times watching this tool being used by a journey-level plumber, I was able to use it solo, with little supervision. I found that the most important thing to remember is to make sure the fitting is fully made up, meaning the pipe is completely bottomed out into the fitting. When this is done, you are almost guaranteed to achieve a long-lasting connection.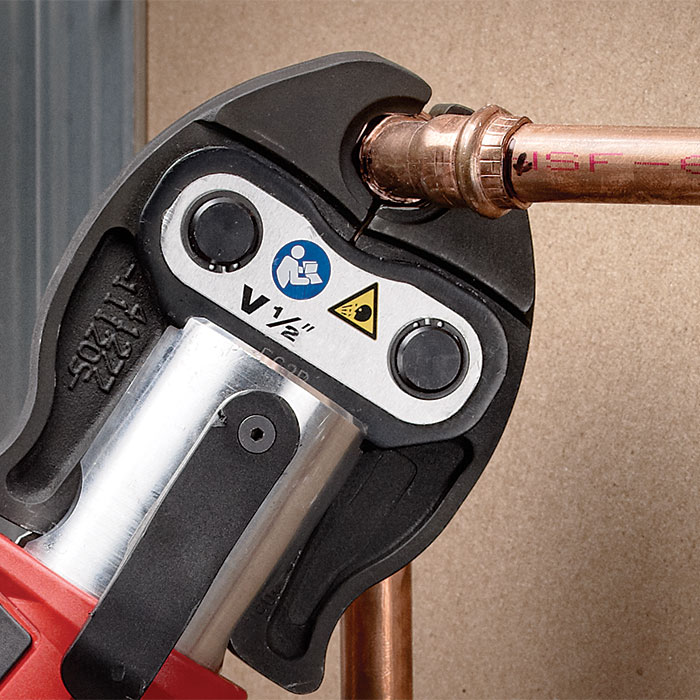 Milwaukee advertises that using a press tool is 50% faster than soldering, which in my opinion may be an understatement. And there are a few more advantages press fittings have over soldered connections: In order to achieve a leak-free soldered connection, the pipe has to be completely dry, which can take a long time and sometimes is nearly impossible. Soldering also requires an open flame, which presents its own hazards. In addition, some soldering flux can give off toxic fumes and may introduce undesirable chemicals into water supply lines.
The initial investment in a press tool is significant—the M12 press tool kit, which includes the tool, a battery and charger, and jaws for 1 ⁄ 2-in., 3 ⁄ 4-in., and 1-in. copper, costs around $2300. There is also a 1-1 ⁄ 4-in. copper jaw and a PEX jaw available separately. This tool weighs just 3.8 lb. and is able to get into tight spaces, but if you work on larger commercial jobs often, it might make more sense to invest in the M18 version, which has jaws that can handle fittings up to 4 in. After the initial investment in the tool, there is also the cost of the fittings. Supplyhouse.com sells Viega 1 ⁄ 2-in. press 90° fittings for $2.79 each, versus $0.61 each for Elkhart 1 ⁄ 2-in. 90° solder fittings. But while the tool and fittings are expensive, I believe the extra cost is outweighed by how much more efficient and user-friendly a press tool is.
As I continue with my apprenticeship, I hope to master the art of soldering, as I'm sure there will be some situations where it's needed. Until then, however, I'll be using the M12 press tool.
—Carly Carey, a plumber in Minneapolis.
Photos: courtesy of Milwaukee
From Fine Homebuilding #316
---
RELATED STORIES