Podcast 602: Customer Communication, Foundation Insulation, and Competent HVAC Design
The crew hears from listeners about EV charging, aging in place, and dowsing. Discussion questions include customer communication, covering exposed foundation insulation, and HVAC design.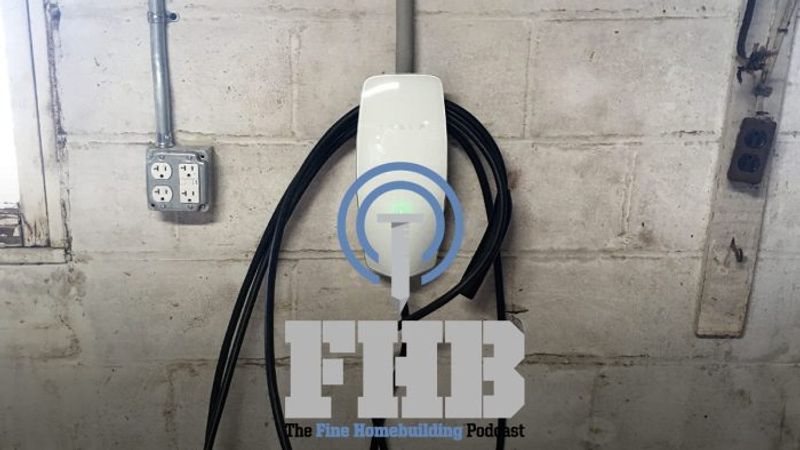 ---
Follow the Fine Homebuilding Podcast on your favorite app. Subscribe now and don't miss an episode:
Help us make better episodes and enter for a chance to win an FHB Podcast T-shirt:
www.finehomebuilding.com/podcastsurvey
David emails about EV charging at home. Doug suggests elevating your dishwasher. Paul says dowsing works. Michael asks about communication breakdown between builders and clients. Dan needs a way to cover above-grade foundation insulation. Justin can't find a good HVAC contractor.
---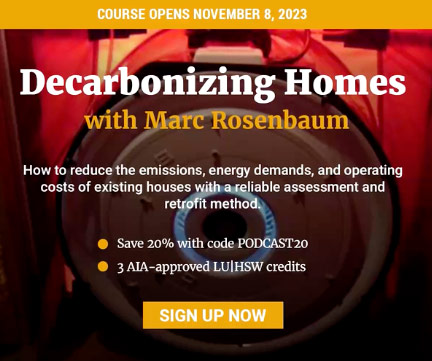 We've created a custom eLearning coupon for podcast listeners – code: PODCAST20
The Sustainable Home Building Accelerator
This intensive, interactive online series of courses is designed to rapidly advance your knowledge of sustainable home design and construction. Whether you're an architect, builder, or a homeowner, we'll give you the information and confidence to design and build well-crafted, practical homes that maximize performance and comfort.
Over 11 hours of video. AIA Approved 10 HSW/LU Credits. Resnet 10 PD Credits.
When you purchase all three courses, you'll receive access to a year of GBA Prime as well as a copy of the Pretty Good House book!
Remember the code PODCAST20 for any Fine Homebuilding courses.
Editor Updates:
Ian: Open house, Dack visit
Jeff: New water heater
Brian: Energy audits
---
Listener Feedback 1:
David writes: Hello All,
I'm writing to provide some input on home EV charging, which was mentioned in podcast 597. I was actually reattaching some clapboards and painting my house when I heard Patrick's plea for help! For the first time, I actually have something to offer the show!
Here is my short answer for those who want a little guidance but not all the details:
Without a doubt, where and how I charge my EV is the main question I get about EV ownership. You don't go to the "electric station" like you go to a gas station with an Internal Combustion Engine (ICE) car. When you buy an EV, I'd suggest that you at least get a "mobile charger," more correctly described as electric vehicle supply equipment (EVSE) that plugs into a standard wall outlet. That will meet most American's needs most of the time (40 miles per person per day).  If you have a long commute, live in a rural area, or are just nervous about the wall outlet giving you enough power, install a L2 charger, hard-wire it, and set to charge at 40 amps continuous (or higher if your vehicle accepts a higher amperage). You can then keep your L1 charger in the car for the occasional road trip. If you have an electric truck, do some more research on what power it can accept and consider buying a charger with larger limits (e.g. Ford's 80 Amp charger) so you can go from 0% – 100 % overnight or take advantage of Time of Use (TOU) rates if available.
One recommendation with a plug-in EVSE is to make sure you don't skimp on the outlet. As I understand it, you want the weakest part of your circuit to be the circuit breaker, but some in the owner forums are finding it is their NEMA 14-50 outlet. A $40 difference in outlet costs seems quite affordable when compared to being responsible for a "thermal event" in a client's home I imagine? Here are a few outlet options I pulled from the Home Depot website. Looks like the main difference is the outlet material, which should have different melting points and be able to accommodate more continuous current and heat buildup.
Another word of caution when using wall outlets or plug-in EVSEs are "nuisance trips." I imagine a real electrician could talk through this better than me, but many (all?) EVSEs have their own internal grounding and protection. So if you use them in combination with a GFCI or AFCI circuit, you can get nuisance trips where there isn't anything necessarily wrong but the breaker trips. The advice I've seen is to use "dumb breakers" and allow the EVSE to manage its own protections.
Related Links:
---
Listener Feedback 2:
Doug writes: In the Aftershow discussion of Mike's "forever" home he talked about the changing needs as we get older. When we were planning the home I ultimately built in Colorado, we read a lot of books on aging in place and went to home shows several times. One idea we picked up at a home show was from a remodeling contractor who specializes in accessibility. He always raises the dishwasher a foot off the floor. I did this on our new home and it makes loading and unloading much easier. Since I was building all our cabinets it was no big deal, but with a little creativity it can be done with stock cabinets. The raised section of counter provided a perfect place to put our microwave at eye level.
We have friends who really liked this feature and asked for it when they were having a new home built. Their architect said he had never heard of such a thing so they are stuck bending over more.
It's impossible to think of everything but we can try,
Doug
Related Links:
---
Listener Feedback 3:
Paul writes: Afternoon Patrick & crew,
I was out in the shop de-nailing 70-year-old Douglas fir studs to mill into wood countertops to replace the awful laminate currently in place in my kitchen. As is usually the case when I'm doing boring menial work, I had the FHB Podcast going to ease the labor. When dowsing came up, I walked right out to write this email.
If the inestimable Mike Guertin's testimony didn't sell you on the merits of dowsing, let me offer this:
I learned how to dowse from a ranger at the Scout camp at which I worked for many years. This ranger (Steve Jaeger, if you're listening) used two L-shaped brass rods, held loosely, pointing forward. When you went over a water line, they would swing to point in opposite directions, parallel with the water line. He had another trick with a mayonnaise jar with a washer hanging from a string, and the washer would swing and tap the jar for how many feet down the line was (how a washer in a mayonnaise jar knows to calibrate in feet instead of inches, I have no idea). Steve taught many of the youth working with him how to dowse (useful since we were seemingly always tracking down broken underground waterlines). The skill was teachable, but if you didn't have it then you just didn't have it, and no amount of practice would help you find water. Interestingly, if someone who didn't have it tried dowsing while a dowser's hand was on their shoulder, it worked for them, but take the hand away and it didn't work. For some people, when they cross a water line the rods make an X and you then have to find another spot and connect the dots. This seems to be the result of how it worked for the person who taught you. We later found we could find electrical lines and gas lines too—anything linear was easy. We could even find people, though this was harder.
Why does dowsing work? Haven't a clue. But it works, and it's saved me from a lot of unnecessary digging over the years.
Thanks for indulging this trip down memory lane,
Great work on the pod as always,
Paul
---
Question 1: Do you have any pointers for communication with customers?
Michael writes: Hi Patrick,
I'm teaching a course at UMass Amherst in the Building Construction Technology Program (BCT 220- Communicating Building Science and Sustainability). This course is dedicated to expressing the sometimes complex building science/sustainability topics that we have to explain to stakeholders and customers.
Could you and/or the FHB crew provide any pointers/tips to the class for communicating well with stakeholders and customers? I like what Ian said a few weeks ago when he stated something to the effect of our customers not being "professional customers," which clearly shows the importance of explaining options and potential investments.
Specifically:
Can you share a case study of where there was a communication breakdown and what could have been done to prevent that?
When did you experience exemplary communication with the customer/stakeholder, and how can we replicate that?
Are there any job-site specific communication issues our students should prepare for—good or bad?
Thanks for all that you and the FHB crew do. The magazine and the Taunton Press in general are constant sources of reference for the class. Also, I'm offering extra credit to any of the students who go to Touch-a-Trade in October and create a document that includes a "key image" and description of what they experienced.
My daughters and I will see you at Touch-a-Trade in October as well. Thanks in advance.
Respectfully,
Mike
Related Links:
---
Question 2: How can I cover exposed exterior foundation insulation?
Dan writes: Hi FHB podcast,
Do you know of any durable and decent-looking cover systems for exterior foundation insulation?
I'm building a small wood-framed structure on a concrete foundation in Massachusetts, where the new energy code with local amendments requires either very thick walls or continuous insulation. We are choosing continuous exterior wall insulation to avoid very thick walls because interior inches are precious. To ensure the foundation insulation is continuous with the wall exterior insulation and we avoid thermal breaks, we will also apply rigid insulation to the exterior side of the foundation. So, we will at least meet code insulation values and probably exceed them.
The problem we are facing is how to cover the exposed foundation insulation. Do you have any experience with materials to do this? Yes, appearance matters, but durability is key, as the foundation is next to rental apartments and will be very close to high-traffic pedestrian walkways and subject to abuse such as snow removal, deliveries, and movers.
I'm a long-time listener that always appreciates the wide-ranging subject matter, enjoyment of building topics, culture of learning, and sometimes ridiculous comedy on the show.
Thanks, Dan
Related Links:
---
Question 3: How do I find a good HVAC contractor?
Justin writes:
Hi FHB Podcast Crew,
I love the show and all the nerdy details. I am a project manager and owner's rep for new builds and rehabs for a small affordable housing non-profit in Minnesota (cold climate zone 6 and soon to be 5 as our climate warms). Anyway, I am curious how you suggest handling HVAC load calculations and Manual J calculations. I require Energy Star on some of my projects, which also requires Manual J calculations. Very few HVAC contractors know how to do these calculations, and they usually are provided at the end of the project, which defeats the purpose. So the system that was installed does not reflect the Manual J heating loads that were calculated. It's very frustrating. Even on simple new builds I will compare the HVAC-contractor-supplied heat loads and heat gains (cooling loads) to the system they provide or the equipment rather than compare that to the calculations provided by Energy Rater. Here is an example of a recent project:
HVAC-provided heat load 42k Btu
HVAC-provided cool load 19k Btu
Actual equipment installed: gas furnace 60k Btu
Actual Electric Condensing AC: 2 ton
Energy Rater-provided heat load: 20k Btu
Energy Rater-provided cool load: 8k Btu for north-oriented Unit; 9k Btu for south-oriented unit
Notice how the cooling loads were differentiated by orientation (this was a twin home with the majority of the windows facing either north or south).
How do you find a competent HVAC contractor? These examples were experienced in working with our market's two largest HVAC contractors.
Thank you and keep up the good work!
Justin
From Chris Hughes, Business Development Manager for TEC
I wish there was a simple answer to this one, but unfortunately there is not. Spend some time vetting an HVAC contractor that you can depend on every build.
HVAC design process:
The first step is the Manual J. This is the process in which the HVAC contractor or designer models the expected build for heat loss in the winter and heat gain in the summer. It's very important that items like the windows' solar heat-gain coefficients (SHGC) and U-Values are correct, along with all the other R-values of the structure. This should all be handed over in a detailed report from the Manual J. Everyone today does this with software, so this is not a big ask for information. It's important to notice what the designer has used for internal gains (people, appliances loads, etc). In residential, the standard practice is to total up the bedrooms and then add 1 extra person. 
The second is the Manual S. This is the process of selecting the equipment for the design. All equipment is not created equally! One brand may have a nominal 3-ton that produces 34,000 BTU/h, while another brand might only produce 31,000 BTU/h. Some of the load-calculation software will have an option to auto-select equipment that matches the Manual J. Other software programs do not, which requires the designer to look up the expanded performance data of the equipment.  
The third is the Manual D. This is the process of designing the ductwork based on the Manual J and Manual S. This is often the step that gets the least attention to detail, but it will make a very large impact on how the system performs.  
The fourth is the Manual T.  Manual T is process of selecting grilles and diffusers that are needed for the right amount of air-mixing for the space.  
Finding an adequate HVAC contractor:
When searching for an HVAC design contractor, I would have a lengthy discussion about the Manual J, D, S, T process  described above and see if the contractor has a high level of competence in the topic. Second, I would ask for two examples completed by the company and request to speak to their clients about their experience.
Completing an HVAC design:
I recommend using one of the top three companies for completing a load calculation (KwikModel 3D, Wrightsoft, Elite Software). These three programs are ACCA approved, meaning that they have had to go through a vetting process to be accredited. There are some other programs, but none that I have enough experience in to give good advice. It would be in anyone's best interest to get formal training in one of these programs to be able to complete their own design.  
Quality trainings that I am aware of are:
Wrightsoft: Meanhvac.com is a great place to learn Wrightsoft. Alex Meaney is the trainer and very experienced!
KwikModel 3D: Russ King (the company owner) posts free training videos on YouTube.
Elite Software: The National Comfort Institute (NCI) is an HVAC-training organization that trains techs in the field, and I believe they are launching a new class that teaches Elite. 
Extra info needed around this discussion:
First, it cannot be stressed enough that no matter who performs the Manual J, D, S, T process someone at the end of the install commissions the job—meaning that a checkout process is followed.  
Below is a link to a video hosted by ACCA that describes the Standard 310 residential commissioning process. This is a great process that should be the minimum of work done at the end of every install to make sure that the design is working as designed.
Second, it's very important that the builder have an air-tightness number that the company expects to hit. This number should be relayed to the HVAC designer for the Manual J portion of the design. The Energy Conservatory has a website with air-tightness training as well as HVAC training.

Related Links:
---
END NOTE:
Podcast 602: Members-only Aftershow — Developing Budgets for Building Projects
Discussion about figuring out your soft costs, what a comprehensive budget includes, and resources for improving your business processes.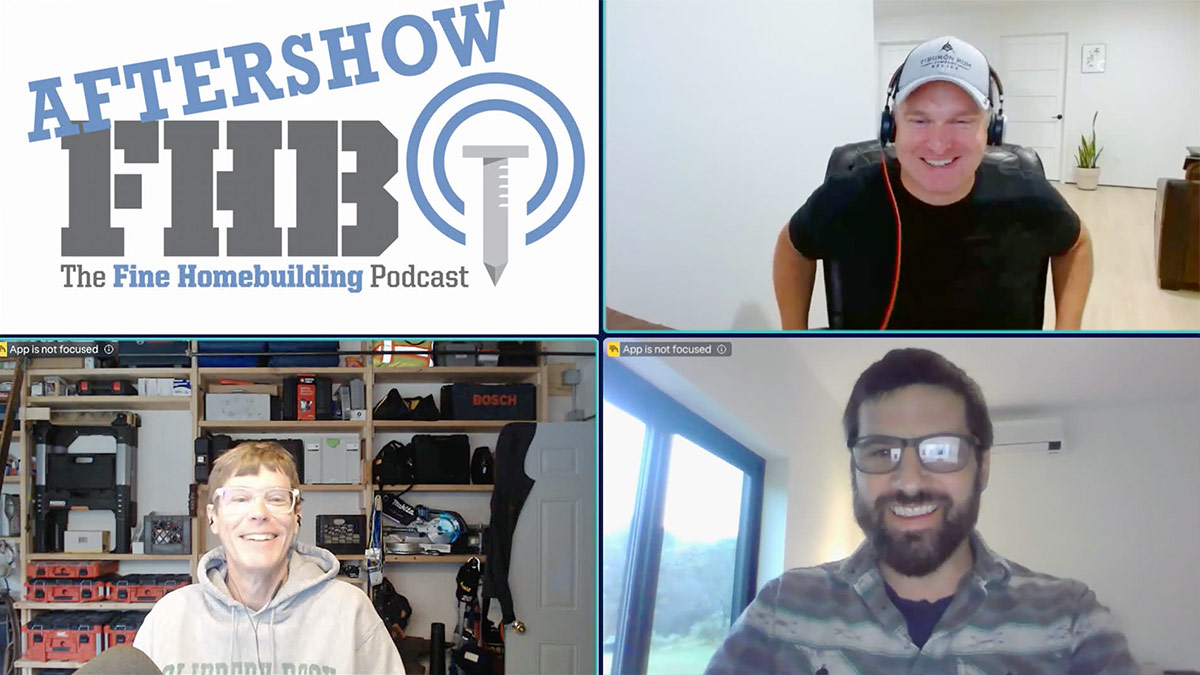 ---
This episode of The Fine Homebuilding Podcast is brought to you by Loctite's PL Premium Max

Say no to outdated and run down, say yes to projects that last with Loctite's PL Premium Max construction adhesive.
Indoor or out, PL Premium Max is our toughest construction adhesive. It can be applied in all weather conditions and bonds to any common building material.
Whether you're framing a custom home, upgrading to granite counters, or fixing up your latest flea market find, PL Premium Max is the right adhesive for the job.
Say yes to a second chance. Say yes to Loctite.
Visit Loctiteproducts.com for more information.
---
Check out one of our latest Project Guides: Energy Retrofit!

Check out our FHB Houses:

Visit the Taunton Store  •  Magazine Index  •  Online Archive   •  Our First Issues   •  All Access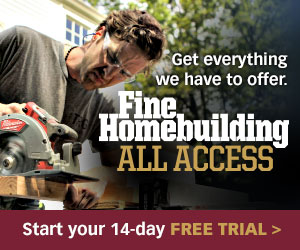 ---
Help us make better episodes and enter for a chance to win an FHB Podcast T-shirt: www.finehomebuilding.com/podcastsurvey
---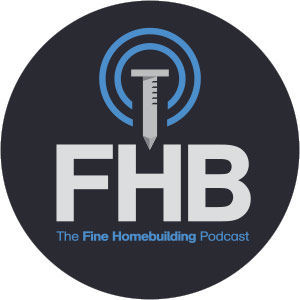 If you have any questions you would like us to dig into for a future show, shoot an email our way:

[email protected]

.
If we use your question we'll send you a FHB Podcast sticker!
---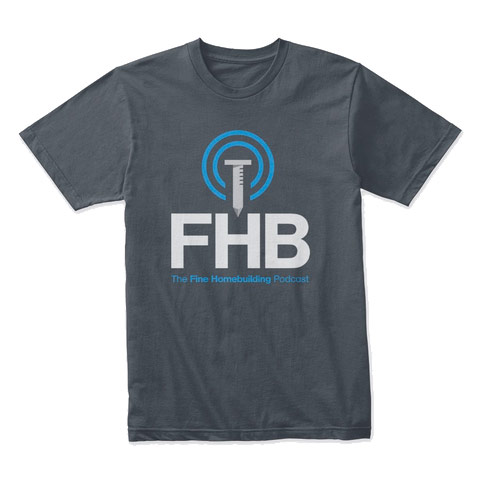 FHB Podcast T-shirts!
Represent your favorite podcast! Available in several styles and colors. Made from 100% cotton. Find the Podcast t-shirt and more cool products in the Fine Homebuilding Store.

---
Fine Homebuilding podcast listeners can now get 20% off anything in the Taunton store, including Pretty Good House.

Use the discount code FHBPODCAST to take advantage of this special offer.

"Finally, knowledgeable people talking about building reasonably-sized, high-performance houses for normal people with real budgets!"
— DanD, VA, 8/19/22, Amazon.com review
---
We hope you will take advantage of a great offer for our podcast listeners: A special 20% off the discounted rate to subscribe to the Fine Homebuilding print magazine. That link goes to finehomebuilding.com/podoffer.
The show is driven by our listeners, so please subscribe and rate us on iTunes or Google Play, and if you have any questions you would like us to dig into for a future show, shoot an email our way: [email protected]. Also, be sure to follow Fine Homebuilding on Instagram, and "like" us on Facebook. Note that you can watch the show above, or on YouTube at the Fine Homebuilding YouTube Channel.
The Fine Homebuilding Podcast embodies Fine Homebuilding magazine's commitment to the preservation of craftsmanship and the advancement of home performance in residential construction. The show is an informal but vigorous conversation about the techniques and principles that allow listeners to master their design and building challenges.
Other related links