Podcast 600: Humidity Control, Pergola Footing, and Primer for New Drywall
The crew hears from listeners about LED lights, pergola footings, PVA primer, and overly complicated HVAC.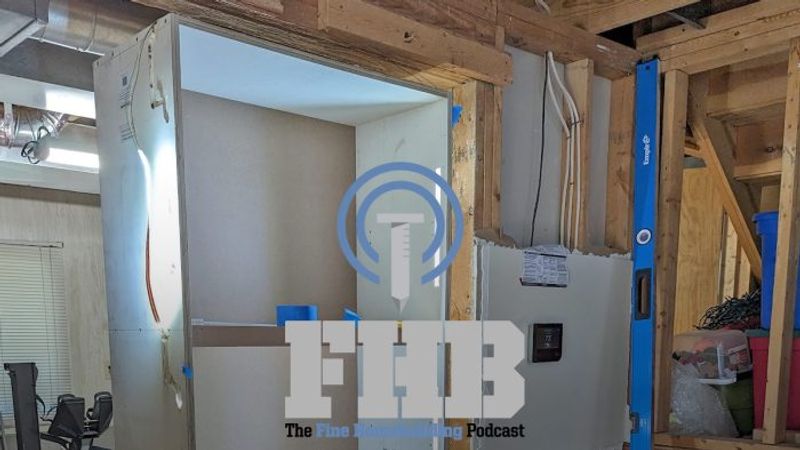 ---
Follow the Fine Homebuilding Podcast on your favorite app. Subscribe now and don't miss an episode:
Help us make better episodes and enter for a chance to win an FHB Podcast T-shirt:
www.finehomebuilding.com/podcastsurvey
Nic and Carson have thoughts on LEDs. Phil asks about self-stick underlayment on Zip System roof sheathing. Buzz wants to add a shade structure over his paver patio. Knot Painter asks about priming new drywall. Mark is trying to lower his home's humidity.
---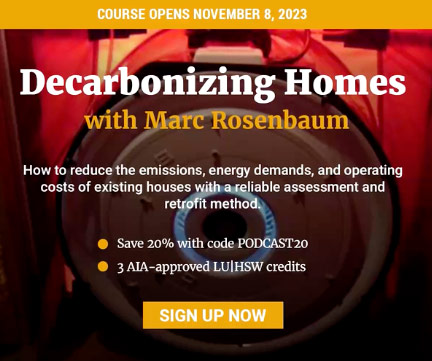 We've created a custom eLearning coupon for podcast listeners – code: PODCAST20
The Sustainable Home Building Accelerator
This intensive, interactive online series of courses is designed to rapidly advance your knowledge of sustainable home design and construction. Whether you're an architect, builder, or a homeowner, we'll give you the information and confidence to design and build well-crafted, practical homes that maximize performance and comfort.
Over 11 hours of video. AIA Approved 10 HSW/LU Credits. Resnet 10 PD Credits.
When you purchase all three courses, you'll receive access to a year of GBA Prime as well as a copy of the Pretty Good House book!
Remember the code PODCAST20 for any Fine Homebuilding courses.
Editor Updates:
Brian: Grass seed and heavy rain
Ian: LVT flooring and deck stairs with curves
Patrick: Thoughts on 600 episodes
---
Listener Feedback 1: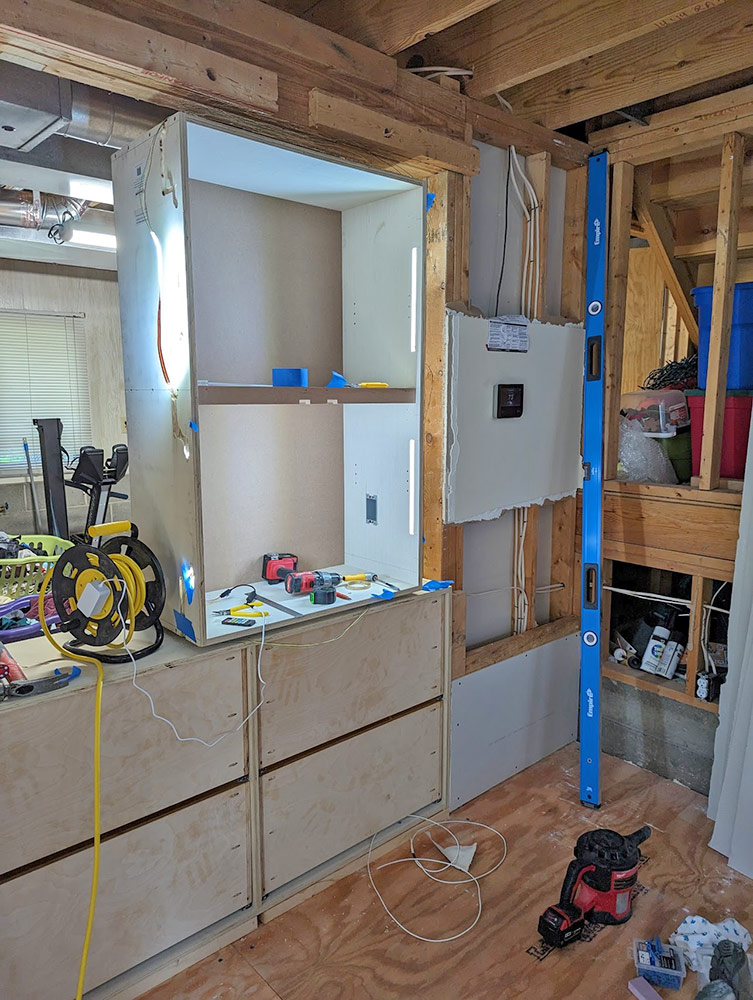 Nic in Columbus, Ohio, writes: Hey FHB Podcast crew!
LED strip lighting has come up in a few recent episodes, and I agree with everything you've been saying. It's hard to figure out, all the components are different, there's not a single great source of info, and it opens up SO much potential for amazing lighting.
All of this discussion comes right when I've started my own LED strip project in some built-ins I'm making for our living room renovation. I'll attach a photo of my haphazard and incomplete attempt.
Not sure how open you are to working with a YouTuber for this kind of thing, but there's a channel called "The Hook Up" that I've found to be a wealth of info on LED strips (and plenty of other home automation projects). He's got a very good focus on regular home lighting, not on turning your rooms into Twitch gaming streamer dens. You might find a good relationship available there, since you've mentioned needing more info on home automation as well.
Good luck! Thanks for all you do. It's always inspiring.
Related Links:
---
Listener Feedback 2:
Carson from Oregon writes: Hi FHB crew,
I found your discussion of low-voltage lighting very illuminating. I had similar issues with what you described. Electricians generally didn't want to touch it, and when I found some that did, others in the same company refused to install them. I'm using multiple types of low-voltage lights inside and outside my home, generally landscape/deck lights that are also usable indoors (after checking with the manufacturer). This allowed me to run low-voltage wire through and on top of timbers in my timber-frame build. No routing electrical boxes or mounting them above the beams; I can just surface-mount them.  Transformers are put in closets (see pictures attached). The world of low-voltage lighting is confusing. Many are actually monopoint track lights but still require 120v to the single-track point. Do not expect local lighting shops to be of much help here.
Related Links:
---
Question 1: Do I need to use peel-and-stick underlayment with the ZIP System?
Phil writes: 
Sooo…after getting many of us accustomed to shingling right over Huber ZIP System on roofs (no tar paper or other underlayment), this past year Huber has now started selling/recommending a whole-roof peel-and-stick product. What gives?
Should those of us who followed their previous recommendations now lose sleep because there was a need for the additional membrane?
This ties into your whole discussion of whether or not whole-roof peel-and-stick is a good idea or not. It certainly would seem to make the chance of a "standard" roof leak in the field pretty much zero. Valleys and flashing and penetrations are, of course, another matter.
Thanks for you lively weekly discussions!
Phil
Patrick reached out to Chris Cook, Content Marketing Manager at Huber Engineered Woods:
Great questions. Long story short:
Offering the ZIP peel-and-stick underlayment (PSU) allows the builder to basically select the level of protection they want to fit their job requirements and budget.
 Examples:
Full ZIP PSU roof over ZIP sheathing and tape. Highest level protection and most expensive.
ZIP sheathing and tape with ZIP PSU at eaves, valleys, and transitions. Excellent protection and mid-priced.
ZIP sheathing and tape without PSU. All the benefits of a sealed roof deck and great protection. Lowest price option.
 The primary purpose of the product is to be an ice barrier, but it can be used as a full-roof underlayment over ZIP System sheathing or regular OSB or plywood, if the builder or designer wants more protection or if the roof covering calls for it.
Thanks, Chris 
Related Links:
---
Question 2: What's the best way to add a pergola to an existing paver patio?
Buzz from Cincinnati writes:
Checking back in with you guys. You answered one of my previous questions about the feasibility of ground-level decks. I took your advice and built a paver patio. It's been a wonderful addition to the backyard, and we use it all the time.
Unfortunately, I didn't dig any footers for a future pergola, and now we would like some sort of shade structure over the patio. Are there any setups that would have a clear span of 26 ft.? I don't particularly want to tear up the existing 24-ft.-long patio for middle supports. If I couldn't have a clear span that long (which seems likely), do you have any recommendations for cantilever pergola plans or shade-sail setups? I'm in Cincinnati, so it will have to deal with some small amounts of snow.
Thanks, Buzz
Related Links:
---
Question 3: What's the best primer for new drywall?
Knot Painter writes:
I've always been told that PVA primer is the right first coat for new drywall. I've found its hiding ability lacking, and it's among the cheapest primers out there. Is there something better we should be using on new drywall to prepare it for a top coat? Besides cost, is there any reason you shouldn't use something like Fresh Start on new drywall?
Related Links:
---
Question 4: How can I lower humidity with my energy-efficient—yet complicated—HVAC system?
Mark in Saint Cloud, Minnesota, writes: Hi guys and gals,
I've been listening to most episodes of the podcast for a few years now and have been an on-again, off-again subscriber to the magazine over the years. As a homeowner that tries to DIY as many things as I can, I really enjoy the product all of you work so hard to put out.
My wife and I moved last year from the house I (and my first wife) had built in 1985 in the Twin Cities metro area to a spec house built in 2021 about an hour north of the Twin Cities. The 1985 house was a two-story with a basement walk-out—a  "starter home" built to the typical mid-'80s standards with a simple single-zone, forced-air furnace and air conditioning and no mechanical ventilation. The 2021 house has a tankless combination boiler delivering in-floor hydronic heat and domestic hot water, with a forced-air furnace and central air conditioning, along with a mechanical, heat-recovery ventilation system. This house is a single-story design, built on a slab, with a natural-gas fired, ceiling-mounted heater in the finished and insulated garage.
I have been through all of the user manuals and installation manuals for the boiler, the furnace and air conditioner, the furnace/AC programmable thermostat, the four in-floor hydronic thermostats (all the same model), the HRV, the HRV's dehumidistat wall controller, and the bath fan that one of the two bathrooms uses. The other bathroom utilizes the HRV system as an exhaust fan. The house also has a passive radon-mitigation system installed (as I believe all homes, at least in Minnesota, are required to have), and make-up air ducting in the small mechanical room off of the garage. What is sorely lacking is a proper overview of how all of these systems are supposed to work together and how controls should be set to provide optimum comfort and air quality during the different times of the year in Minnesota.
The homebuilder has been helpful and pleasant in answering my questions both before we bought the house and afterward, especially considering we were not the original client that had the house built. The original owner lived here about 6 months before turning tail back to Florida after experiencing a Minnesota winter firsthand. LOL!
Besides the thermometers in the five thermostats and the hygrometer in the furnace/AC thermostat, I also monitor air quality with an Airthings View Plus that measures radon, particulate matter, CO2 (carbon dioxide, not monoxide), humidity, VOCs, temperature, and barometric pressure. The HRV is set to intermittent operation (rather than continuous) in the summer based on the manufacturer's recommendation. I struggle to keep indoor humidity below 50%. I find myself having to manually turn the HRV on and off based on outdoor humidity levels and indoor radon readings. If indoor humidity starts to get into the mid-fifties, I turn the dehumidistat off. The AC will then eventually bring down the humidity levels. The furnace/AC thermostat has a dehumidification function where you can program a set-point for humidity (I have it set at 45%), and you can also program an "Over-Cooling" amount where the AC will run after it has reached the temperature set-point. I have the temperature set at 76, and the AC will run to 74 degrees if it needs to dehumidify the air. This over-cooling command is adjustable, and I have it set at 2 degrees.
Obviously this 2021-built house is much tighter and energy efficient than the house I was used to for 37 years, but I never would have guessed that the HVAC controls would require so much monitoring and manual adjusting to maintain a desirable indoor air quality—meaning humidity, radon level, and general freshness/stuffiness. Now that we are getting into a cooler time of the year where working in the attic will be more "enjoyable," I think I am going to have the passive radon-mitigation system turned into an active system by a local contractor. I'm hoping I can then simply adjust the ventilation controls to concentrate on indoor humidity levels and I won't have to pay attention to increasing radon levels when I have the HRV dehumidistat turned "off." Supposedly the HRV will still function intermittently with no input from the dehumidistat, but it appears it doesn't provide enough air exchanges to keep the radon levels at an acceptable level. With the HRV being activated by the dehumidistat controller, I can get and keep radon levels easily below 2.0 pCi/L, picocuries per liter but have seen levels as high as 4.6 pCi/L when this controller is "off."
Related Links:
---
END NOTE:
Podcast 600: Members-only Aftershow — House as a System
The crew talks about what "house as a system" means and why it's important to understand.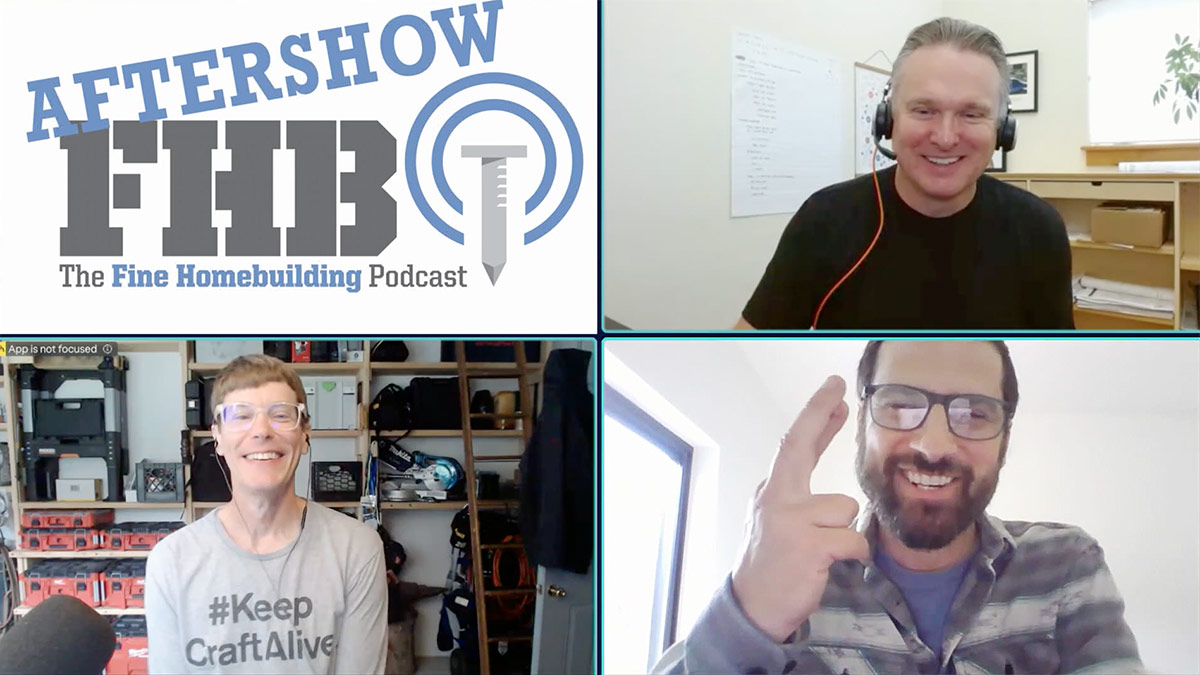 ---
This episode of The Fine Homebuilding Podcast is brought to you by Loctite's Pro Foam

Say no to inefficient and drafty. Say yes to Loctite's new Pro Foams. Loctite's Pro Foam line features 3 new products.
The Gaps & Cracks and Window & Door items seal and insulate gaps and fit any standard foam gun applicator. Loctite's Fire Block Pro Foam fills gaps while resisting the migration of fire and smoke. Perfect for electrical, plumbing, and wherever a fire-resistant foam is needed. Say yes to Loctite's new Pro Foams. Say yes to Loctite.
Visit Loctiteproducts.com for more information.
---
Check out one of our latest Project Guides: Energy Retrofit!

Check out our FHB Houses:

Visit the Taunton Store  •  Magazine Index  •  Online Archive   •  Our First Issues   •  All Access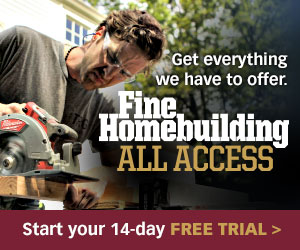 ---
Help us make better episodes and enter for a chance to win an FHB Podcast T-shirt: www.finehomebuilding.com/podcastsurvey
---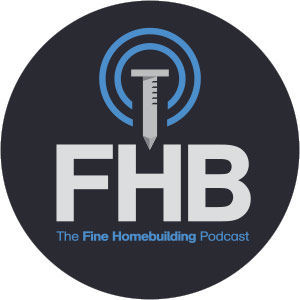 If you have any questions you would like us to dig into for a future show, shoot an email our way:

[email protected]

.
If we use your question we'll send you a FHB Podcast sticker!
---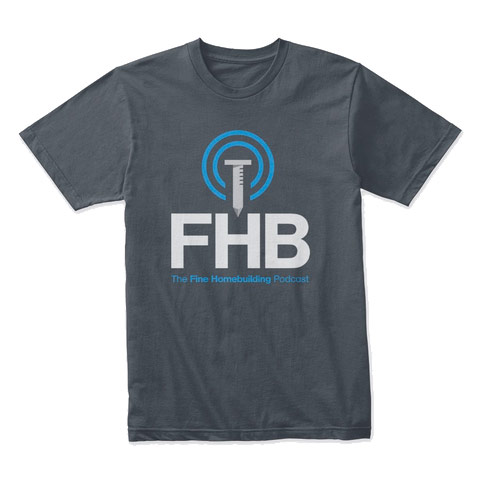 FHB Podcast T-shirts!
Represent your favorite podcast! Available in several styles and colors. Made from 100% cotton. Find the Podcast t-shirt and more cool products in the Fine Homebuilding Store.

---
Fine Homebuilding podcast listeners can now get 20% off anything in the Taunton store, including Pretty Good House.

Use the discount code FHBPODCAST to take advantage of this special offer.

"Finally, knowledgeable people talking about building reasonably-sized, high-performance houses for normal people with real budgets!"
— DanD, VA, 8/19/22, Amazon.com review
---
We hope you will take advantage of a great offer for our podcast listeners: A special 20% off the discounted rate to subscribe to the Fine Homebuilding print magazine. That link goes to finehomebuilding.com/podoffer.
The show is driven by our listeners, so please subscribe and rate us on iTunes or Google Play, and if you have any questions you would like us to dig into for a future show, shoot an email our way: [email protected]. Also, be sure to follow Fine Homebuilding on Instagram, and "like" us on Facebook. Note that you can watch the show above, or on YouTube at the Fine Homebuilding YouTube Channel.
The Fine Homebuilding Podcast embodies Fine Homebuilding magazine's commitment to the preservation of craftsmanship and the advancement of home performance in residential construction. The show is an informal but vigorous conversation about the techniques and principles that allow listeners to master their design and building challenges.
Other related links