Design
Suite Bathroom Flip-Flop
A simple mistake during remodeling turns a modest fixture upgrade into a more spacious bathroom.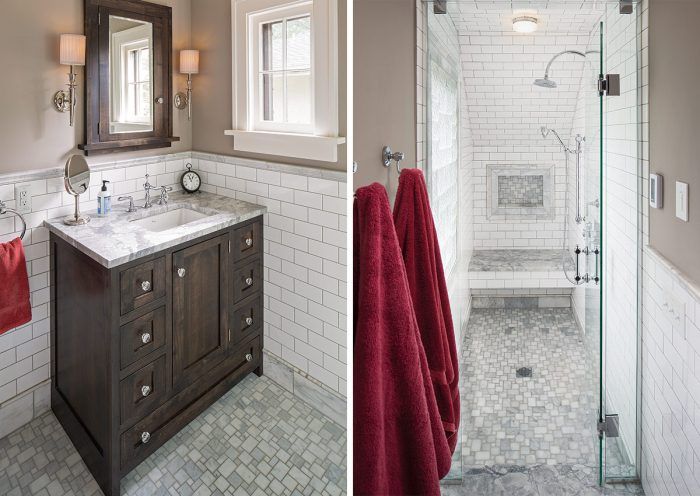 Synopsis: The owners of this L-shaped suite bath thought the most they could do was replace its old fixtures—until workers mistakenly removed a wall, revealing enough space for a bigger and better shower. There was just one hitch: The toilet and the shower had to switch places. In this article, remodeler Greg Schmidt explains how it's possible, and sometimes even advantageous, to follow a project where circumstances lead.
---
When their shower started leaking, Minneapolis residents Jessica and Rich took it as an opportunity to upgrade their narrow, L-shaped suite bathroom. At the very least, they wanted to replace the room's 1950s-era fixtures with some that would match their Craftsman home.
When a nonbearing wall behind the toilet was removed inadvertently during demolition, a 9-sq.-ft. void was revealed under a portion of the roof — and the possibility of gaining a little more room in the 45-sq.-ft. bath emerged. Jessica and Rich quickly decided that the best use for the new space was an expanded shower, which would mean flipping the locations of the existing shower and toilet.
The first challenge was a large window in what would become the exterior wall of the shower. Rather than disturbing the house's stucco exterior, we installed glass block inside the window and refitted the existing storm window with frosted glass for privacy. The second challenge was that the new position of the toilet required running a 3-in. waste line through several joists. We handled this by reinforcing the affected joists with plywood gussets to the inspector's satisfaction.
In the expanded space, we built a shower measuring 3 ft. wide by 6 1/2ft. deep that features a 17-in.-wide bench, a niche for shampoo, and a rainhead shower with a detachable handheld wand. Additional improvements included spray-foam insulation, electric in-floor heat, a 100-cfm fan, and enough lighting to show off every corner.
Details
Location: Minneapolis
Designer: Greg Schmidt
Builder: Home Restoration Services Inc., homerestorationinc.com
Greg Schmidt is president of Home Restoration Services Inc. in Minneapolis. Photos by Troy Thies, except where noted.
Floor-plan drawings: Martha Garstang Hill
Originally appeared in Fine Homebuilding issue #255 titled "Master Bath Flip-Flop." 
Previous:
A Traditional Country Bath
Next:
A Bathroom Zoned for Flow