How-To
Make Complex S-Curves with This Flexible Template
Learn about a router jig that allows you to create the perfect S-curve.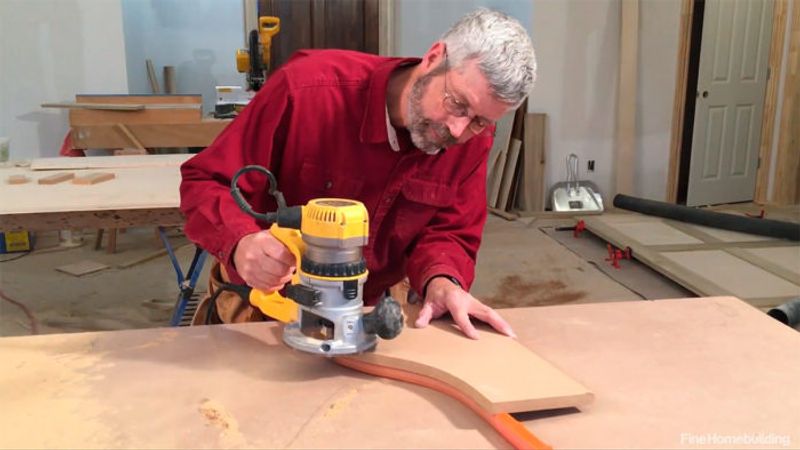 This is probably the only router jig that I actually buy instead of make myself. This one comes from CMT, although there are some other people that make ones similar to it and you can get different lengths, different thicknesses. This is actually almost as much a design tool as it is a jig. What I mean by that is, I'm making a big corbel right now, and as I screw this down from point to point, I can actually see the curve develop in front of me. Once I've got it screwed down, I just take a pencil, draw out the curve that I've laid out using this jig, and I'm going to unscrew it real quick and take a jig saw, cut really close to that line. And by the way this will work well with solid wood too. I'm just making this corbel out of some paint grade MDF. So now what I want to do is just cut close to there so that I'm not removing a whole bunch of material with a jig saw.
Although I'm pretty decent with a jig saw, I can never cut or end up with as smooth a finish using a saw as I can with that router bit and a bearing. So, I'm just going to go back. And I should going back be able to find the same holes I had the first time. When I do this, I'm going to want to use a 1/2-inch bit. When it comes to router with a bearing on the bottom of it- when it comes to router bits like that, basically the bigger the diameter, the cleaner the cut is going to be. So, I always go to something that is at least a 1/2-inch diameter cutter and the one I'm going to be using actually has 3 flutes, or 3 cutting surfaces. You don't have to do that but its good.
This is just going to ride right like that and I'm going to get just as smooth a cut as I have on that guide.
So that which I've visualized is now this perfect S-curve. This piece will l actually become the pattern for using others, but this jig does a great job of helping me create the original.
---
More Must-Have Router Jigs:
Make Complex S-Curves With This Flexible Template
Read Gary's article Job-Site Router Jigs from issue #280.
Previous:
Make an Inset Frieze or Panel Pattern with a Shop-Built Template
Next:
Mill Arched Trim with a Homemade Compass