Tools & Materials
Router Tricks for Trim
Armed with two routers and three bits, an experienced carpenter shares five problem-solving tips for trim, cabinets, doors, and stairs.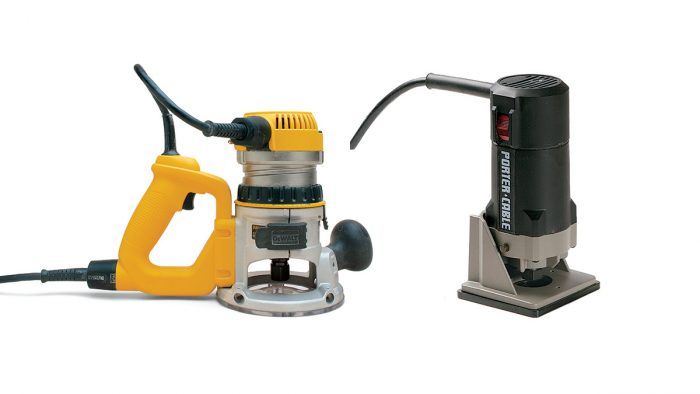 Synopsis: Veteran builder Gary Striegler is fond of his assortment of tools, including his collection of routers. For Striegler, a router is a key way to expedite tasks that would take much more time and effort when done with other tools. In this article, Striegler offers advice on using a router to patch a blowout on trim after it has been installed; making dentil molding on site; trimming a cabinet face frame in place; mortising door hardware with simple jigs; and housing treads in skirtboards for tight joints. Striegler also includes information on the three router bits that he uses the most: pattern, flush trim, and dado.
---
Magazine extra: Read Job-Site Router Techniques to get additional tricks, and to learn which routers and bits Gary Striegler uses to make site-built cabinetry, casing, brackets, and tongue-and-groove flooring.
My editor recently called me a tool junkie. My wife has called me the same thing, but with a few expletives. In my defense, when you've been building as long as I have, you can appreciate how important it is to have a good collection of tools close at hand wherever you are.
I won't tell you how many routers I actually own, partly because I stopped counting 10 years ago. But despite the grief routers might cause me on occasion, they have gotten me out of a lot of jams on the job. Of the many I own, the trim and midsize D-handle models are the two I reach for most.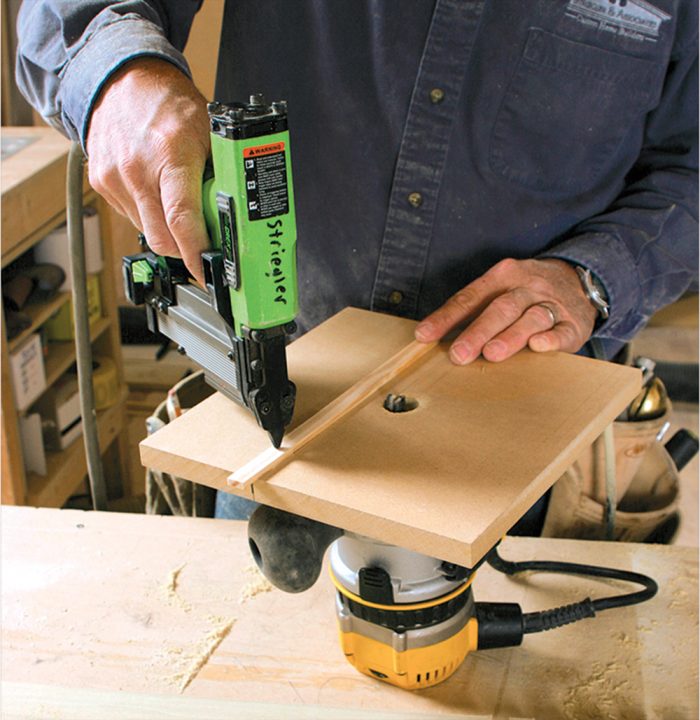 Different routers for different jobs
The first trim routers were called laminate trimmers because they made quick, clean work of flush-cutting laminate for countertops. Today, more powerful motors and a variety of accessories make trim routers a staple for most finish carpenters. One of my favorite features is that I can safely use my trim router with one hand, leaving the other hand free to hold the workpiece.
I use a trim router when I need to make short, shallow cuts in doors, cabinets, and trim. Because most have only 1-hp motors and 1 ⁄ 4-in. collets, they shouldn't be commissioned for heavy work like cutting detailed profiles into a piece of hardwood. I don't use anything larger than a 1-in.-long by 1 ⁄ 2-in.-dia. straight bit in my trim routers. Larger-diameter bits put too much strain on the motor.
For bigger tasks that require more power, such as cutting deep mortises or plowing wide dadoes, I use a 1 1 ⁄ 2-hp D-handle router. The D-handle allows me to use one hand or two, and it is easy to control.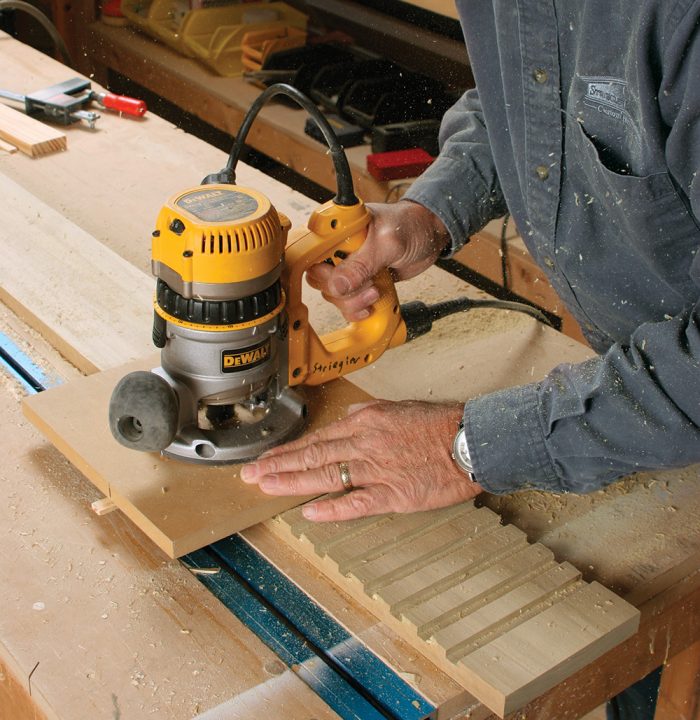 If you don't own either of these tools or the bits I mention here, show this article to whoever is likely to give you a hard time about a tool purchase. Together, they'll save you an incredible amount of time, which will let you find reasons to buy more tools…
To read the entire article, click the View PDF button below.
From Fine Homebuilding #198
View PDF
Previous:
Scribing Made Simple
Next:
Coping Moldings