How-To
Scribing Made Simple
Learn and practice the basic techniques of scribing simple edges, then hone your skills to tackle more complex scenarios.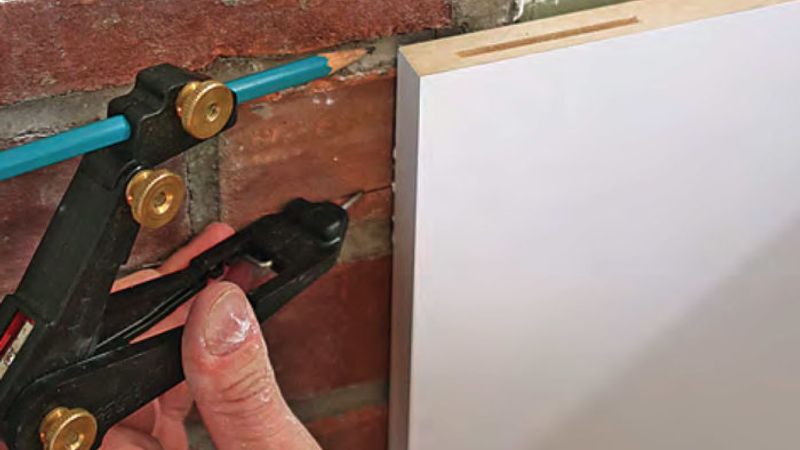 A lot of newbie DIYers and carpenters get bogged down by the concept of scribing, the process of marking and fitting a piece of wood to an irregular surface. But if you don't practice this skill you'll be forced to fill gaps with a thick bead of caulk, which is messy, doesn't look as professional, and can generally make a good-looking trim-carpentry installation look very bad. In this video, I'll be working on fitting some mantel parts, but scribing applies to all sorts of building components, and can range from dirt simple to pretty dang complex.
The basic process of scribing isn't hard to wrap your head around (click here for a step by step tutorial from one of our old Project House builds—which, ironically, is another mantel build), but things get trickier when you need to cut a piece not only so that it fits against an irregular surface, but also so that after cutting you're left with a piece that lands on your layout marks. A tight-fitting scribe where a cabinet face frame meets a bumpy wall won't be all that impressive if, by the time you're done tracing, cutting, and fitting, the stile is half the width of every other stile on the cabinet. This is where you have to start thinking about leaving extra stock on a piece of wood (or, in the case of crown molding, choosing a profile that leaves enough "meat" to allow for hiding a scribe … which is a handy trick for fitting crown to a wavy ceiling), and planning the scribe so that after you finish removing whatever material has to be removed to get a tight fit, you're still left with a piece that looks appropriate alongside the other parts of the piece.
This same concept is sometimes crucial to the length of the board as well, which is the situation shown in this video, where a mantel pilaster is being scribed/notched to fit around a concrete hearth. The piece, which is left intentionally long so that this scribing can take place, must not only be fit to the concrete hearth, but fit so that the top end of the board lands right on layout, allowing the rest of the mantel assembly to continue without a hiccup.
By the way, once you've mastered simple scribes, and scribes to hit a layout mark, try your hand at fitting a piece to an irregular shape, a process known as "tick-sticking," and then move your skill-building right along to the master level with Craig Aument's technique for fitting the end of a post to a rock. Happy scribing!
For more on building and installing this mantel, check out the full article, "Easy, Elegant Mantel," in FHB #273. Plus, listen to our "Mantel Madness" podcast episode on the subject.
Previous:
How To Use a Japanese-Style Pull Saw
Next:
Router Tricks for Trim