How to Install Crown Molding Alone
Chuck Miller shares three tips to make crown-molding installation go smoothly.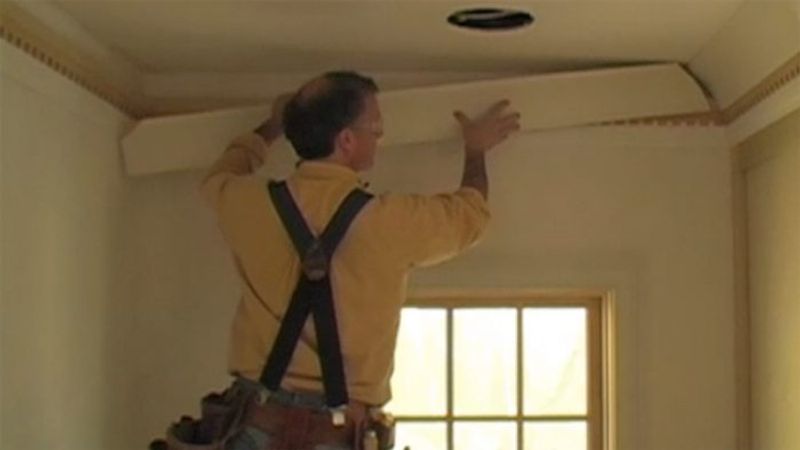 We recently developed our first Video Workshop on Installing Built-Up Crown Molding with finish carpenter and frequent Fine Homebuilding contributor Tucker Windover. We thought while we were at it we'd share three of our most clever crown installation tips.
The video directly below features a better way to install crown molding solo (for those times when you don't happen to have a FHB editor on site). And, scroll down below the video to find two classic tips we think you'll find useful: "Easier coping with the jigsaw" and "Fitting crown molding." Each of these tips should help make your crown installation project go more smoothly.
How can a golf ball help you cope crown molding?
Jim Delvin of Des Moines, WA writes:
Coping crown molding with an electric jigsaw is much easier when you attach a radiused auxiliary base to the jigsaw's standard flat base. But I was stumped about making this modification until I spotted a golf ball on my shop bench.
As shown in the drawings, I started by cutting the ball into unequal parts. I did the cutting on my bandsaw after driving a couple of 3-in. drywall screws into opposite sides of the ball to act as handles. The screws kept my fingers a safe distance from the blade. Then I made a perpendicular cut in the larger portion. Still at the bandsaw, I cut a slot to accommodate my jigsaw's blade.
Next, I drilled a couple of 1/8-in. holes in the saw's base, on opposite sides of the blade, for a pair of screws. I positioned the slotted golf ball as shown in the drawing and affixed it to the base with a couple of small screws.
This jig provides a pivot point right where the blade enters the back side of the molding. As a result, I have the control to make exact relief cuts. I have found that longer blades are useful for cutting big crowns. Different configurations could be obtained by cutting the ball into segments of various sizes.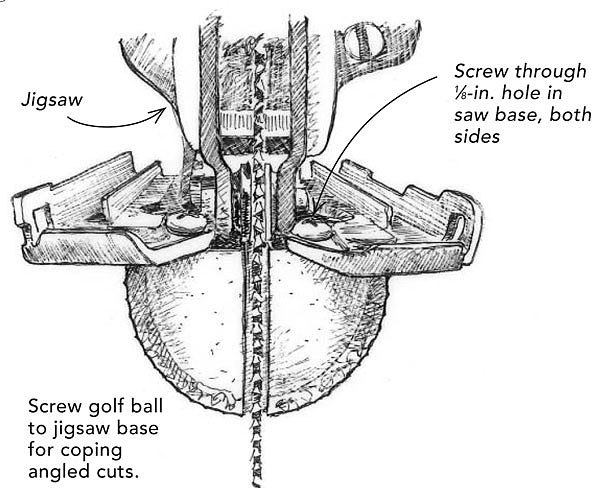 Get a hook on crown
Bob Brereton of St. Paul, MN writes:
When running crown molding, I often have to pull a piece down to do a little fussing with the cope cuts or to tweak a piece up or down. Even if the molding is nailed loosely, this can be hard to do when it's a tight fit. As shown in the drawing, I've taken to removing a bit of the upper square-cut corner of a piece of crown so that I can hook my finger behind it to move it. On the first piece of crown, I always square-cut both ends and then remove the corners. The lopped-off corners end up behind the coped piece that abuts it. Subsequent pieces have one coped end, and one square-cut end.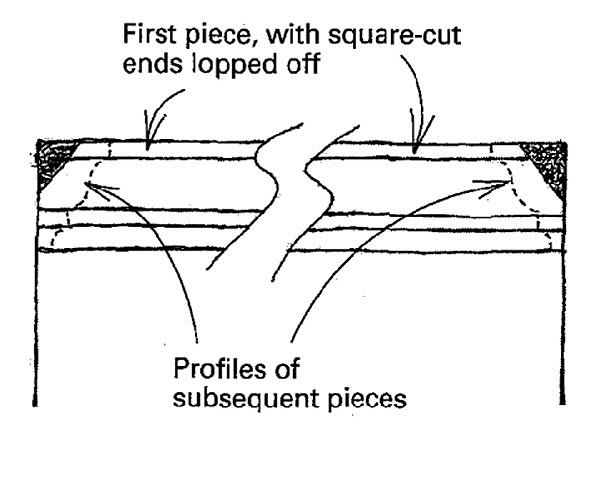 ---
For more on crown molding check out the Crown Molding Video Workshop with Tucker Windover.
Previous:
Installing Crown Molding above Paneled Wainscot
Next:
Hiding a Wavy Ceiling in Crown Molding