Tools & Materials
WRB FAQ (That's Water-Resistive Barrier)
Here are the questions the folks at ZIP, Benjamin Obdyke, Certainteed, Henry, and 475 field the most. And their answers.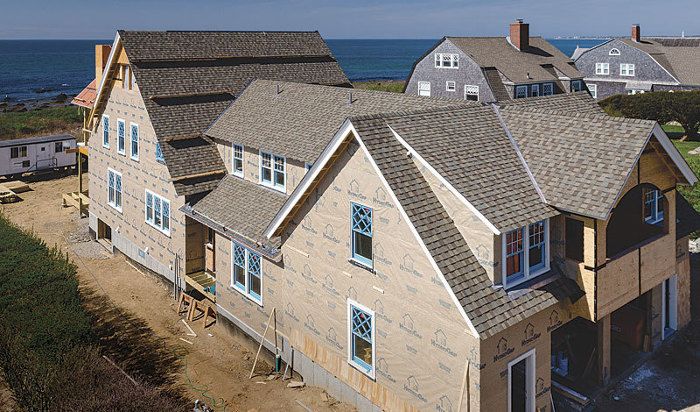 Researching building materials is no easy task. Manufacturers often won't answer important questions. What they don't seem to understand is that their marketing messages often don't distinguish them in a field of products that are all taunting the same benefits. Perhaps they don't understand that builders, architects, and engineers are smart and have a lot at stake. Trying a new product is a consequential decision.
Fortunately, I didn't run into a lot of this when researching WRBs for "The Complicated Role of a Water-Resistive Barrier." There was a "trade secret" here and there, but for the most part the manufacturers were more than helpful and honest. One thing that I asked all of them was, "What are the most common questions you get about your products?" Here are some of their responses.
Why should I spend money on an expensive housewrap when the siding is keeping most of the water out?
Siding does keep a lot of water away from your wall assemblies, but experts agree that even the best siding installations leak. And there are other ways that water can get behind your siding and into your walls. Brian Kirn at Certainteed says that the upgrade from CertaWrap—their woven, perforated, more budget-oriented housewrap—to CertaWrap Premium—their nonwoven, nonperforated high-performance product—will only add a few hundred dollars to the cost of a project. Kirn says that you can get away with CertaWrap in drier areas with less intense weather. Everywhere else, the upgrade to CertaWrap Premium is money well spent.
If I overdrive nails when installing ZIP System sheathing, do I create a weak link in my water-resistive barrier?
Chris Clark, the director of technical services at Huber, says this is the number one question he's asked. The answer is: It depends. While a slightly overdriven nail won't affect the performance of the water-resistive barrier or the product warranty, any nail driven more than halfway through the panel should be addressed. From a water-management perspective, this simply means covering the fastener with a small piece of ZIP tape or their fluid flashing product. However, overdriven fasteners can be a structural weak point, so another nail should be added to satisfy your building inspector and allow you to sleep well at night.
Does siding installation compress drainable housewrap, reducing the gap and ability of the assembly to drain?
It is hard to believe that the small wrinkles, grooves, and spacers in some drainable housewraps actually create an effective space for drainage. However, Chris Yount, senior vice president for residential products at Henry, and Tara Murray, director of marketing at Benjamin Obdyke, both explained that part of their drainable housewrap's design and testing was to make sure that the material will not be flattened or smoothed out when siding is installed. Benjamin Obdyke funded testing of ten drainable housewraps in a chamber mimicking a real-world wall assembly. The results are available on their website.
Do I really need to use a J-roller when installing flashing tape to seal a water-resistive barrier?
Yes—these tapes are generally pressure activated, and according to the folks at both Huber and Benjamin Obdyke, this is a critical installation detail. Run a J-roller over the tape and smooth out any bubbles or wrinkles for the best bond and a more waterproof assembly. If you choose a self-adhering water-resistive barrier like Henry Blueskin, the entire surface must be rolled.
Do I need to tape the horizontal laps of my housewrap?
More than one manufacturer told me that this is a commonly asked question. However, their answers differed. From a water management perspective, the folks at Benjamin Obdyke would rather you didn't tape horizontal seams. As long as your housewrap is lapped appropriately, water will drain. Tara Murray told me that any surface mounted tape will only create a reverse lap and a place for water to potentially hang up. Brian Kirn at Certainteed feels differently, and says that taping horizontal laps provides extra waterproofing protection. Of course, if you're trying to use your housewrap as an air barrier, you'll have to tape all of the seams.
Is it really a good idea to make my house airtight?
Johnny Rezvani, a certified Passive House consultant and the director of communications at 457 High Performance Building Supply, the north American distributor for Pro Clima, told me that this is still a very commonly asked question. The answer, of course, is yes—but you need to know what you are doing. He says that his company is always willing to help their customers design building assemblies that are airtight and vapor-open, and they are building a free library of details on their website to help. They also sell a number of ventilation appliances for tight homes.
---
Originally published on GreenBuildingAdvisor.com.
Previous:
Nine Water-Resistive Barriers Worth Knowing About
Next:
Self-stick WRB