Tools & Materials
Owens Corning Introduces Itch-Free Fiberglass Insulation
A new manufacturing method makes batts itch- and dust-free and easier to work with.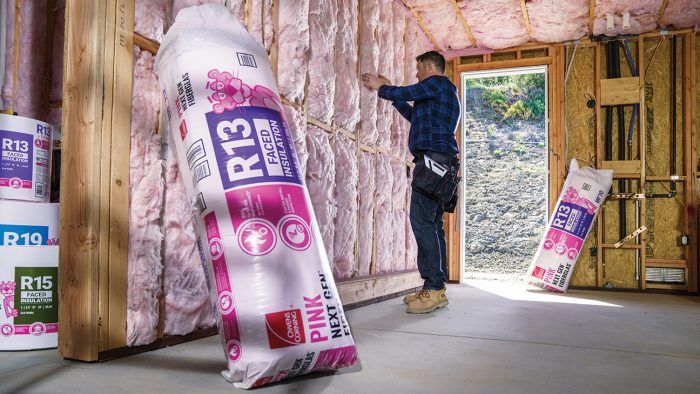 One of my earliest memories was when I was about four or five and accompanying my father to the home center, which was easily my favorite shopping trip at the time. I wandered away from him, as I often did when I found myself interested in something nearby. I was drawn to this magical-looking fluffy material that resembled yellow cotton candy. I immediately wanted to touch it, which I did by rubbing it on my face the way TV commercials of the era showed people cuddling freshly-laundered towels.
I immediately regretted this decision. As I now know, I was rubbing fiberglass pipe insulation on my cheek. Four-plus decades later, I still have a visceral response to fiberglass building insulation and how it feels. As you might imagine, given my history, I was skeptical when Owens Corning announced their Pink Next Gen Fiberglas insulation. The company claims their new manufacturing process reduces dusty glass fibers, resulting in a batt that splits easily around pipes and wires to better fill cavities, and is as itch-free and soft as cotton.
Better for installers
Dean Moody of lntermountain West Insulation (IWI) was one of the first contractors to try the new insulation. I had a chance to ask him some questions via email. He told me that it's easy to cut and not itchy, but it was his comments on how the new material quickly regained its loft lost to packaging, which helped his employees do a better job insulating, that seemed especially noteworthy to me.
"I like how the material recovers when we open a bag. Even the outside pieces recover fast where that wasn't the case in the past," Dean said. "The recovery even makes a novice installer look like a pro to reach a Grade 1 install. An installer does not need to waste a lot of time fluffing the material due to lack of recovery."
Owens Corning claims the improvements mean up to 23% faster installation compared to the company's existing insulation. The new insulation will automatically replace insulation made with the older process and should be in home centers and insulation suppliers in all sizes by fall 2021.
Photos courtesy of the manufacturer
---
RELATED LINKS
Previous:
XPS Insulation With a Lower Climate Impact
Next:
Lightweight Insulation With Easier Installation