Fascia Joints That Won't Open
Builder Mike Maines offers tips for using the right fasteners and adhesive to keep outside corners tight on exterior trim.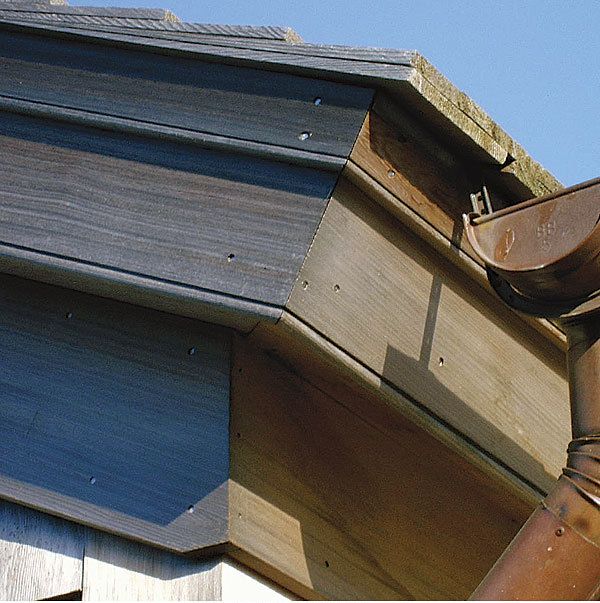 Q:
I'm about to install 1×8 vertical-grain cedar fascia boards on my house, but I'm unsure about how to join outside corners. I'm afraid that a miter joint will open as the wood moves. A butt joint won't look right for an outside corner and also might open if not fastened properly. What's the best approach?
Barry Trahan, via email, None
A:
Mike Maines, a designer/builder in Portland, Maine, replies: It's true that miter joints are prone to opening over time due to seasonal movement, but movement across the grain is minimal for clear vertical-grain cedar. I always miter outside corners. I glue the joint with PL Premium Polyurethane Construction Adhesive (www.stickwithpl.com), then nail it together with ring-shank stainless-steel siding nails.
Glue together outside joints with PL Premium Polyurethane Construction Adhesive. Then use stainless-steel ring-shank nails to keep them in place.
PL Premium adhesive sticks to everything and is messy. It sets up fast, so wipe down the joint immediately and often. Use a clean rag and a clean solvent, such as turpentine, mineral spirits, or denatured alcohol. Even if sanded, dried glue remains in the wood pores and turns black. Because the oil from my hands can show up on cedar, I wear gloves as copper roofers do for perfect results.
I drill pilot holes in the ends of the boards to prevent splitting. Depending on the density of the particular board, I often drill for every fastener. A 3.32-in. bit is perfect, but expect to go through a lot of them. It is possible to gun-nail the fascia, but not if you want to set the head to the perfect depth. Get close with a hammer; then use a red Stanley nail set to get the depth just where you want it.
Previous:
Installing Trim on a Simple Tool Shed
Next:
Work Smart with PVC Trim