How-To
Low-Maintenance Eaves
Aluminum fascias and vinyl soffits never need painting, look great, and incorporate ventilation.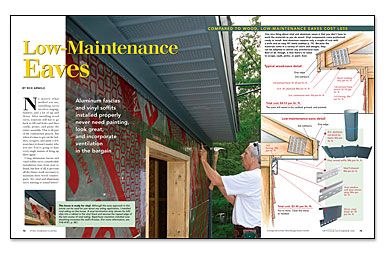 Synopsis: For contributing editor Rick Arnold, there's a better alternative to traditional wooden eaves: low-maintenance eaves made of aluminum fascias and vinyl soffits. They cost less than wood, don't require painting and regular upkeep, and can be installed in half the time of wood eaves. Arnold takes us step by step through his technique for installing the eaves and presents a breakdown of the materials he uses.
No matter what method you use, installing eaves involves staging, ladders, and a lot of up and down. After installing wood eaves, someone still has to go back to fill nail holes and then caulk, prime, and paint the entire assembly. This is all part of the construction process. But when it's time to get out the ladders, scrapers, and paint a few years later, it doesn't matter who you are: You're going to hate every single minute of being up there again.
Using aluminum fascias and vinyl soffits saves considerable installation time from start to finish, but best of all, it prevents all the future work necessary to maintain their wood counterparts. Are vinyl and aluminum eaves starting to sound better? Considering that the material cost for vinyl and aluminum eaves is lower, it's easy to understand why low-maintenance eaves are becoming a popular alternative to wood.
Nonwood eaves and fascias are becoming more and more common here in New England, where a house's exterior takes a nasty beating. Homeowners are willing to sacrifice architectural authenticity for the freedom from periodic scraping and painting, especially in the eaves.
I've installed aluminum and vinyl trim on both new and old houses that were to be sided with wood shingles, fiber-cement siding, composite siding, and of course, vinyl siding. With few tools and few materials, I can install vented eaves that look similar to wood eaves in half the time.
There are all sorts of vinyl trim and accessories that, together with aluminum coil stock and your bending skills, can mimic just about any architectural detail. Although certain details can differ depending on the desired architectural look, my basic method for putting up the soffits, fascias, and rakes is the same no matter what the type of siding.
For more photos, drawings, and details, click the View PDF button below:
View PDF
Previous:
Installing PVC Fascia
Next:
Installing Exterior PVC Trim Corner Boards