43 Church St. Master Bath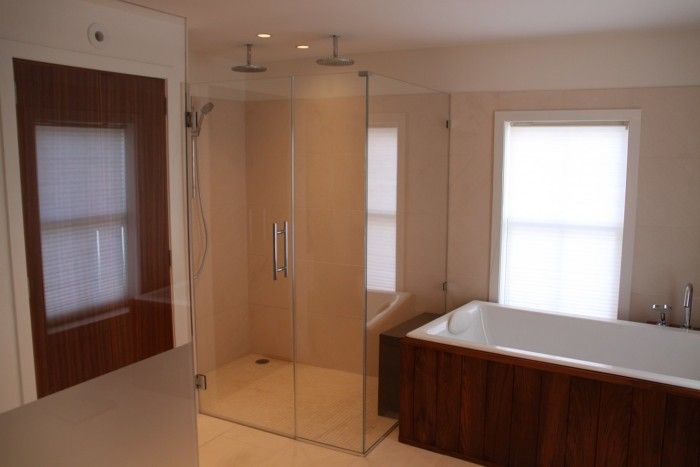 The master bathroom at 43 Church Street is lined in limestone, has a glass enclosed shower and toliet/bidet area – where the glass is 1/2 sandblasted for privacy. The counters and top of jacuzzi surround are made of polished concrete that was cast in plexiglass for an impervious glass smooth surface.
The teak doors, teak tub surround, and teak vanity were made by me. The vanity was designed by Josh Fenollosa.
There is hydro radiant heat in the entire house, but the bathroom has a sensor and electronic shuttoff devices to keep the floor at 70 degrees even if the heat is not called for anywhere else in the house. 
The shower has two temperature setting controls, so my wife and I can set them to water temperatures that are comfortable for each of us, then we can divert the water to a rain head or the wall mounted hand held, never touching the temperature setting again.
The tub is a Kohler "Tea for Two" chroma therapy cast iron tub. The LED lighting can be set at any color desired for maximum relaxation.
The 550 lb tub was very difficult to get in place – 4 of us used dollys and 2 wheelers to get it in place. There is no place to get a hand hold on this tub as there are so many pipes and wires – I only broke one pipe getting it in place!
We wanted a spa in our house, subtle, calm, music piped in, and a nice shower for daily use. The fixtures are Duravit by Starke.