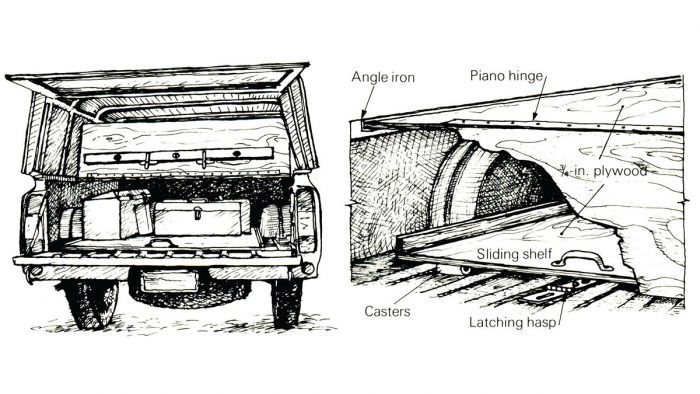 I was able to solve the problem of keeping my tools locked up and yet accessible in my pickup camper shell with this sliding-shelf tool locker.
I mounted a piece of angle iron along each side of the bed, level with the top of the tailgate. Then I cut a 3/4-in. plywood shelf about 4 ft. long and as wide as the bed, and bolted it to the angle. I hinged another piece of plywood at the back of this where it would fold down just behind the wheel wells. I added a latching hasp and now had a lockable compartment for my tools as well as a storage space above them. For inside this compartment I cut 3/4-in. plywood narrow enough to slide between the wheel wells. I edged the plywood on three sides to keep toolboxes from sliding off, put a handle on the front, and attached casters to the bottom. This gave me a drawer that could be locked in place when the lid was closed. With the tailgate open, this sliding shelf will reach far enough to give access to everything on it.
Long material can be carried out the back of the camper shell supported by the top of this locker and the tailgate, which are at the same height. The entire system can be removed in minutes, if the full use of the bed is needed. Also, I have discovered that the inside of the lid is a good place to store such awkward tools as my 4-ft. level.
—Kevin Ireton, Dayton, OH
Edited and illustrated by Charles Miller
From Fine Homebuilding #8