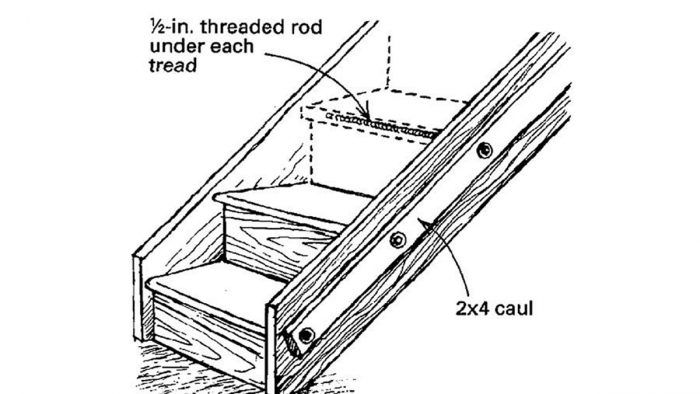 Last winter I was involved in a complete rebuilding of a large house in Hyde Park, Chicago. The main staircase had been moved during an earlier remodeling. In that move, the wall-side stringer had been affixed to the studs with nails, which drew the stringer away from the housed treads.  After about 50 years of use, along with the typical settling and seasonal movement that a house undergoes, some of the treads were barely supported in their grooves.
Once we began to rebuild the house, we had to pull the staircase back together. I began by drilling 5/8-in. holes below each tread. On the exposed, room-side stringer, I clamped a 2×4 the full length of the stringer to prevent tearout when my bit came through and to act as a full-length caul. I drilled corresponding holes in the wallside stringer and removed the plaster under it to allow access to the backside of the stringer.
After removing the old wedges from the treads and the risers, I ran 1/2-in. threaded rods through each hole, as shown in the drawing. Then I spun some washers and nuts onto the ends of the rods and slowly drew them down, clamping the whole stair together again. I finished the job by adding new wedges, epoxied in place, and filling the holes on the exposed side of the stringer with plugs that matched the original oak.
Felix Marti, Ridgway, CO
Edited and Illustrated by Charles Miller
From Fine Homebuilding #74