Affixing a Router Template to a Finished Surface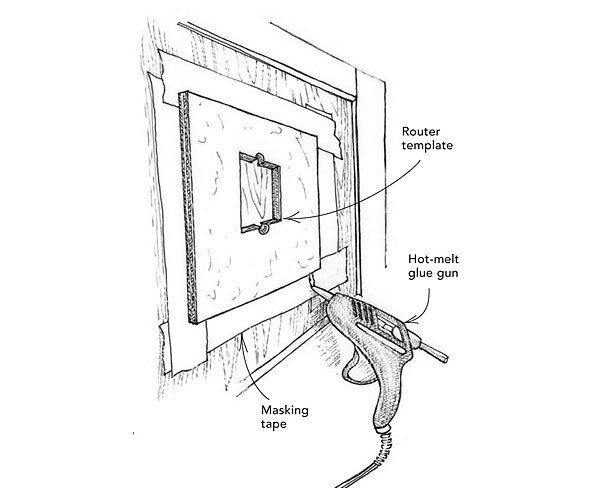 In his article Inlaying a floor medallion, Charles Peterson showed a technique using double-face foam tape to hold a template in place for routing. I use a similar method to hold templates, which I think has some advantages. Double-face tape is very sticky and can damage finished surfaces. It's so sticky that I've found it to be a do-or-die situation when positioning the template. There just isn't any room for adjusting it.
As shown in the drawing, I use ordinary hot glue and masking tape for these applications. I cover the area under the template with a layer of 3M blue masking tape. Then I squeeze a line of hot glue around the perimeter of the template and stick it to the tape.
The router template in the drawing is made for outlet boxes that frequently need to be installed in kitchen-island cabinets. This technique beats trying to run a sabersaw on a lacquered surface right at the edge of a raised panel.
I have used this method on all kinds of materials, finished and unfinished, vertical, horizontal, and upside down. The blue tape prevents damage to finishes, and on raw wood, it keeps the glue out of the grain. If the template isn't positioned correctly, I simply pull it off, scrape off the glue, and then try again. A hot-glue gun rides around in my router box for just this purpose.
Gregg Roos, San Francisco, CA