Undercabinet Lighting Jig
A homemade T-square with a drilling guide centers a long drill bit in a kitchen cabinet bottom for running a puck-light wire.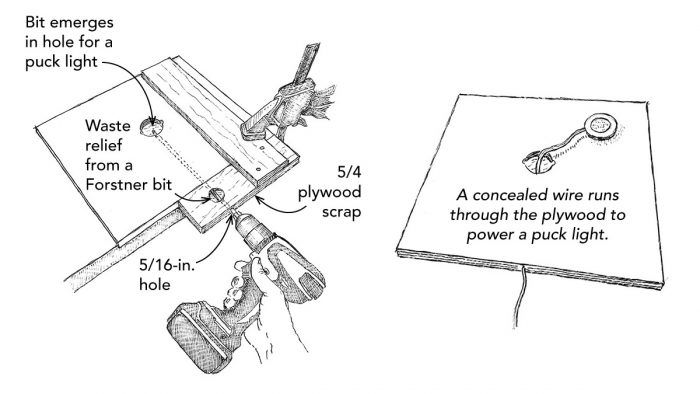 I make custom cabinets, and I needed a way to hide the wiring for undercabinet lighting. There are jigs available for drilling holes through the plywood for wires, but they cost between $200 to $300, so I made my own from scrap wood I had in the shop. It's a T-square with a drilling guide. I used a piece of 5/4 scrap and drilled a 5/16-in. hole as the drill-bit guide. Then I used a Forstner bit to create a waste relief for the drill bit. The 5/4 is screwed to a perpendicular piece of plywood to make the T-square. After I have my hole drilled for my puck light, I center up the jig, clamp, and drill for the wire. I drill slowly and use the jig to keep the bit in the center of the cabinet bottom. The only special tool required is a long drill bit for drilling through the plywood.
—Ross Habecker, Yuma, Ariz.
Edited and Illustrated by Charles Miller
From Fine Homebuilding #296
Previous:
Undercabinet Lighting Is Better Than Ever
Next:
LED Lighting and Counter Support, Combined