Tools & Materials
ThinkGlass LED-Lit Countertop
Cost: $200 per sq. ft. and up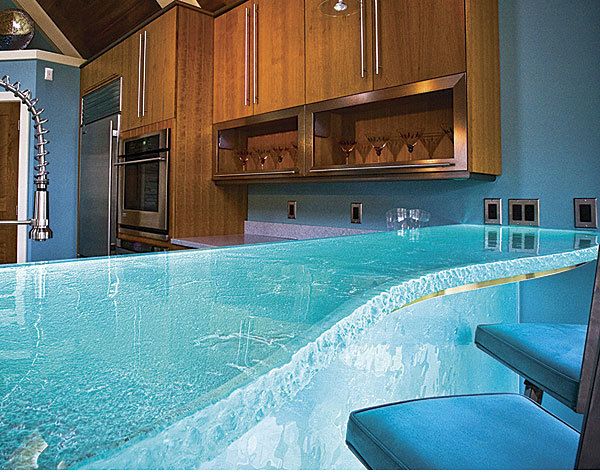 If you've ever wished you could change the color of your kitchen countertop to reflect your mood, match the season, or fit the theme of an event you're hosting, your wait is over. Canadian glass studio ThinkGlass has introduced LED light systems that illuminate its line of glass countertops with a rainbow of colors at your command.
The system is available in True White or RGB, which allows you to light your countertop with hundreds of different hues. The colors can even be programmed with a remote control to change, fade in and out, or strobe.
The countertops themselves are available in 10 textured looks (the countertop surface itself is smooth), seven colors, and three edge treatments, and in thicknesses of 1-1/2 in., 2 in., or 3 in. Countertops also can be fully customized by master glass artist Michel Mailhot.
Despite its fragile reputation, glass is a durable countertop material that doesn't need to be sealed or maintained. Nonporous and easy to clean, it's also extremely sanitary. Glass countertops can be cleaned with standard glass-cleaning products or a solution of water and white vinegar. ThinkGlass countertops are made of 25% recycled glass and are 100% recyclable at the end of their useful life. Professional installation by a glass professional is recommended.