How to Cut an Opening for a Sink in a Laminate Countertop
Carpenter Andy Engel shares some tips on laying out and cutting a sink opening in a stock countertop.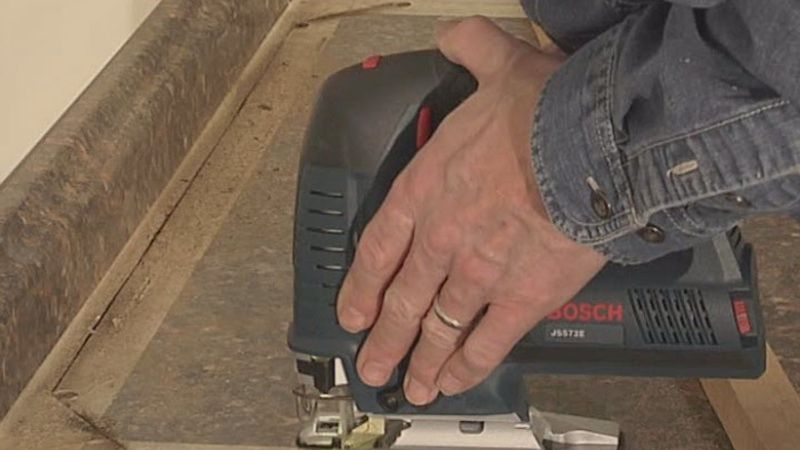 In this video, senior editor and old-school carpenter Andy Engel takes on cutting a sink opening in a laminate countertop. You'll get tips on layout, cutting without chipping, and how to make a cut that's too close to the backsplash for a jigsaw to make.
Video transcript:
Andy Engel: You can save yourself some time and a few bucks by buying a stock countertop and making your own sink cutout. Here's how to do it:
I center the sink over the base cabinet, and then mark all the sides of the sink onto the countertop with a pencil. Using the pencil marks for guidance, I place tape on the countertop around the sink perimeter, so the pencil lines showing me where to cut will be easier to see. I center the sink on the base cabinet using the cabinet doors for guidance. I also make sure the front of the sink bowl clears the front of the cabinet, and then I trace the sink's outline onto the tape.
I now measure the width of the sink's mounting lip. This lip measures about 3/8 of an inch. Starting with the outline of the sink I traced earlier, I moves the lines inward the width of the mounting lip. I mark both ends of every side. I then cross out the original layout line to avoid cutting on the wrong side of the line, then angle the corners. Shallower angles are less likely to crack the laminate.
Holes at all four corners allow me to easily start the jigsaw cuts. Often, there's not enough room to fig a jigsaw between the back of the cutout and the back splash. In this case, I make the cut with an oscillating multi-tool equipped with a fine tooth blade.
Now I can cut the sides with a jigsaw. I'm using a laminate cutting jigsaw blade in the saw. This specialty blade has teeth that cut on the down stroke to prevent chipping.
To prevent the cutout from breaking free of the countertop prematurely, which would damage the laminate, I screw a cleat to the cutout with single screw. The single screw allows me to pivot the cleat as needed to finish the cut.
I lift out the cutout and then test fit the sink. If the sink fits, I'm done. If it doesn't fit, I may need to do a little trimming with the jigsaw.
And that's how you cut a countertop for a sink.
For more information:
Next:
Better Undersink Plumbing