Tools & Materials
Guide to Countertops: Engineered Quartz
Durable, maintenance-free, and available in almost any color, pattern, and texture, manufactured-stone countertops dominate the market.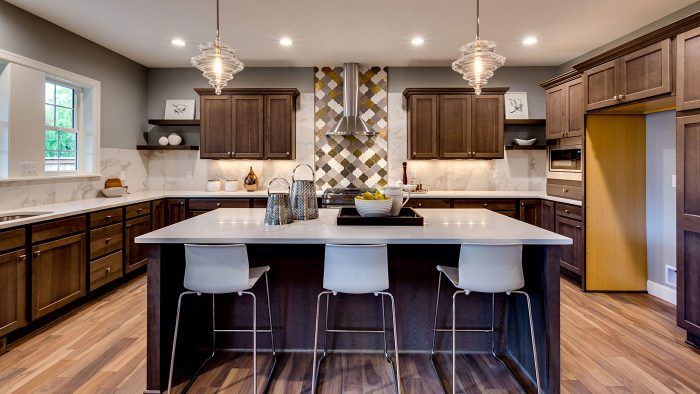 The new king of countertop materials is engineered quartz, a blend of stone aggregate and resin compressed and catalyzed by heat and pressure into a very tough, durable slab. Because the solid content comes from a wide variety of sources—including rocks, minerals (including quartz), and glass—"engineered quartz" is more aptly called "engineered stone."
The process was developed in the 1960s by the Italian company Breton, and has since been licensed to many companies around the world. Experts recommend going with reputable manufacturers who use the Breton method, and avoiding knockoff versions cast with a simple two-part (AB) resin that results in a softer, less-durable product. A good countertop dealer or quick web search will tell you which brands offer the real thing—reputable companies include Radianz, Silestone, Ceasarstone, Cambria, LG Viatera, PentalQuartz, Daltile, MSI, and Corian quarz.
---
Engineered quartz
Price: $$-$$$
Pros: Very durable, low-maintenance, nonporous, sanitary, scratch- and stain-resistant, can simulate many other materials
Cons: Heat-sensitive, difficult to repair
---
The solid content in engineered quartz comes from waste products and comprises more than 90% of the mix, making engineered quartz countertops a relatively green product (the other 7% to 10% is various polymers and resins, some naturally derived).
These engineered slabs are tough and nonporous, requiring no sealers and little to no maintenance. Better yet, they can be formulated and textured to simulate almost any other countertop material, from calm, monochromatic tones to marble, granite, soapstone, poured concrete, and even patinated metals. And like solid-surface materials, the colors and patterns go all the way through the slab, so scratches won't reveal a contrasting substrate.
Last but not least, because engineered quartz is a consistent, manufactured material, what you see in slab samples is what you'll get in your home. This makes it easy for designers and homeowners to plan the look of the kitchen from the very outset of a project, instead of waiting until cabinets are installed to see what's available at the stone yard.
This unmatched set of advantages has vaulted engineered quartz to the top of the countertop world, giving customers the look of natural stone in a durable, maintenance-free surface, at lower prices in many cases.
Watch out for heat
This seemingly perfect countertop material is not without its downsides. The main one is the way the mix of materials responds to heat. While the solid content is relatively stable when heated, the resins expand considerably. This has two main consequences.
The first is that engineered stone countertops are difficult to repair. When the slab is heated by power-grinding and -sanding, the polymers expand and the solids don't. So after the surface cools, the polymers shrink below the solids, leaving a pebbly surface. This can be overcome with specialized methods, but they require more skill, knowledge, and labor.
The expanding resin can also lead to damage. While a very hot pot or pan is a bad idea on almost any countertop, direct, prolonged heat (from a countertop pizza oven, for example, or even a crock pot) can crack an entire slab of engineered quartz. That's because the affected area will expand expand while the surrounding areas won't. That said, heat pads and trivets are al you need to protect your investment.
The heat sensitivity, combined with a lack of UV blockers, make engineered stone unsuitable for use in outdoor kitchens that receive direct sunlight, which will yellow and fade the colors and could even warp the whole slab.
Asa Christiana is a contributing editor to Fine Homebuilding magazine
Main image courtesy of Sardonyx Design. All other photos courtesy of Precision Countertops in Portland, Ore.
Previous:
Guide to Countertops: Laminate
Next:
Guide to Countertops: Solid Surface