Tools & Materials
Guide to Countertops: Wood
Wood surfaces are a charming accent, but not the best choice for an entire kitchen.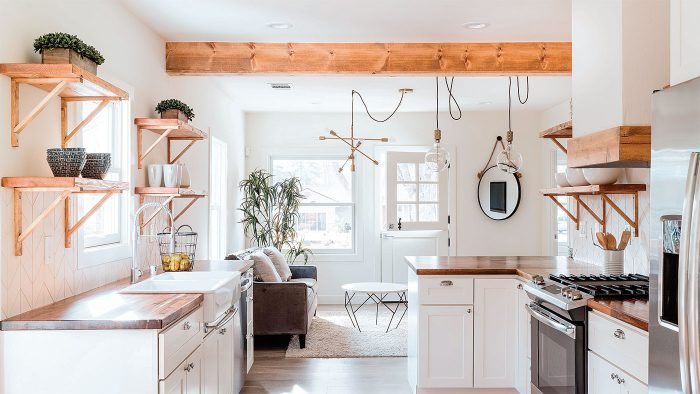 Wood is the original countertop and still has a treasured place in today's modern and transitional-style kitchens, providing a handmade, organic feel that harks back to simpler times, and a knife-friendly surface for food preparation.
Used atop an island or peninsula, or as an inset cutting area, wood surfaces contrast beautifully with the neutral pallet of today's painted cabinets and monochromatic countertops. Because wood countertops can be damaged by heat and water, however, experts warn against placing them near sinks and stoves, making wood a questionable choice for a full kitchen.
---
Wood/butcher block
Price: $$-$$$$
Pros: Warm, organic, and welcoming; good for cutting areas, islands, and laundry rooms; easy for DIYers and cabinetmakers to fabricate; easy to refresh and repair
Cons: Pricier than people think; shows dings, scratches, and use; damaged by frequent water contact; prone to staining; requires maintenance
---
Like soapstone and concrete, wood countertops can be fabricated with common woodworking tools, making them a great option for DIYers and cabinetmakers. That said, it's hard to beat prices offered by specialized manufacturers, who buy raw materials by the truckload and fabricate slabs with industrial equipment.
| | |
| --- | --- |
| Photo: Stephanie Russo | Photo: Brian Pontolilo |
| | |
While "butcher block" has become a catchall term for any countertop made with blocks or strips of wood, traditional butcher block was made by joining lots of short, square chunks so their ends become the work surface. Today these are usually sold as "end-grain butcher block."
End grain, like a natural-bristle dart board, is self-healing, which is how these traditional butcher blocks would hold up for years in a busy butcher shop. The word "block" derives from the fact that these slabs must be relatively thick for the small pieces to stay glued together, especially at countertop sizes. The process of making end-grain butcher block is also labor-intensive, which is why it's most often used for smaller work surfaces.
What is more commonly sold as "butcher block" is more like a workbench top, composed of long boards glued together to create 1-1/2-in.-thick slabs. This approach works better for full-size countertops. When buying these slabs for kitchen use, look for those with edge-grain exposed on top, which will have straight, narrowly spaced grain lines. Narrow edge grain is at least partially self-healing, hiding some scratches and knife cuts.
To make the least expensive "butcher block," bargain distributors join boards edge to edge, with wavy face grain on top, which will show every scratch and cut. Used in a laundry room, however, this type of countertop will work just fine.
Whatever type of wood countertop you buy, be ready to embrace its scratches, dents, and stains as character. If those blemishes start to bother you, you can always roll up your sleeves, grab a random-orbit sander and a can of oil finish, and make your wood countertop look like new again.
While a fresh coat of oil (flood the surface then wipe off the excess) will refresh any wood countertop, avoid finishes that form a film, like polyurethane, which will be torn up and chipped by use, and need to be completely sanded off before refinishing.
Asa Christiana is a contributing editor to Fine Homebuilding magazine
Main image: Stephanie Russo
Previous:
Guide to Countertops: Solid Surface
Next:
Templating Techniques for Countertops and Floating Shelves