Strengthening Notched Floor Joists
Beef up joists by fastening plywood or adding bridging or blocking.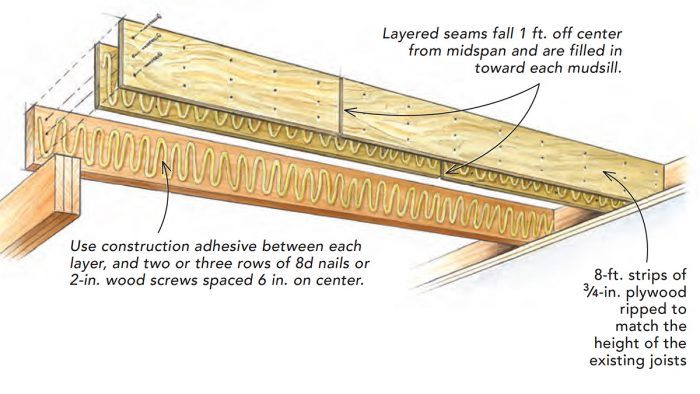 I have an early '90s home with 2×10 #2 Douglas-fir floor joists on 16-in. centers. They span 131/2 ft. on either side of the main beam. The top sides are glued and nailed to the plywood subflooring above. The original owners installed a drop ceiling in the basement below, and to make room for light fixtures they pushed a 1-in. pipe up into the floor joists by making 2-in.-deep notches smack in the middle of each joist, thereby compromising their integrity. The floors do not appear to have moved at all over the past 30 or so years, but I am now considering installing granite countertops and am thinking about the extra weight on the notched joists. I'm looking for any ideas to mechanically bring the 2x10s back to their original strength. I really do not want to remove the ceiling to sister in new joists.
—ONDARC69 via FineHomebuilding.com
Remodeling contractor Andy Engel (1961– 2022) replies: I've worked in a lot of old houses whose joists were hideously over-spanned by today's standards. Sometimes it's a problem; sometimes it isn't. It's more complicated than this, but the simple version is that the 2-in. notch essentially reduces your 2x10s to 2x8s. Codes in the 1990s allowed 2x8s to span about 12 ft., while 2x10s could span about 15 ft. So you're not too far off.
Before rebuilding your floor system, I'd determine if there's any real problem. In fact, it's unlikely you'd ever have a catastrophic failure. Most likely you'd get too much deflection, which might affect tile or stone flooring or make for an unpleasantly bouncy floor.
First, where are the countertops going? Weight in the center of the span will have a greater effect than weight at the ends. If it's just perimeter cabinets receiving granite countertops, I wouldn't worry much. If there's to be an increased center load, I'd mimic it and measure the actual deflection. The minimum code standard for allowable deflection is L/360—that is, the span divided by 360. In your case, 13-1/2 ft. divided by 360 is 0.45 in., or about 7/16 in.
Set up a laser at the edge of the room and mark the height of the beam on the center of a story pole. Make a second mark 7/16 in. higher. Then load the floor where the granite will go with an equivalent weight of something like sand, dumbbells, or several friends or family members. Make sure to account for the weight of people using the space. Spread the weight out over the actual area the granite will cover. Now see where the laser is hitting the story pole. If it's at or below the 7/16-in. mark, your floor is still meeting the code-minimum deflection.
If it's deflecting more than 7/16 in., or if the floor is unacceptably bouncy when walked on, you'll have to beef up the joists. Fastening plywood to the existing joists instead of adding more 2x10s is sometimes an easier alternative, or you can consider adding bridging or blocking (Check out 6 Ways to Stiffen a Bouncy Floor, FHB #184). If tearing down the existing ceiling is just not an option, you might have to reconsider your granite upgrade.
Drawing: Don Mannes
---
RELATED STORIES