Tools & Materials
Guide to Countertops: Concrete
Formed in custom molds with colors and objects mixed in, concrete is the most artistic medium.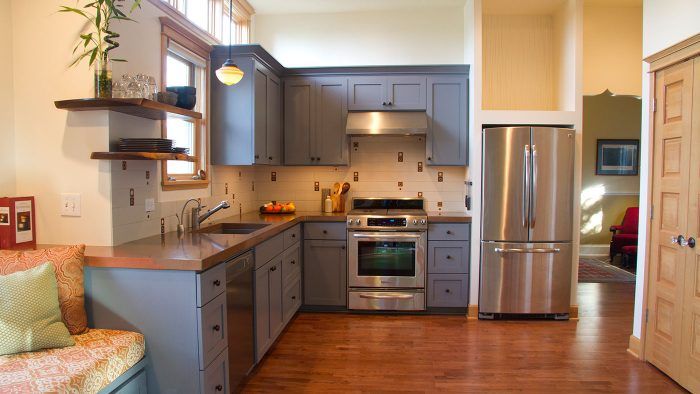 Like marble and soapstone, concrete countertops are great for people who know them and want them. Cast in custom shapes and thicknesses, concrete is by far the most artistic medium for countertops. Pigments let you color concrete in unique ways, and you can add almost any type of artistic object into the mix—from stone and glass aggregate to upcycled metal parts—and then grind and polish the final surface to reveal them. Other additives increase the toughness of the finished slab.
---
Concrete
Price: $-$$$$
Pros: Unique look; unmatched design versatility; can be formed into any shape, with color and objects mixed in; heat-resistant; inexpensive to DIY
Cons: Heavy, relatively soft and porous, requires sealing and care to prevent staining, shows wear, pricey for a professional job, DIY includes learning curve
---
Depending on the job and the installer, countertops are either precast—on the floor or in a specialized fabrication shop—or cast in place atop the cabinets. Forms are custom-made for each job, generally, which adds to the expense but also makes the design possibilities unlimited.
Almost any shape or feature can be cast into concrete—from sinks to drainboards and backsplashes—making these custom slabs even more unique.
Three approaches, three price points
Being a relatively low-tech process, concrete is also DIY friendly. If you can screw together your own forms, carry a power-mixer and some basic ingredients back from the home center, and do a bit of research, you can cast concrete countertops for pennies on the dollar. But there is a learning curve, and you should do at least one test-pour first, to get the hang of evacuating bubbles, filling defects, adding color (if desired), and polishing the surface.
Another option is to hire a cabinetmaker with experience forming concrete countertops, like Stefan Straka of Bellingham, Wash., who uses mixes powdered pigments into basic Quikrete to get deep saturated blacks, grays, and reds, adding all sorts of objects into the mix, including metal inlays and climbing carabiners.
Straka has a few words of warning for DIYers: "It's messy to mix and pour and grind," he said, "and the dyes stain everything. You'll need to rent a grinder for the polishing sessions, and there's a learning curve for complex forms like integrated sinks and drainboards."
For the most polished results and the most complicated pours, you can hire a professional concrete fabricator, who will use large-scale industrial equipment to make the perfect mix, vibrate out every bubble, and deliver the most flawless, durable result. But you'll pay significantly more for that overhead and expertise.
Embrace the imperfection
Experts agree: Concrete countertops are truly unique, but you'll need to seal them yearly with mineral oil or beeswax to avoid stains, and wipe up food acids relatively quickly. Even then, concrete will show wear and use, so you'll need to embrace that as part of the funky charm. That said, you can buff out dull spots with beeswax if they really bug you.
Asa Christiana is a contributing editor to Fine Homebuilding magazine
Photo: Fraley + Company
Previous:
Templating Techniques for Countertops and Floating Shelves
Next:
Why Concrete is Great for Making Countertops