Surefire Patch With an Oscillating Multitool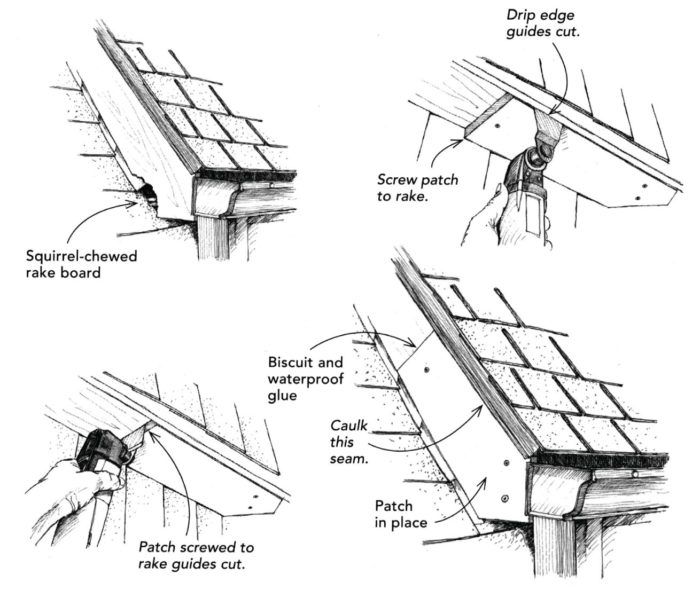 My Fein MultiMaster has become my favorite tool. As a carpenter who specializes in oldhouse repair, I use it all the time to excise rotten parts of sills and trim boards. I often screw a block of wood to the damaged piece to help guide a square cut. Recently, I took this technique a step further.
I had to patch the end of a dormer rake board that a squirrel had chewed through. Replacing the whole board would have been a nightmare, and because the dormer was 25 ft. off the ground, I didn't think anyone would notice a well-executed patch. The rake board had a piece of molding nailed along the top, which was covered by the roof's drip edge. Worried that roof shingles and drip edge were nailed into the top of the rake board, I decided to leave it intact. Hence, I needed to make a lengthwise cut in the rake board just below the molding, in addition to a square cut about 16-in. from the end.
As shown in the drawings at left and below, I ended up making the patch first and screwing it in place on top of the rake board. Then I used the patch as a template to guide the cuts with the MultiMaster. I held the patch just slightly off my marks when I screwed it in place to allow for the thickness of the sawblade. I also used blue masking tape on the blade to gauge the depth of cut. The patch fit perfectly, and I was off the roof in time for lunch.
Kevin Ireton, New Milford, CT
Edited and Illustrated by Charles Miller
From Fine Homebuilding #222