Tools & Materials
Buyer's Guide to Decking: Wood
Wood is used on three-quarters or more of the decks built in the United States. It includes a broad range of choices, from pressure-treated softwoods to imported exotics and domestic species that are naturally resistant to insect and moisture damage. Newer options include acetylated, silica-treated, and heat-treated lumber.
Cost, durability, and surface appearance vary quite a bit. In general, however, wood is a familiar material that's easy to work with standard carpentry tools, and it's readily available in a range of prices.
Pressure-treated softwood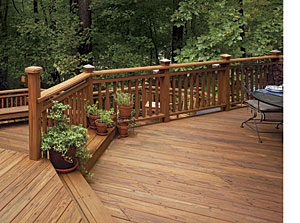 Southern yellow pine treated with chemical preservatives is fairly inexpensive and widely available in the Eastern United States. In the West, other species of softwoods are used. Decking is available in different grades and standard lengths. It's typically sold in a nominal thickness of 5/4 in., with an actual thickness of 1 in.
Common chemical treatments include copper azole and alkaline copper quaternary (abbreviated as CA and ACQ, respectively), which have taken the place of chromated copper arsenate. The compounds are forced into wood fibers under pressure and offer long-term protection against fungal attack, rot, and wood-eating insects. Lumber with higher concentrations of preservatives can be used in direct contact with the ground, but be sure to check the label. Because of the copper content of the preservatives, it's important to use galvanized, stainlesss teel, or other approved fasteners.
Freshly pressure-treated pine has a characteristic green hue that fades with exposure to rain and sunlight to brown and then to gray. Pressure-treated pine can twist or develop end and surface checks with exposure to weather. A regular application of stain or wood preservative can extend the life of decking and give it a more uniform appearance.
There also is nonmetallic pressure-treated decking that contains no copper, so it's noncorrosive for fasteners and can't leach toxic metals into the environment. Two brands are Wolmanized L3 (www.wolmanized.com) and EcoLife (www.treatedwood.com/ecolife).
Pros: Natural wood look; widely available; some grades are inexpensive
Cons: Relatively soft; clear grades are expensive; needs finish to maintain color and to minimize checking
---
Naturally resistant wood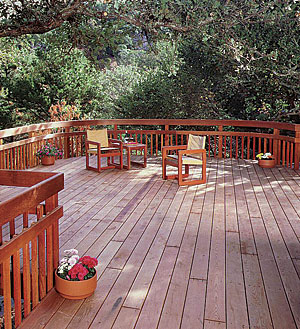 Some species of softwoods harvested in North America resist decay and insects without chemical treatment. They include redwood and several types of cedar. These species are not especially dense or hard; as a result, they are not as scratch or impact resistant as some other options. They range in color from deep red to light yellow, depending on species, and weather to gray.
A variety of grades are available, differing somewhat by species. Choices range from clear vertical grain and clear all heart to grades in which tight knots are permitted. The best grades are relatively expensive. Only the heartwood of these species offers any protection from the elements. Sapwood, which is permitted in some grades, is not decay resistant.
The best redwood, Alaskan yellow cedar, and western red cedar traditionally were harvested in old-growth forests on the West Coast of the United States and in southwest Canada. Today, all redwood lumber comes from young-growth private forests and is managed under the California Forest Practice Act, the most stringent forest-management regime in North America. Studies have shown redwood and cedar to be superior to plastic-based decking in terms of global-warming potential, energy consumption, and pollution.
Pros: Natural wood look; widely available; some grades inexpensive
Cons: Relatively soft; clear grades expensive; needs finish to maintain color and to minimize checking
---
Imported Exotics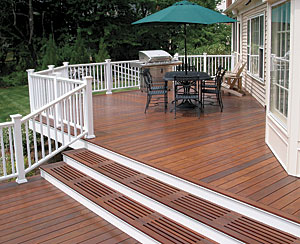 A variety of tropical hardwoods imported from South America and the Far East are milled into decking. The list is long and includes mahogany, ipé, Tigerwood, garapa, massaranduba, and cumaru.
These hardwoods carry a higher risk of being irresponsibly harvested, but many are available as FSC-certified products. Some are sold under trade names (Tigerwood, for example, is really goncalo alves), and some names could mean the lumber is one of several possible species (ipé, for instance).
Exotics are much harder than weather-resistant domestic species, making them more impact and scratch resistant. As a rule of thumb, many of these species are extremely durable, even with little or no maintenance.
Decking is typically clear and knot-free. Colors are often rich, reddish browns that fade with exposure to weather to a silver gray. Applying a finish can help to maintain the color, but it must be reapplied periodically. Tropical hardwood decking is a little harder to work with than domestic species. For one, it's noticeably heavier. Because it's so dense, cutting tools wear more quickly, and installers must drill pilot holes for fasteners.
A more recent addition to the vast array of available exotics is bamboo decking. Technically a grass rather than a hardwood, bamboo gained popularity as a sustainable choice for indoor flooring. In recent years, it has gained some popularity as a decking option as well.
Pros: Dense; hard; resistant to rot and insects without chemical treatment; dramatic color and grain
Cons: FSC certification adds to cost; needs sealing to maintain color; harder to work
---
Nonchemically treated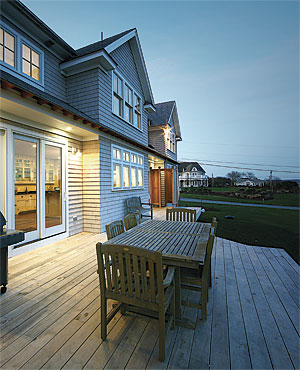 Several types of wood decking are designed to offer protection against insect and weather damage without the use of chemical preservatives.
Thermally modified wood is heated to temperatures approaching 500°F, a process that makes wood sugars inedible to mold, fungi, and insects, according to manufacturers. Producers also say that the process improves the dimensional stability of wood by lowering water absorption. Some brands carry warranties as long as 25 or 30 years. The decking needs no chemical preservatives, although a UV-resistant finish helps to preserve its original color.
A second nontoxic option is decking made by TimberSIL using a proprietary process that infuses wood fibers with sodium silicate. The material is noncorrosive, has class-A fire resistance, and is significantly harder than untreated wood of the same species, according to the manufacturer. It's guaranteed against decay and termite damage for 40 years.
Accoya and Perennial Wood are two examples of wood that is modified in a process called acetylation. Infusing the wood with acetic acid (vinegar in a more diluted form) renders it indigestible to insects and fungi and also reduces the wood's ability to absorb water, making it more dimensionally stable. Accoya is warranted for 50 years in above ground applications, and Perennial Wood—available unfinished or in four stain colors—is warranted for 25 years. Perennial Wood is currently available only in New England and is being sold through lumberyards and at Lowe's.
Pros: Nontoxic; noncorrosive to fasteners; long warranties; more stable than chemically treated wood; resistant to insects and fungi
Cons: Limited availability; expensive
---