Butt Joints in Decking
Avoid rot and split wood by positioning butt joints on a flat block with a dado for drainage.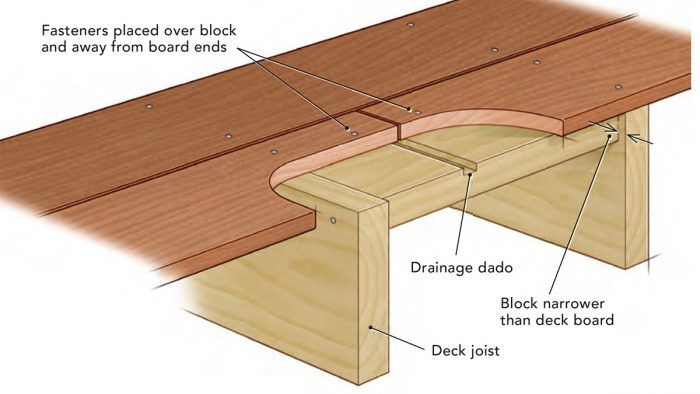 When I install decking on regular pressure-treated framing, fastening the ends where butt joints meet on a joist is always challenging. The fasteners are close to the ends and to each other, and I have to get the joints exactly in the right spot to support the boards. Also, when I look at older decks, these joints are always the first place where the wood rots or splits. Is there a better way?
—Paul Kral via ema
John Spier, a builder on Block Island, R.I., replies: I agree that butt joints are the Achilles' heel of many decking installations, and yes, there are some better ways to do it. Avoiding butt joints altogether by dividing the deck into smaller sections with border boards is one option. But I understand that this solution won't work for every layout and not every budget can accommodate the expense of additional materials and the cost of labor needed to install the necessary blocking.
After decades of building and rebuilding decks, including renovating some of my own work, I've arrived at a method for dealing with butt joints that works well for most jobs. Instead of placing the joints on a joist, I position them between joists on a flat block with a drainage dado routed into it. I fasten the ends of the decking to the block with whatever face-fastening system I'm using for the rest of the deck or with a couple of screws from underneath. I leave a small space between the two ends and place the joint directly over the dado, so water is never trapped where it can soak into the end grain.
Before I start installing the decking, I'll make enough blocks for the whole deck. I make them out of the same treated lumber I used to build the deck framing. I rip them down so they're narrower than the width of the deck boards themselves so they are not noticeable from above. I cut them to the common joist spacing and rout a 3/4-in.- wide by 1/4-in.-deep dado across them. Another trick I've developed is to rout the dados closer to one end of the block, so I have a choice of where I make my cuts. This helps me to keep the joint pattern truly random and minimize waste.
From Fine Homebuilding #314
---
RELATED STORIES
Previous:
How to Install Composite Decking
Next:
Adding Fascia on an Elevated Deck