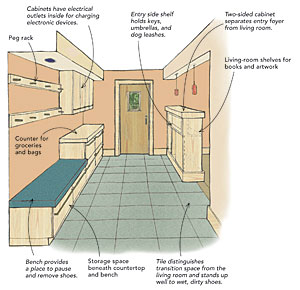 It used to be that you came home, paused inside the entryway, hung your coat in the closet, dropped your keys on the hall table, and went about your business. These days, many people find themselves arriving home juggling an armload of portable electronic technology in addition to the traditional baggage. Whether it's a cell phone, a Blackberry, a laptop, an iPod, a Palm Pilot, a digital camera, a Game Boy, or all of the above, it needs a safe place to dock and charge. Taking care of all your electronic paraphernalia doesn't have to be a prolonged, aggravating process resulting in a spaghetti-like tangle of unsightly power cords.
A few years ago, a couple hired me to design a remodel. They came to the design process with a written list of major goals. Among them was a "threshold zone for transition." To flesh out this idea, I guided them through a visualization of their daily transition routine. We discovered that they needed a mail sorting center, a coat closet, and a place to sit to remove shoes. Because we had extra room, we expanded the mail center to include several cubbies. The addition of outlets at the back of the cubbies seemed useful. As other new clients saw this example, many realized that a drop-off zone would be a great addition to their homes, too.
Building a drop-off zone in an existing room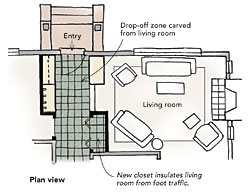 Located at the entry you typically use, the drop-off zone is a space for transition into or out of your outdoor clothing and the accessories that get you through a typical day. The zone is a transition for the physical process of entering and exiting the house, and it also provides a visual cue of entry or exit.
If the front room is large enough, the drop-off zone can be carved from it, creating a foyer. If the front door opens directly into the front room, the room might benefit by becoming less exposed to the front door and more cozy. Soffits and box beams help to define and compress the transition space, creating a sense of arrival as you pass into the front room.
Less than a mudroom, but more than a coat closet
This "do-it-all" feature needs to be located in the normal traffic flow. If the front entry is the one you use most of the time, then that's where the drop-off zone belongs. If you frequent a side door, build your drop-off zone there. Unlike a mudroom, the drop-off zone is not hidden behind a closed door. It's intended as a front-room feature that caters to the gadgets and trappings that accompany you whenever you enter or leave the house. The things a drop-off zone must accommodate are up to you; the plan depends on the demands of your daily life. Among the features I find clients often ask for are:
Stables for storing and charging electronic devices
A place to sit while putting on or removing shoes or boots
A shelf for shoes to dry
Storage for sunglasses, keys, and wallets
Junk drawers
Coat hooks
A hat shelf
Cubbies for backpacks, brief- cases, handbags, and courier bags
A mail-sorting center
A countertop for resting grocery
Converting a coat closet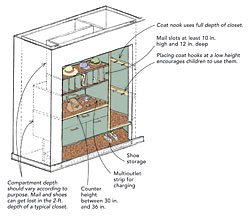 If floor space is at a premium or if you don't require much storage and organizational space, a closet can accommodate a drop-off zone. These units can be designed with or without doors and can incorporate most of the same elements that a front-room drop-off zone features. Whether I'm carving space from the front room or converting a coat closet, I've found that having a dedicated cabinet or large drawer for each member of the family helps to control clutter.
To provide plenty of outlets for charging electronic gear, I typically use multiple-outlet strips. They have outlets every 6 in., can be hardwired, have clean lines, and can be concealed by molding details.
A hallway built-in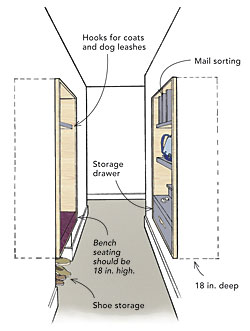 Dividing the components of a drop-off zone between built-ins on each side of a hallway is an option if creating a foyer as part of the entry does not work with the floor plan. This option requires that you steal space from a hallway closet or from rooms or closets on the sides of the hallway. However, the space requirements can be minimal: The built-ins illustrated here are 18 in. deep.
Tailor it to your house
Depending on the floor plan and the number of items or activities you need the drop-off zone to support, you can create a large, medium, or small transition space. By visualizing your daily routine as you prepare to leave and return to your house, you can determine which elements you want. Keep in mind that life and technology change over time. Storage tailored specifically to one particular item could become obsolete when the gadget does, so keep a degree of leeway in your design.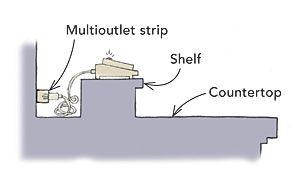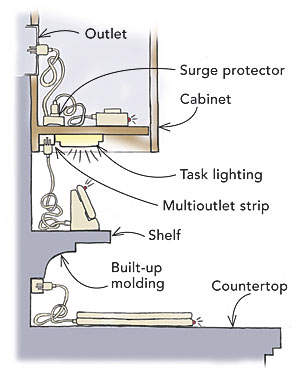 Storage with a charge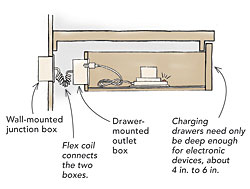 One of the primary reasons for a drop-off zone is to accommodate the proliferating number of chargeable gadgets that modern life seems to demand. Depending on whether the device is a cell phone, an iPod, a PDA, or a laptop, it might be stored on a counter, behind a cabinet door, or in a drawer. Regardless of where you opt to store these devices, they require an electrical outlet for charging and a strategy to mask or reduce the tangle of power cords. Several ways of placing charging outlets in a drop-off zone are shown here.
Drawings by the author.