What's the Difference: Paintable Interior Moldings
MDF trim vs. finger-jointed trim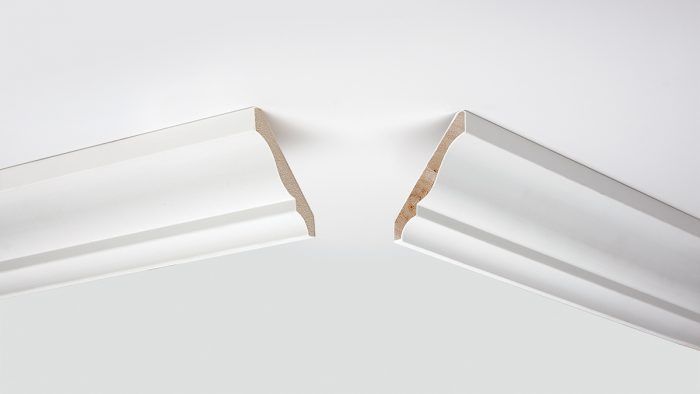 Sifting through the comments posted in "Breaktime" and other online forums reveals strong feelings on whether MDF (medium-density fiberboard) is a suitable material for interior trim. Some carpenters love it; others hate it. In the end, whether to use MDF or finger-jointed trim is really a matter of personal preference. Both products can be used successfully, but each has strengths and weaknesses.
MDF
If consistency is a key concern, then MDF is the stuff for you. MDF is a composite of sawdust, wood shavings, small wood chips, and resin that provides a uniform material for cutting, nailing, and painting. It's less expensive than finger-jointed trim, so if you're trimming an entire house, the cost difference can be substantial. But MDF has its drawbacks.
Installing
• MDF is heavy and floppy, making it difficult for one person to handle and install. Long lengths of MDF are more likely to break than finger-jointed pieces.
• The material's flexibility means that it will follow any waves in a wall rather than simply running over them. You'll have fewer gaps to fill, but you may not like the wavy appearance.
• MDF has a hard outer face, which makes it difficult to nail by hand but more resistant than softwoods such as pine to surface damage.
• MDF's edge strength is low, so outside miters must be handled with care.
• Because the material has no grain, withdrawal strength is low. It's best to install MDF with an adhesive, using nails as clamps while the adhesive dries.
• MDF swells in wet areas or areas with high humidity, so it's not appropriate for bathrooms.
• Cutting MDF produces a very fine dust, so do that outside if you can and wear a tight-fitting dust mask or respirator.
Painting
• MDF is smooth as it comes from the factory and it needs sanding only to remove debris and to prepare the surface for good primer adhesion. MDF molding generally comes factory-primed. That seals the material against moisture, but adding your own layer of primer ensures the best surface for applying the finish coats.
• Because MDF is more stable than wood, manufacturers usually leave the back unprimed. If you want to seal it, use an oil-based primer. Priming with a latex product will cause the material to swell and a texture to appear on the surface that's difficult, if not impossible, to sand down. After the primer coat has been applied, though, it's fine to use latex paint.
Appearance
• MDF dulls molding knives more quickly than wood, so manufacturers use knives made of carbide instead of steel. Because it's more difficult to shape a carbide knife to a sharp profile, MDF trim tends to have softer profiles than finger-jointed trim.
Cost
• 3-5/8-in. crown (shown): $.95 per lin. ft.
Finger-jointed
When carpenters plan to stain interior trim, their first choice is solid wood. If the trim is to be painted, however, finger-jointed molding offers several advantages: it's less expensive than solid wood, typically comes factory-primed, and is less prone to warping and twisting. Its made by gluing small pieces of clear stock together with the help of multiple finger joints – hence it's name.
Installing
• Finger-jointed trim is light enough and stiff enough for one person to install.
• Because it's made from real wood, it holds nails very well.
Painting
• Finger-jointed trim can be sealed with either a latex or an oil-based primer. Because it doesn't have knots, there's no need to seal it with a shellac-based primer, which can be more than twice the cost of latex or oil-based primers.
Appearance
• The best products have sharp profiles, which produce the fine shadowlines expected in a well-trimmed room.
• Because finger-jointed trim combines pieces from different trees, it can expand and contract at somewhat different rates. With lower-quality products, this may result in joints telegraphing through the paint over time.
Cost
• 3-5/8-in. crown (shown): $1.15 per lin. ft.
Photos: Rodney Diaz
More on interior trim:
Installing Trim  – In this video from the FHB vaults, finish carpenter Craig Savage shares a few tricks for getting professional results in trimming out a window.
Well-Proportioned Trim – Interior trim is an important element in a room's overall design, so why not give it the attention it deserves? Start with getting the proportions right and looking beyond the confines of a basic trim package.
Painting Trim the Right Way – Pro painter Tim Leahy and his crew share some time-saving techniques to meet the uncompromising standards and schedules of working in the famous homes of Newport, R.I.