Tools & Materials
Iron Dog Tool Gear Tool Belt
Customizable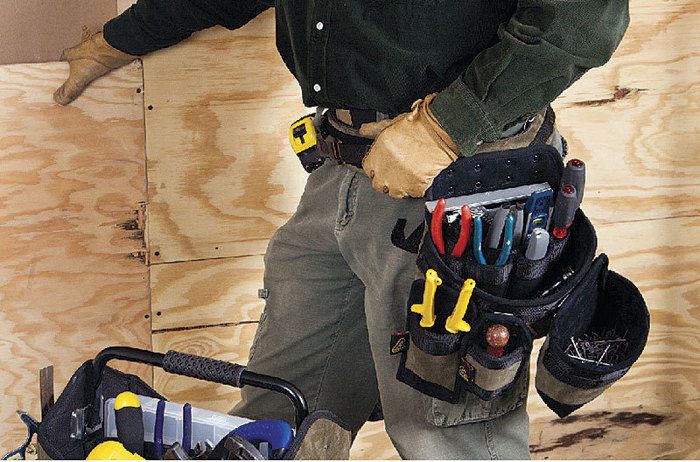 Wearing a tool belt always has been a sort of love/hate endeavor for me. I love having easy access to my tools, especially if the job is 15 ft. off the ground. But I hate how my tool belt gets heavier and more uncomfortable as the day wears on. It also seems like the pouches are never easy to reach, regardless of how I position the belt on my waist. I was excited to try Iron Dog's tool belt because it seemed like a promising solution to overly heavy tool belts with poorly placed pockets.
How is this tool belt different from others? Its sturdy, modular design means that pouches can clip anywhere. In addition, the soft leather belt is fastened with an easy-touse steel buckle, making it secure and comfortable.
I've been wearing this belt for about a year, and I really like how I can customize it. First, the ability to move the pouches and tool holders allows me to fine tune their location. Second, it's easy to add or remove pouches, depending on the job. For example, I can set up the rig for morning demolition and then reconfigure it for framing or trimwork in the afternoon. The other big plus is that I only wear what I need without extra pouches, tools, and fasteners weighing me down.
It's no surprise that this tool belt is not inexpensive. The belt itself is just under $40; suspenders cost another $40. The pouches range from $30 for the smallest to $59 for the largest. Other types of pockets and tool holders are available, such as the zippered pocket, the rafter-square holder, or my favorite, the flat-bar holder; they range from $10 to $29. The rig shown in the photo sells for $175. You also can get a stepladder tool caddy ($40) that accepts the same tool holders and pouches as the belt.
The Iron Dog Tool Gear system makes being a carpenter a little easier, and in my opinion, its comfort, convenience, and durability make it well worth the money.