Tools & Materials
Tool Test: SawStop's Portable Tablesaw
We test the new finger-saving tablesaw from SawStop.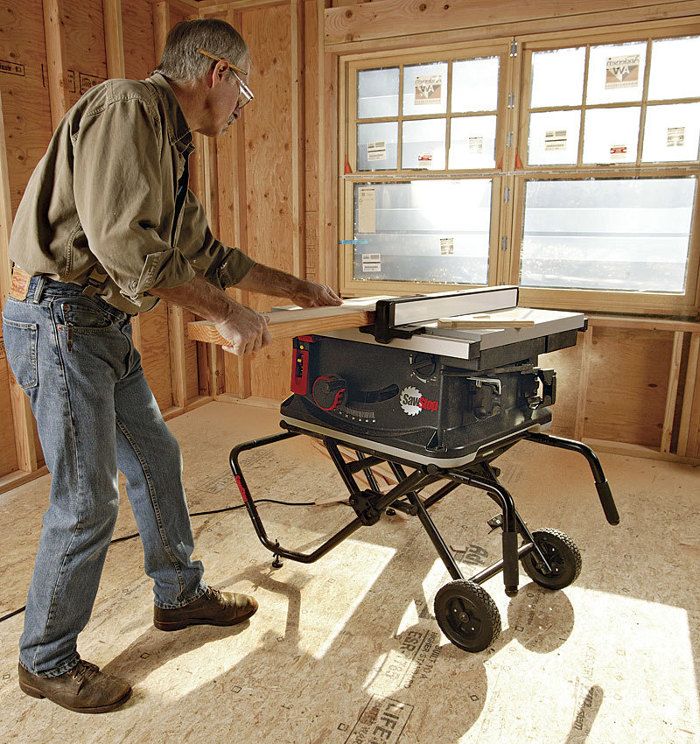 Synopsis: Every year, 67,000 carpenters and woodworkers are injured using tablesaws. In 2002, SawStop developed a tablesaw with a flesh-contact electronics and a blade brake that stops the blade when it makes contact with flesh. In March 2015, the company released its long-promised portable tablesaws for the home-building and remodeling industry. In this article, longtime carpenter and former Fine Homebuilding editor Kevin Ireton takes a critical look at the new saw, examining its conventional aspects such as cutting capacity and performance in thick hardwoods, and also its safety features.
In 35 years as a carpenter, I've made three trips to the emergency room. The first was to have my eyelid turned inside out so that a small piece of concrete could be removed. The second was to receive a dozen stitches in my right thigh after the guard on my worm-drive saw froze in the open position one frigid morning up in Maine. The last trip to the ER came when a board I was cutting on my tablesaw kicked back. My left hand was applying pressure to keep the board tight to the fence, and when the board disappeared, my hand went into the blade. It came out with one less fingertip. I joked with the ER nurse that even though my hand would be less effective at scratching itches, maybe I could get a discount on manicures.
Nobody really knows how many tablesaw accidents happen every year or how many of those result in amputations. Some accidents don't get reported. Some are reported inaccurately. And of all the accidents that happen, only a sampling is used to project national averages. That said, the Consumer Products Safety Commission (CPSC) estimates that there are 67,000 tablesaw-related injuries every year, resulting in 33,000 emergency-room visits and 4000 amputations. That's more than 10 amputations every day.
Given these injuries, the CPSC has been considering whether to adopt a standard for tablesaws that would require the use of "accident injury mitigation" technology. The Power Tool Institute and tool manufacturers oppose new rules because they would increase the cost of tablesaws. Meanwhile, lawsuits are being filed (and won) against manufacturers for not adopting finger- saving technology. Still more lawsuits have been filed over patent issues related to the technology. In the midst of all the acrimony, however, two facts are indisputable: Tablesaws are dangerous, and a safer tablesaw is a good thing. For those reasons, I was delighted to learn that SawStop, the company that pioneered finger-saving technology 15 years ago, has released a job-site version of its tablesaw. When Fine Homebuilding asked me to test one, I jumped at the chance to get my fingers on it—all 9-3/4 of them.
For photos and more on the new SawStop portable tablesaw, click the View PDF button below. 
View PDF