Tools & Materials
Radiant-Ready Subfloor
Three reasons to choose in-floor hydronic heat for houses that could be heated with forced air.
Sponsored by Warmboard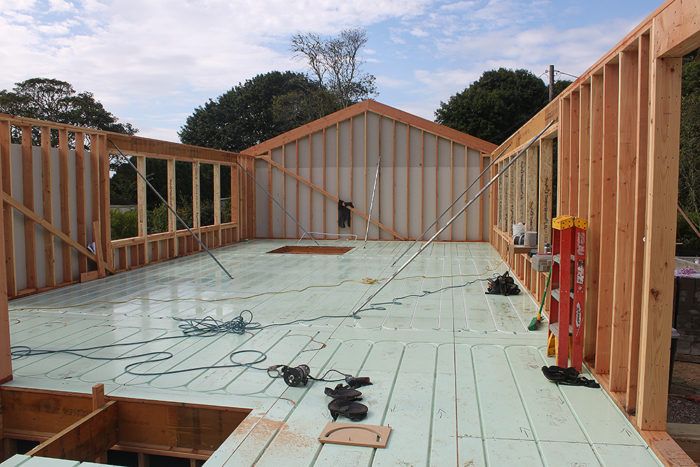 It's hard to beat the warm, even comfort of in-floor hydronic heat. Conventional in-floor systems use a layer of concrete or gypcrete on top of the subfloor to embed the tubing. This huge amount of mass takes a long time to heat up before it can warm the room (sometimes days). And then once the floor is heated, it stays warm and is difficult to cool off again. This lack of nuanced control creates problems in the shoulder seasons when you need a little heat overnight, but no heat during the day. The same problems are even more pronounced in a super-efficient house. Given the potential complications, one might ask why choose hydronic floors for houses that could be heated with forced air.
Comfort rules
There are a several good reasons to use radiant. For starters home owners love hydronic systems because they're nearly silent and don't stir up dust and pet hair. In addition, the moving air common to forced-air systems creates a breeze that can make people feel cold even when the system is blowing warm air. Forced-air heating systems also need ducts, which are big in comparison to hydronic piping. Because of their size and because most people don't want to look at them, ducts must be hidden in chases or run in unconditioned spaces. Neither option is optimal. Chases present design and aesthetic problems and running ductwork in unconditioned spaces comes with a significant energy penalty.
Radiant subflooring
One of the most-promising ways I've seen to create a quick-responding hydronic system suitable for modern construction is Warmboard. These pre-routed panels, which receive 1/2-in. PEX radiant tubing, have an aluminum skin that's molded into the tubing grooves. The aluminum skin provides efficient radiation and allows the use of energy-saving lower water temperatures (80 to 110 deg.) rather than high mass systems and radiators, which commonly use 140 deg. or hotter water. Early versions of Warmboard had a bare aluminum surface that was so reflective, it was tough to look at when the sun was shining. Fortunately, the aluminum is now painted, so it's easier to look at in bright light. Warmboard S is 1 1/8-in. thick and is meant for new construction. Warmboard R is 13/16 in. thick and is designed for retrofit applications.
In both cases the manufacturer designs the heating loops and panel layout and ships all the panels necessary to complete the installation. You supply the tubing from a list of approved products identified on the company's website. The company can work with a heating contractor or design the entire system, including heat-load calculations. Once the design is finalized, you'll receive drawings that map out the various panels and show the manifold locations and heating loops for every zone.
Along with the panels, Warmboard includes three router templates with an order: an obstruction template for routing the tubing around closet flanges and obstacles. They also include straight and 180° curved templates for connecting the grooves on cut panels and completing odd-shaped layouts. Warmboard claims both versions of the subfloor can be placed under virtually any finished flooring, including carpet, hardwood and ceramic. Since the tubing is visible within the panel, it's easy enough to avoid damaging it during the finished flooring installation. It's also a good idea to keep the system pressurized with compressed air during flooring installation so you're alerted to any damage while it's still easily repaired. Check out warmboard.com for installation videos and additional technical details.