Master Shower Glass
A frameless glass enclosure is the finishing touch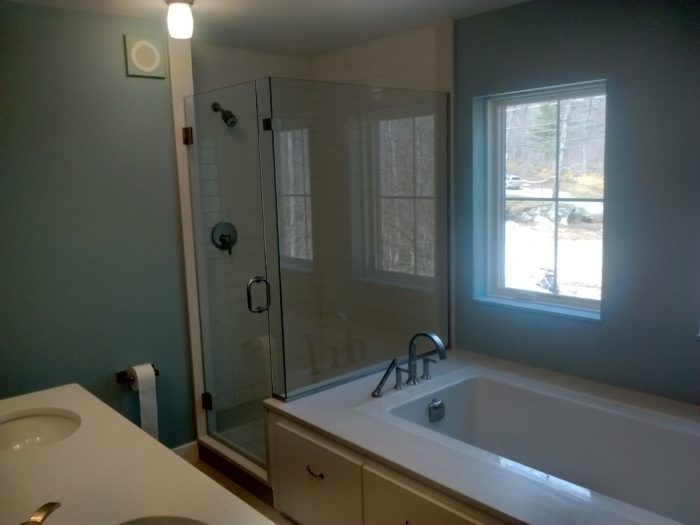 Shortly after the Caesarstone quartz was placed around the master tub I had Todd come out to discuss the shower enclosure options and measure up for ordering. Todd has done the shower/bath enclosures and mirrors on all of my projects for the past 20+ years.
We had three options: frame, semi-frameless, or frameless. From a design standpoint, frameless would look the best given the modern / clean line look of the interior; and of course frameless cost the most. But the difference wasn't a budget buster (the budget went out the window months ago). Todd estimated a framed enclosure would run $900 – $1000 and the frameless would be about $1500 – $1600 — or $600 more.
Between a snow storm, ordering and scheduling installation, it's been about a month since Todd measured up the job. Installation took him and his assistant about an hour. Their precision in matching the top of the glass panels and aligning the margins between panels — especially the 4 in. side panel and the door — was a much higher tolerance than most of the work I've been doing with trimwork throughout the house.
I have a feeling that once my wife, Susan, sees how the frameless enclosure looks in the FHB House, she'll be angling for us to redo our shower. It has a framed glass enclosure that Todd installed 19 years ago. And I suppose that she may also want new wall and floor tile and probably a new shower valve.