Podcast Episode 151: Cordless Saws, Glued-Down Floors, and Buried Electrical Boxes
Are battery-powered miter saws tough enough? Can you glue solid oak to concrete? How can you install an outlet in a garage slab? Find answers to these questions and more.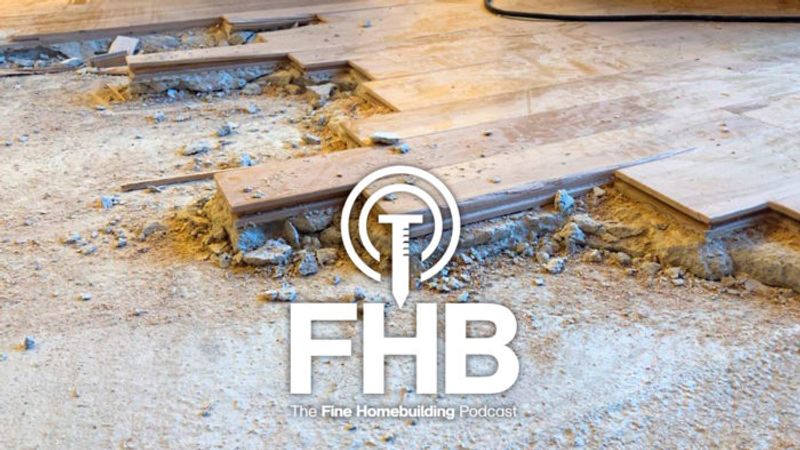 In this week's show, Patrick, Matt, and Rob mull over questions from several readers, including one contractor who is stuck on how to replace some water-damaged flooring that's installed directly over crumbling Gyp-Crete. The guys also discuss how to protect a flush-mounted plug in a shop floor, how to get fresh air into a well-insulated backyard workshop, and whether it's time to forget about corded power tools and go fully cordless.
---
Editors' project updates
Rob talks about the 10kW solar array that was recently installed on his roof.
And Matt is still working on his closet.
---
Question 1: Are cordless miter saws just as good as the old plug in models?
John writes: I love your podcast and magazine. I am a home do-it-yourself-er with a few projects under my belt over the years such as replacing my windows, doors, siding, and flooring. I had a question regarding miter saws. I am looking to replace my old miter saw and considering the option of corded vs cordless 10″ miter saws. I mainly use the saw in a garage workshop but do take it outside for the occasional project or to a neighbors.
I am considering a Kapex corded miter saw and the new Makita XSL06PT 36v 10″ saw. They both have great dust collection, cutting power, and accuracy which is why I am considering these two different animals. I am really interested in the battery powered version but I am very leery since it is uncharted territory for me. I am hoping your staff can shed their more experienced input and first-hand knowledge on this topic. Thanks!
Related links
---
Question 2: Can I glue solid hardwood flooring directly to an above-grade concrete slab?
Michael Jensen writes: Hello, I work in property damage assessment and repair.  We have a condominium project where a hardwood floor was severely damaged by a long-term leak from a dishwasher.  The floor is ¾" maple glued down to Gyp-Crete on Spancrete (there's a parking garage under the unit).  As you can see from the photos, the Gyp-Crete came up with the hardwood—it was a very labor intensive process.  We do a lot of flooring repair and haven't seen this exact method of installation.
| | |
| --- | --- |
| | |
Do you have any experience with glued down solid hardwood on Gyp-Crete or glued down hardwood in general?  I've worked with glued down engineered hardwood floors but not solid hardwood.  To me this installation would be prone to problems for differential expansion and contraction of the wood caused by differing moisture levels on the upper and lower surfaces.
Any suggestions on options for replacement of the floor?  The homeowner and insurance company expect to be returned to the pre-loss condition which means a solid hardwood floor.  At this point we are looking at pumping in new Gyp-Crete, waiting for the Gyp-Crete to come to an acceptable moisture content, and installing a new hardwood floor.  The homeowner is out of the unit while the work is happening so a long delay for curing of the Gyp-Crete is a problem.  We have considered installing cement board underlayment but that would not give the same level of uniformity for installation of the flooring.
This situation brings up the larger issue of building in a way that is more resilient to damage and that allows for removal and modification of building components when things go wrong or when people want to change their living environment.  It's a problem we face every day while dealing with water and fire damage.
Thank you for any feedback or advice.  I'm a longtime listener of the podcast and Fine Homebuilding subscriber.
Related links
---
 Question 3: What kind of durable electrical box can I use in a concrete shop floor?
Joseph writes: I own a remodeling business and have a 40′ x 60′ slab-on-grade shop. Last minute before the slab was poured,  I remembered to put in conduit for some floor outlets. See pic. I want to install one 120 and one 240 receptacle.
I haven't found a good solution.  I have seen the single outlet residential floor boxes but both120 & 240 outlets won't fit in them. Plus not sure about how resistant they'd be to a shop environment. My idea is to weld up an enclosure with a hinged lid, saw/chisel out an opening in concrete, and install. I'm concerned about water sometime getting in a floor shop outlet. GFCI breakers?
What are your thoughts?
Related links
---
Question 4: What energy-efficient fresh-air system would work in a small workshop?
Kenneth writes: Greetings; I have a problem. I'm finishing up my wood shop, and have some air quality issues. It's my full time work day abode, so I want to get it right.
Construction
It's 400 square feet, 2 by 6 framing, zip system sheathing, rock wool insulation (mainly to deaden sound for the benefit of my wife and neighbors ), semi permeable membrane under the sheetrock. The hardy siding and the attic access door aren't quite done.
I haven't done any formal testing, but it seems to be extremely tight. A gasket and extra sheet insulation on the pull down attic ladder seems to work well. I left it with no heat on for 12 hours in 30 degree weather and the inside temperature dropped about 8 degrees.
I didn't want in swing doors or pay the horrible prices for out swing doors. So I built some temporary doors. They are hung on barn door hardware, and an added wedge on the bottom of both doors pushes them hard into the weather seals around the inside of the door opening when closed. Except for one corner that I have deliberately left unadjusted ( to let air in ). One of these days I plan on making some permanent doors using either white or red oak.
Inside I have things mostly done. Assembly table, band saw, mostly working drill press, old table saw, CNC machine. For dust control I have one ceiling mounted filter and in the attic, a mashup dust control system starting with a harbor freight system. It's been improved with a DYI Thien baffle to get the big stuff and a good aftermarket particulate filter.
The Problem
Currently any time I use the dust control system I get lots of fresh air coming in through the not sealed up door. That's going to change, As my mother used to say "close that door, don't try to air condition the whole state of Texas". The mini split works great, but I need to seal things up so I don't bankrupt myself conditioning and dehumidifying outside air constantly. Running a 4 hour CNC session pulls a lot of air in. I plan on enclosing the dust control system and routing the air back into the workshop conditioned space. If I do that, then I won't be getting any fresh air. An HRV or ERV are overkill and expensive.
Any Ideas? I know it's a bit more messy because of the dust issues, but there ought to be a solution. I looked for mini versions of an HRV, but no luck. Hopefully you don't need more detail. Thanks.
Related links
---
And lastly: Alaskan earthquake
Patrick mentions some images he saw of building damage near Anchorage Alaska after the recent seismic activity in the region. A contractor he's been talking to expects to be installing a lot of helical footings to deal with compromised foundations.
Related links
---
SPECIAL DEAL!
Fine Homebuilding's Holiday Sale is almost over. Podcast listeners can save 25% in our store on favorite titles like Renovation 4th Edition.
Visit Tauntonstore.com and use code GIFT25 to get the discount.
New gift memberships
We have a new feature in the Fine Homebuilding store­—you can now buy gift memberships to FineHomebuilding.com, giving access to all of our feature articles and how-to videos.
Visit FineHomebuilding.com/membergift for details!
---
This episode of the podcast is brought to you by Danner and SupplyHouse.com
This episode of the Fine Homebuilding Podcast is brought to you by Danner boots. We're not fortune tellers, but when you lace up our new Stronghold work boots, it's easy to see that the future looks strong. We're Danner, and after 85 years of making boots for the unforgiving Pacific Northwest…well, that means our boots come with deep roots. And the new Stronghold work boot does just that. This is what happens when iconic quality runs into modern technology. You get tomorrow's classic today. Get into the Stronghold for strength that starts right from where you stand. Find your local store at Danner.com.
This episode of the Fine Homebuilding Podcast is also brought to you by SupplyHouse.com. When you need plumbing, heating, and HVAC products in your starting lineup, take the field at SupplyHouse.com with easy online ordering. SupplyHouse.com has a stacked team featuring lightning-fast delivery, industry-low prices, and undefeated service. Have a question? Give their friendly support staff a call. If you're a contractor, ask about the exclusive SupplyHouse.com trademaster program for industry professionals. Stop fumbling away your time and money, and take it to the house: SupplyHouse.com.
We hope you will take advantage of a great offer for our podcast listeners: A special 20% off the discounted rate to subscribe to the Fine Homebuilding print magazine. That link goes to finehomebuilding.com/podoffer.
The show is driven by our listeners, so please subscribe and rate us on iTunes or Google Play, and if you have any questions you would like us to dig into for a future show, shoot an email our way: [email protected]. Also, be sure to follow Justin Fink and Fine Homebuilding on Instagram, and "like" the magazine on Facebook. Note that you can watch the show above, or on YouTube at the Fine Homebuilding YouTube Channel.
The Fine Homebuilding Podcast embodies Fine Homebuilding magazine's commitment to the preservation of craftsmanship and the advancement of home performance in residential construction. The show is an informal but vigorous conversation about the techniques and principles that allow listeners to master their design and building challenges.
Other related links