How to Wrap a Tangle-Free Extension Cord
A chain stitch is one way to keep power cords tidy and knot-free in your shop, truck, or on the job site.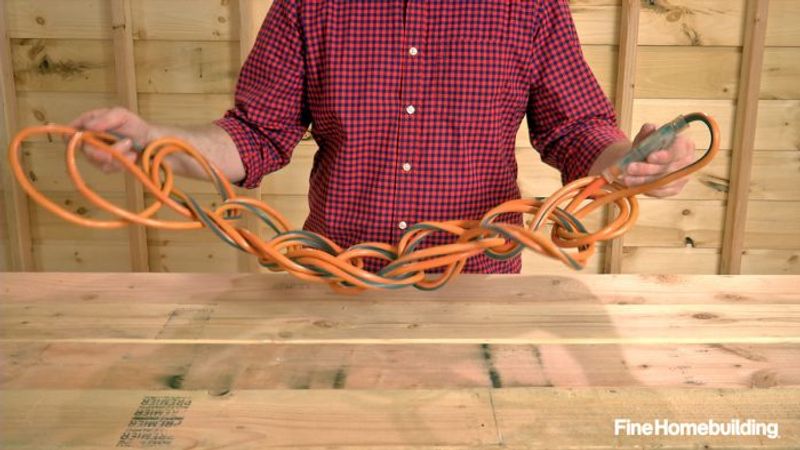 Tangle-free extension cords increase efficiency and prolong the life of the cords. Here's one popular way to store power cords, borrowed from the world of crocheting. We know that this isn't the only way to neatly stow a cords—and that people have some strong opinions about which way is best—so feel free to offer your own suggestions in the comments or on Fine Homebuilding's Facebook page.
This process is much easier to demonstrate than describe, so watch the video above to see how it's done.
….but here's a description of how to do it:
Start by plugging the two ends together, and slide your hands along the doubled-up cord, away from the plugs, towards the
opposite end. Grasp the loop at the midpoint of the doubled-up cord in one hand, leaving enough of a loop to pass your other hand
through.
Now reach through the loop, grab both pieces of the cord and pull them back through to create anotherloop. Repeat the process using the loop you just created. The goal is to create similar-sizedloops.
Continue until there's about a foot remaining with the plug. Slip it through the last loop, snug it up, and it's ready for storage. You can even throw it in a bin with other cords and it won't (or shouldn't) get tangled up.
To unwind, simply pull the plugged end back through the last loop, and pull or shake it to unstitch the loops. You can even just pull out enough cord to work with, leaving the rest of the cord looped together to make it easier to re-wrap and store again.
More power-cord tips:
3 Ways to Wrap Cords and Hoses – Maintain the quality of cords and hoses, and avoid kinks and tangles by using proper wrapping technique.
Extension-Cord Basics – Wire size, jacket materials and voltage drop are important, often-ignored features of these ubiquitous job-site umbilicals.
Replace the Cord on a Power Tool – Here's how to breathe new life into a drill with a frayed cord.