Podcast 211: Attic Insulation, EV Work Truck Conversions, and Wonky Can Lights
Matt, Kiley, and Patrick hear from listeners about thermal bridging, dryer ducts, and determining the age of recent remodels before taking listener questions on improving attic insulation, hybrid work trucks, and what's up with this can light?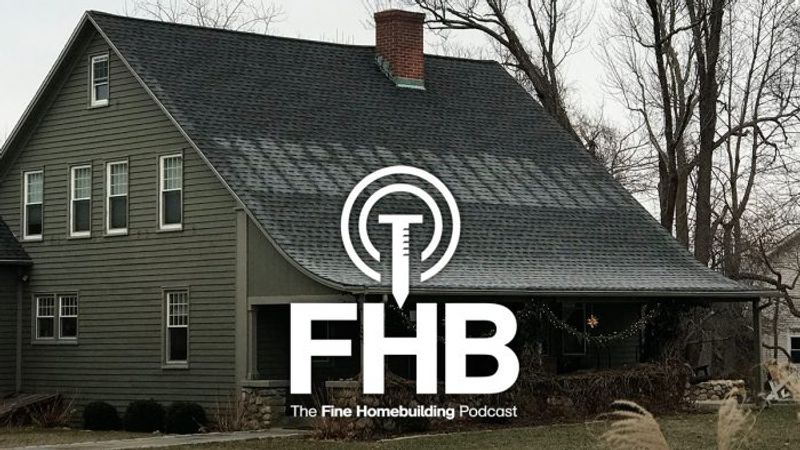 Follow the Fine Homebuilding Podcast on your favorite app. Subscribe now and don't miss an episode:
The crew starts off with feedback from Bruce, whose wife was pointing out thermal bridging on the neighbor's house. Andre in Vancouver challenges Matt's knowledge of metallurgy and reminds listeners that the smooth dryer duct moves more air than flex duct. Jonathan describes a surefire way to date recent remodels. Andre from Staten Island wants to know if he should tidy up his attic insulation. Will is curious about the availability of hybrid-electric truck conversions. Keith from Minneapolis asks the crew to weigh in on his workshop's wall assembly. Finally, Mike from Cincinnati asks how to fix a butchered ceiling joist that was cut up for a can light.
---
Listener Feedback:
Listener feedback #1
Bruce from RI writes,
Dear FHB crew, Attached is a photo of the side of a 4 year old house in our Lincoln, RI neighborhood showing an outline of the framing. My wife, a regular FHB podcast listener, spotted this and identified it as thermal bridging. I don't ever remember seeing this phenomenon so clearly illustrated. Keep up the good work.
Listener feedback #2
Andre in Vancouver writes, I just listened to Podcast 208 – another good show – I was reminded that I wanted to chime in on a couple of segments from Podcast 207.
Stainless Steel: He's describing a brief conversation about the Samsung Hub refrigerator, which is stainless steel. 300 series alloys- usually 302, 304 or 316 do not have enough iron to have a magnet 'stick' to them. There are 400 series stainless alloys where a magnet will grip but if there is enough iron for a magnet to stick to there is enough where it can oxidize. If Matt has been appliance shopping the other finish that adds to the confusion is 'stainless steel finish'. This is regular steel with stainless paint finish.
Dryer Ducting: Besides the length of the duct run and the number of elbows the duct material is important. Corrugated flex duct has a much dirtier profile and doesn't support as much air movement as smooth metal or plastic ducting. Use flex only where it needs to be flexible. Use smooth duct where you can for better performance and lower energy usage.
Love the show, PS – If you get your tour bus rolling I have great Keep Craft Alive location to visit in Vancouver Canada.
Related links:
Listener feedback #3
Jonathan from Silver Spring, MD writes, Greetings. A while back Kiley mentioned she was taking a course in estimating when renovations occurred on historic homes. I'm a self-proclaimed expert on this topic. My wife will attest that I love to I tell her the estimated age of homes. Zillow is always there to show me how much more I need to learn about aging houses! For years I wondered about the age of a basement renovation in our house. I recently noticed the backside of the drywall has a date of manufacture on it–September 2002. It's a rock-solid technique for aging modern renos. Drywall, electrical conduit and other building materials often have dates listed on them.
Related links:
---
Editor's Projects:

Kiley: Hot water heater
Matt: Air leaks and scaffolding
Patrick: Andy's glove recommendations Iron Clad Framer, Showa Atlas, and DeWalt.

---
Question 1: How should I replace the insulation in my attic?

Andre from Staten Island, NY writes, Dear Fine Home Sealing Podcast, I know we have all loved hearing about your suggestions about what to do with our solid masonry houses with joists pocketed into the walls. My question is not about the joists or the pockets. It's about the attic. The previous homeowner put can lights in the ceiling of all my rooms. The ones in the attic floor concern me most. They moved the insulation away from where the fixture and didn't move it back neatly after they were done. All the fixtures are IC rates, I saw the stamp on all of them while making the switch to LEDs. So I have taken to putting the insulation back neatly. While starting to do the work I started to question my plan and am seeking your advice.
Firstly my 9 point plan.
1-remove all insulation
2-vacuum out all the dirt and crap from under the insulation. Found small pieces of sheetrock, random lengths of boards, several feet of unused BX cable, general dust and debris
3-put all the "clean" insulation back in
4-add new insulation were pieces were missing
5-while I'm at it, run cat5e cables and coax to the bedrooms
6-add a sheet of plastic over the joists
7-add a layer of 1″ EPS foam
8-reuse any bits of 3/4″ plywood to make up the attic floor
9-add new 3/4″plywood to make a nice flat area to store my Christmas lights.
The idea was add a air barrier (the plastic) because the light cans are very drafty. And 1″eps because more insulation is better, right.
But…
1. I found all my interior wall are build 1/2″ away from the masonry walls and there is this huge air gap around the perimeter of my attic. Should I seal that gap with some canned foam? I wasn't sure if this was part of how my house 'breaths' and maybe moisture from the masonry needs to make it up to the attic to vent out?
2. I haven't seen any condensation on the plastic (its been installed over my bedroom and bathroom for over a year). But maybe the listeners can take this as a learning opportunity so please tell them if my moisture/air barrier is 'on the wrong side', But to be frank, I feel my house is less drafty and unless i see some moisture stains on my sheetrock, I'm probably not going to be removing the already installed plastic.
3. While adding insulation were there was none, I noticed the old stuff (16″ x 48″ x 6″ length batts) are not as fluffy as the new stuff, they also feel lighter. Do you think its worth replacing all the insulation with new batts or probably not a big deal?
Related links:
---
Question 2: Where can I buy a hybrid electric work truck?
Will writes, Hi gang – in my recent journey to find a replacement for my aging work van, I stumbled across this company: xlfleet.com. I'm wondering if your listeners have any experience with this outfit. It appears that the cost is fairly substantial for an individual, but for a larger company or municipality it could make sense. The $10k upfront conversion cost for a sizable increase in fuel efficiency is a ratio I'm sure will decrease with time, so I hope it becomes an option for my *next* van. The gas mileage on a fully-loaded ProMaster 2500 leaves something to be desired. Are there any other companies doing conversions like this? Thanks for the podcast, it's always a good listen.

Related links:
---
Question 3: What wall insulation makes the most sense for an affordable workshop in a cold climate?
Keith from Minneapolis writes, Hi FHB team. I listen to the podcast every week. Keep up the good work.
I am planning to build a workshop and would like your recommendations on the wall assembly. I will be using drywall on the inside and LP SmartSide lap siding on the outside. What would you recommend for the stuff in between?
Some details:
• I am located in the Minneapolis area (climate zone 6).
• Since it can get chilly here in the winter, the space will be heated, likely not full time though. It do not plan on air conditioning.
• Planning on wood construction, with about 11ft side walls.
• The workshop will have a hip roof with 3 ft eaves to match the house.
I would like your recommendations for quality, but cost effective, wall assembly. I will likely live in this house for another 30 years, but will be stretching the budget to build it.
Specifically, what air barrier, sheathing and WRB would you use? Also, do I need an air gap behind the LP SmartSide?
Thanks!
Related links:
---
Question 4: How should I reinforce a ceiling joist that someone cut when installing a light fixture?
Mike from Cincinnati writes, Greetings Fine Homebuilding! I am a homeowner who knows just enough about remodeling to be dangerous. I discovered your podcast about a year ago and I never miss an episode! About 9 years ago our "electrician" installed recessed can lights in our kitchen. Our kitchen is in the single-story part of the house. Recently, we noticed one of the can lights looked wonky so I climbed up in the attic, dug out the insulation and found the wonky can light. An 10-inch section of the ceiling joist was cut out to accommodate the recessed light. Please see the pictures attached. The ceiling is now sagging where the portion of the joist was removed. Wondering if you could give me some ideas on how to fix. Thank you!
Related Links:
---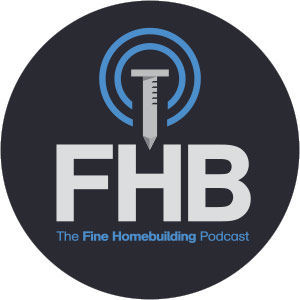 If you have any questions you would like us to dig into for a future show, shoot an email our way:

[email protected]

.
If we use your question we'll send you a FHB Podcast sticker!
#KeepCraftAlive

KeepCraftAlive hats help celebrate the value of true craftsmanship–plus 50% of all proceeds from every hat sold go to the #KeepCraftAlive Scholarship Fund, supported by Fine Homebuilding and SkillsUSA.
Buy a #KeepCraftAlive hat or t-shirt
---
This episode of the podcast is brought to you by Danner, Huber Engineered Woods, and Leatherman
We'd like to thank Danner, who sponsors this podcast because they believe in us. They believe in quality, and craftsmanship…but more than anything, they believe in the power of following your own path.
For more than 80 years Danner has made boots for those who have a trail to blaze. Boots like the Bull Run. Hand built in the USA with durable, full-grain leather uppers, and stitch-down construction for strength and stability. The Bull Run is built in a timeless design for both men and women with unmatched quality and durability that stands the test of time. The Bull Run boot by Danner offers iconic style and legendary craftsmanship for those who earn their independence.
You can find yours at Danner.com.
This episode is also brought to you by Huber Engineered Woods, makers of AdvanTech and ZIP System products.
If you're going to the International Builder's Show in Vegas, don't miss Huber Engineered Woods – they will have two locations. At the Huber Wood booth in the Central Hall, be sure to attend the 3rd Annual "Best of Social Awards" with Matt Risinger, Wednesday at 3:30. Follow @huberwood on Instagram for information on pre-registration. And try ZIP System liquid flash, stretch tape and AdvanTech subfloor adhesive at The Prove It Tour product experience outside on your way to pick up your badge near Show Village.
This episode is also brought to you by Leatherman.
A Leatherman multi-tool is a problem solver: For outdoorsmen. For craftsmen. For around the house, and on the job.
But it's also the solution to one of life's greatest challenges: Finding the perfect holiday gift. Check out the Leatherman FREE Collection, the next generation of the world's most popular multi-tool. Or create a one-of-a-kind Leatherman, with custom graphics and personalization. Holiday gifts? Shop now at Leatherman.com. Problem solved.
---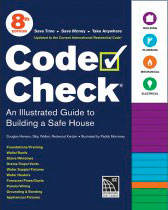 Fine Homebuilding podcast listeners can now get 20% off anything in the Taunton store, including the Code Check series. These sturdy, spiral bound reference books will help you navigate the International Residential Code, The National Electric Code and the Universal Plumbing Code. Use the discount code FHBPODCAST to take advantage of this special offer.
---
We hope you will take advantage of a great offer for our podcast listeners: A special 20% off the discounted rate to subscribe to the Fine Homebuilding print magazine. That link goes to finehomebuilding.com/podoffer.
The show is driven by our listeners, so please subscribe and rate us on iTunes or Google Play, and if you have any questions you would like us to dig into for a future show, shoot an email our way: [email protected]. Also, be sure to follow Justin Fink and Fine Homebuilding on Instagram, and "like" the magazine on Facebook. Note that you can watch the show above, or on YouTube at the Fine Homebuilding YouTube Channel.
The Fine Homebuilding Podcast embodies Fine Homebuilding magazine's commitment to the preservation of craftsmanship and the advancement of home performance in residential construction. The show is an informal but vigorous conversation about the techniques and principles that allow listeners to master their design and building challenges.
Other related links