Podcast 370: The Best of the Fine Homebuilding Podcast, Volume 1
Hear highlights from past episodes in this compilation of some of our favorite discussions and listener questions.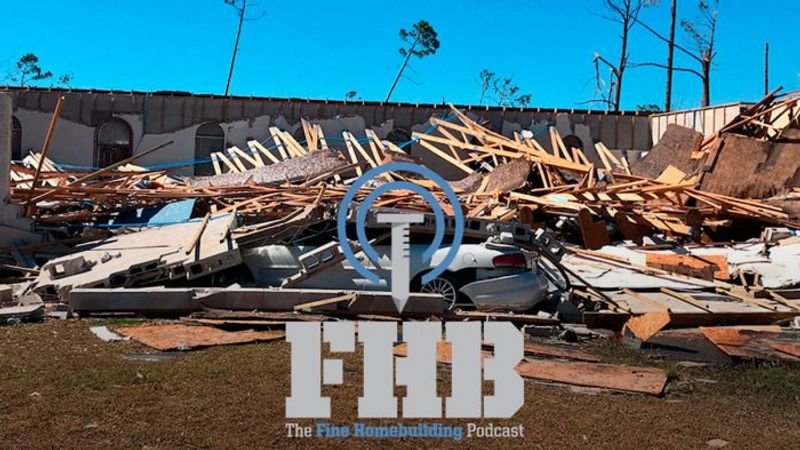 ---
Follow the Fine Homebuilding Podcast on your favorite app. Subscribe now and don't miss an episode:
Help us make better episodes and enter for a chance to win an FHB Podcast T-shirt:
www.finehomebuilding.com/podcastsurvey
The editors discuss how to stop oak floorboards from cupping, adding vinyl over cedar siding, building to survive severe weather, the importance of water-resistive barriers, and much more in these clips from episodes 140-144.
---
Question from Episode 144: How can I stop my oak floorboards from cupping?
Phil from Maryland writes: We installed 1,000 square feet of 5 inch red oak flooring in the kitchen, living room, dining area, foyer and hall way. This was installed by us over 30lb felt, stapling every 8 inches. The floor was allowed to accumulate for 3 weeks in the house and rooms it was to be installed it. Moisture reading were taken during the acclimation time of the wood and subfloor. At install the MC was about 9-11% and in the exact same range as the subfloor. This was acclimated and installed in March. The floor were then sanded, stained, and finished with 2 coats of oil based poly in April a few weeks later.
In July and August the floor began to significantly cup. Moisture readings were taken, whole house moisture readings were taken. The basement at that time had a relative humidity only several percent different than the first floor. 55 vs 53 if I recall correctly. We as a company could not come up with a good theory. We ended up calling a hardwood floor expert with all the certificates and whatnot from the NWFA who came and did a thorough inspection and came up inconclusive and recommended we wait a year to see if it fully acclimates and flattens in the dry Maryland winters. Which it did. hooray! … at least until the next July… damnit.
This past July, 2018, the cupping returned. But this time less severe. So we called in a second inspector for another opinion as the homeowners weren't satisfied with the first inspectors non-conclusion. His report suggested that the hardwood was TOO dry upon install and was then taking on moisture in the hot and humid Maryland summers.
My question, is the stack effect causing the moisture problems and cupping in the hardwood? The stairs to the attic are in the middle of the house with only an interior door in the main hallway. i.e. is warm moist air coming down the attic stairs and is the moisture getting into the hardwood causing the cupping during the summer. These past two years have been very hot and humid in Central MD, even more so than normal this summer getting 20+ inches of rain which is 75% more than usually.
Thanks, love the Podcast. Patrick is doing a great job filling in for the MIA Justin Fink.
Phil says the house is leaky so in the summertime, warm outside air is getting into the basement .
Related links
---
Question from Episode 140: Residing with vinyl

Michael writes: I live in a home that was built in 1984. I am going to install vinyl siding on the house because the existing western red cedar is becoming too much to maintain and keep looking good.
The existing construction of the home is 2 x6 framed walls with R19 batt insulation. The sheathing is 1 inch R-max foam with metal strapping used to cross brace all corners to provide lateral support. On top of the R-Max is the 1 x 8 tongue and groove cedar. There is no rain screen behind the cedar and neither is the R-Max taped at the seams or sealed at the bottom or top plate. I have encountered some shrinkage of the cedar over the years but cupping is very minimal. The finish has deteriorated and is now peeling.
Since I plan on applying the vinyl over the exiting cedar, would it be best to apply a house wrap over the cedar? Also from an insulation stand point, is the insulated vinyl worth the extra cost in this particular case? Your expertise would be greatly appreciated.
Related Links:
---
Discussion on Water Resistant Barriors (WRB) from Episode 141
---
Question from Episode 143: Is it safe to leave old knob-and-tube wiring in place?
Patrick says: One of my friends recently asked me about knob-and-tube wiring. Some people say "if it's not a problem" to "absolutely change it because it's a fire hazard." it exposed the wiring… this part of my house is from around the early 1890s.
Because knob-and-tube wiring can't be buried under new insulation, have an electrician replace any old wires in the attic before adding insulation. Ideally, all junction boxes should be raised above the level of the insulation. When elevating the junction boxes isn't an option, you should install clearly marked permanent tags that can be seen above the insulation level.
While I am working in the attic, I like to install two electrical conduits (one line voltage and one telecom/low voltage) between the attic and the basement or the crawlspace to make any future wiring upgrades easier to accomplish.
Related links:
---

Question from Episode 142: Building to Survive Severe Weather?
Father Chris writes: Hi guys, I am a Catholic priest in the Port Saint Joe and Mexico Beach area of Florida. We just went through Hurricane Michael, which caused serious damage to many homes and other structures. Some was due to storm surge and fallen trees, as was the case in Port St Joe. Some buildings were damaged due to intense winds and storm surge, as was the case in Mexico Beach. One of my churches, Our Lady of Guadalupe in Mexico Beach, had the roof completely cave in and had a wall fall down (see attached pictures—you can probably find a pre-storm picture on Google Street View for comparison). Interestingly, at least one building in the area survived apparently unscathed (See: Among the Ruins of Mexico Beach Stands One House, Built 'for the Big One'.
I know you all are most familiar with building codes for the Northeast, but I would love to hear you all discuss what goes into making a building hurricane resistant and why those things work.
Love the podcast. God bless.
Insurance Institute for Business and Home Safety:
Since Hurricane Katrina, the National Flood Insurance Program has had to "borrow" more than $30 billion of taxpayer money, even though it was designed to cover its own costs when Congress created it 50 years ago. Last year, congress wrote off half so the program could cover claims from Hurricanes Harvey, Irma, and Maria.
Related links
---
Check out our new 2021 FHB Houses:
Visit the Taunton Store  •  Magazine Index  •  Online Archive   •  Our First Issues   •  All Access
---
Help us make better episodes and enter for a chance to win an FHB Podcast T-shirt: www.finehomebuilding.com/podcastsurvey
---
If you have any questions you would like us to dig into for a future show, shoot an email our way:

[email protected]

.
If we use your question we'll send you a FHB Podcast sticker!
---
FHB Podcast T-shirts!
Represent your favorite podcast! Available in several styles and colors. Made from 100% cotton. Find the Podcast t-shirt and more cool products in the Fine Homebuilding Store.
---
Fine Homebuilding podcast listeners can now get 20% off anything in the Taunton store, including Insulate & Weatherize.
Use the discount code FHBPODCAST to take advantage of this special offer.
---
We hope you will take advantage of a great offer for our podcast listeners: A special 20% off the discounted rate to subscribe to the Fine Homebuilding print magazine. That link goes to finehomebuilding.com/podoffer.
The show is driven by our listeners, so please subscribe and rate us on iTunes or Google Play, and if you have any questions you would like us to dig into for a future show, shoot an email our way: [email protected]. Also, be sure to follow Fine Homebuilding on Instagram, and "like" us on Facebook. Note that you can watch the show above, or on YouTube at the Fine Homebuilding YouTube Channel.
The Fine Homebuilding Podcast embodies Fine Homebuilding magazine's commitment to the preservation of craftsmanship and the advancement of home performance in residential construction. The show is an informal but vigorous conversation about the techniques and principles that allow listeners to master their design and building challenges.
Other related links