How to Remove Old Peel-and-Stick From a Roof
Do I have to remove existing layers before installing new peel-and-stick to a roof, or can I apply a second layer?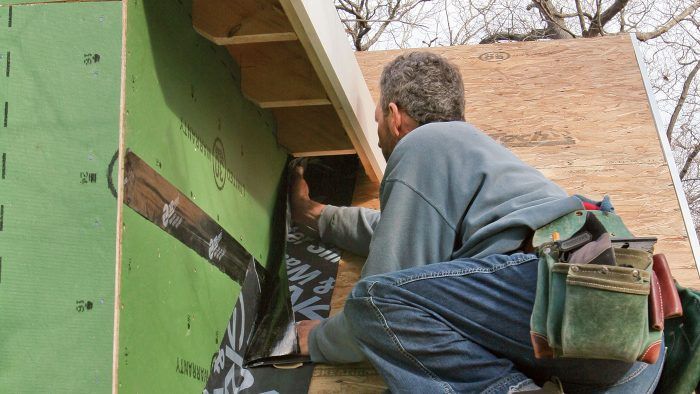 In this series on reroofing, Mike Guertin digs deep into common questions about using peel-and-stick underlayment. Check out the "Related Links" below for more information on this topic.
I've never found an easy way to remove old peel-and-stick membrane from roof sheathing once it has bonded well. Sometimes you can pull part of a sheet up, but it will rarely all come up. Section R908.3 of the IRC requires that you remove all existing layers down to the roof sheathing but an exception permits you to apply "…an additional layer of ice barrier membrane…".  So if your intent is to remove the existing layer before applying a fresh layer, you could just leave the old layer and cover over it with a new one. I checked a few manufacturers' instructions and they allow you to install a second layer over the first layer when installing new roof shingles.
Peel-and-Stick compatibility
But those instructions point out a couple of conditions. A second layer of peel-and-stick must be compatible with the existing layer, and if there are already two layers on a roof, then they must be removed. The manufacturers' instructions I checked don't permit a third layer. Compatibility is tricky—the adhesive compounds of peel-and-stick membranes aren't all the same. To avoid any problems, I recommend only applying the same brand and product model as the existing layer. You may not notice problems right away if you install a new layer and didn't verify compatibility beforehand. It may take many months or years for incompatible adhesive layers to react, causing bubbling or adhesive oozing out onto the roof surface or roof trim.
Worst case: remove and replace roof sheathing
If there is just one layer and you want to remove it before applying another layer, or if there are already two layers and the manufacturer's product you are planning to use doesn't allow more than two layers, then you're stuck.  The only solution I know of to remove the existing peel-and-stick membrane is to remove the sheathing it's bonded to and replace it.
---
RELATED LINK:
FOLLOW THE ENTIRE SERIES: