Types of Peel-and-Stick Roof Membranes
What is the difference between granular-surfaced and plastic-coated peel-and-stick materials?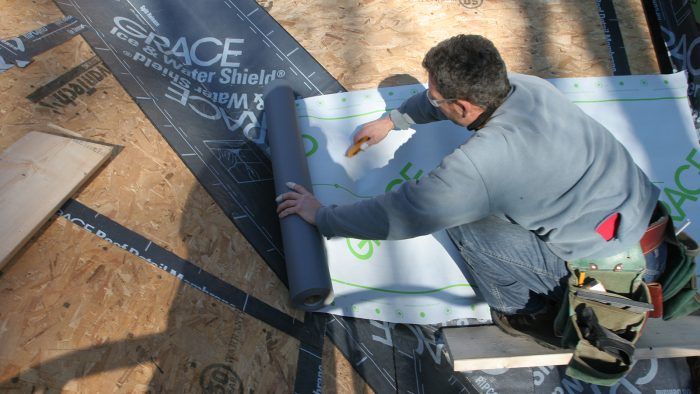 In this series on reroofing, Mike Guertin digs deep into common questions about using peel-and-stick underlayment. Check out the "Related Links" below for more information on this topic.
There are two basic peel-and-stick construction types—plastic cap film and granular- (or sand) surfaced fiberglass mat. The plastic film or fiberglass mat acts as the backbone that allows the sticky compound to form and hold together in sheets. In order to qualify as an alternative to regular underlayment and be used as the code-required "ice barrier," each peel-and-stick must comply with a manufacturing standard—ASTM 1970.
Most of the budget products have a fiberglass mat saturated with rubberized asphalt compound. This design leaves two sticky surfaces, so a coating of ceramic granules or sand is applied to the top to cover the adhesive, leaving the bottom side sticky. Film-capped peel-and-stick membranes use a puncture-resistant plastic sheet to cover the adhesive layer.
Differences in performance characteristics
Granular-surfaced, fiberglass-mat membranes tend to be heavier, less sticky, and stiffer than film-capped membranes. Many consider the granule-coated peel-and-stick to be more slip-resistant than plastic-surfaced membranes. I've found that on hot and sunny days, the asphalt on granular-surfaced products soften and the granules will creep when walking. But in wet conditions, the granular-surfaced membranes may be less slippery. Sometimes, the granules will embed deeper into the asphalt base after the roof shingles are applied. As the asphalt oozes around the granules, it can bond to the underside of the roof shingles, which makes stripping the roof shingles off in the future very difficult if not impossible.
Film-capped peel-and-stick tends to have a more aggressive adhesive than granular membranes and will stick at colder temperatures. They fold more easily into tight corners and around edges, and are lighter than granular membranes. The plastic surface prevents the adhesive layer from contacting the shingles so they won't bond together. Some people feel the plastic surfaces are more slippery than granular-surfaced membranes.
---
RELATED LINKS
Previous:
Does Applying Roof Underlaymet Cause Rot?
Next:
The Basics of Peel-and-Stick Roof Underlayment