Podcast 426: Wet Stucco, Trusses for Second-Story Additions, and Inexpensive Vacation Homes
Andrew, Ian, and Patrick hear from listeners about attic chimneys and water filters before taking questions about a leaky window in stucco, accurately measuring trusses for an add-a-level, and building an affordable second home.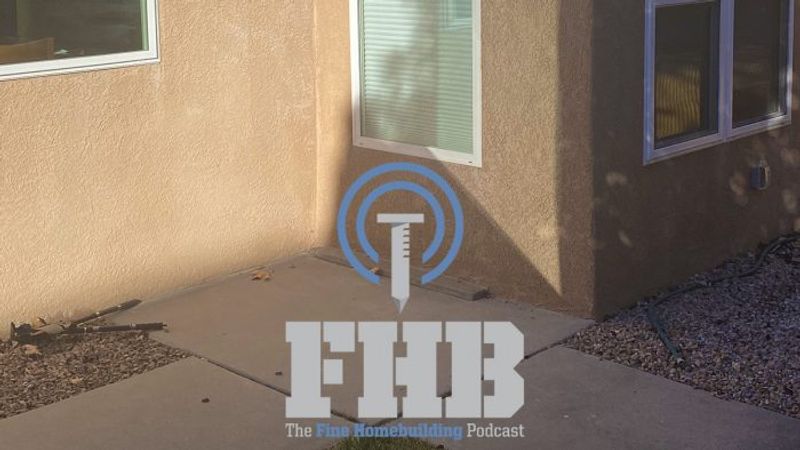 ---
Follow the Fine Homebuilding Podcast on your favorite app. Subscribe now and don't miss an episode:
Help us make better episodes and enter for a chance to win an FHB Podcast T-shirt:
www.finehomebuilding.com/podcastsurvey
Doug Horgan and listener Sam send us their thoughts on attic chimney chases. Master electrician Rick weighs in on 15-amp vs. 20-amp receptacles. Chris describes the labor market and product availability in Chicago. Rick asks for help fixing his leaky window. Barbara wonders how to measure for trusses for an add-a-level addition. Becki wants help building her first house. Justin asks for more discussion on sound control.
---
Editor Updates:
---
​
Listener Feedback 1:
Doug Horgan at BOWA writes: I wanted to weigh in on the discussion of building chases for manufactured metal chimneys in attic spaces from episode 420.
First your comment that there are thousands of these without problems is great evidence, which we all use every day to understand whether something will work in our climate, or not. There are a ton of things we aren't supposed to do that actually work fine (at least around here), and we've seen work fine a thousand times. That's engineering—the practical application of scientific principles—confirmed by experience, or not.
I think there was a common misunderstanding running around the crew during the comments: that heat and cold meeting cause condensation.
Condensation doesn't come from warmth hitting something cold, it comes from moist air hitting something cold. To be fair these often go together. Warm indoor air in winter normally has more moisture in it than cold outdoor air, for example, and in summer the warm outside air often has a lot of humidity in it.
But, if you heat up cold outdoor air, it doesn't become more humid, and when that heated outdoor air hits something at the cold outdoor temperature, you don't get condensation, because it doesn't have any more moisture in it than the air already had. You've just made warm, dry air, it doesn't have any added moisture ready to drop out on a cold surface.
I find 'dew point temperature' or 'grains per pound' ways of looking at moisture content of air to be more helpful in understanding things. This email could turn into a twenty-pager if I keep going though.
Great job on the podcast—everyone—it's great.
One guy on Youtube thought an uninsulated flue might contribute to ice dams in a snowy climate and I think he's right. What do you think?
That's true-ish, adding heat to an attic can contribute to ice damming—though so can the sun shining on your roof so it's a little hard to say it's gonna be the one thing that matters.
Your other point that you don't mess around with the UL ratings—or other rating agencies, like Intertek and Warnock who seem to do more fireplaces & flues than UL do—is also a good point I would emphasize.
I forget where I read all this stuff but manufactured fireplaces, flues, and their ratings are pretty interesting and not something you'd ever want to screw around with. Also, I read somewhere that the outsides of even code-built fireplaces & chimneys get really hot if you keep a fire going for a few days, so you aren't supposed to put insulation next to them either, the 2″ code-required space around them is to cool the outside (somehow).
One of the key quality points I like to look at are fireplace installs. Have seen some disasters in the making from simple omissions or misunderstandings, or trying to cram something into a remodel.
(That group of rating companies including FM and Teco would be an interesting subject for an article—and you could finally get to York PA!)
Also hate to be this guy but I don't think it's "u and ell", just "UL", ready to be corrected though.
Related Links:
---
Listener Feedback 2:
Sam writes: Hey guys condensation won't be an issue from any heat radiating off chimney pipe in a ventilated attic so long as the conditioned space below is decently sealed.  It's the same volume of moisture in the air regardless of temperature.  The colder the air the less water it can hold and more it will reject the vapor onto surfaces in condensation.  If anything, the (inconsequential) heat from the chimney will help protect the roof decking by encouraging ventilation.  Don't waste your insulation money chasing the chimney.
Related Links:
---
Listener Feedback 3:
Rick in Palmer, Nebraska writes: FHB Podcast Members,   I enjoy your show quite a bit and I think that you perform a tremendous service to all of the skilled trades.  Thank you.
I do have to disagree with Mark's comments on Episode 418 regarding the use of 20 amp branch circuits in a typical house, and especially one where the homeowner is trying to "future proof" their new home.
Mark made the comment that most of the new electrical equipment that people are installing require less power than previous generations, and in his opinion, 15 amp branch ckts will be sufficient in most locations not specifically required to be 20 amp from the National Electrical Code.
I would agree with him that lighting ckts, especially LED fixtures, draw less amps with the same or increased Lumens compared to classic incandescent or fluorescent fixtures. 15 amp ckts should be adequate for most lighting purposes.
However, I am seeing homeowners buy more and more gadgets, computer equipment and larger TVs. Most homes that are being built today should last over 50 years with adequate upkeep. I can't imagine the next generation of homeowners scaling back on the stuff they plug into their outlets.
I understand that most electricians have to bid competitively to stay in business, which may force many of them to go as cheap as possible. 15 amp branch ckts for general use outlets is probably very typical, but it really makes you wonder how long they will be adequate.
Long explanation short, I usually speak to the homeowners before I begin their project and give them the choice of spending the additional money on 20 amp ckts or do the bare minimum with 15 amp. I have never encountered any yet that opted for scrimping on the electrical once they think about it. Why spend hundreds of thousands of dollars building your home and take a chance of being outdated/inadequate in 10 years?
And, if it is either my home, a relative or anyone that I consider a friend, I default with 20 amp outlets.
Finally, whether the individual wires are connected together and pigtailed to the outlet OR the outlet itself is used as the connection point for additional outlets, really is left up to the installer's preference. Both methods have their pros and cons.
The only wiring  method that I would strongly caution against is shoving the individual wires directly into the spring loaded connections on the outlets (backstabbing) without the ability to tighten a clamp or fastener to keep the conductor firmly in place.  Once again, I understand that many electricians do backstab outlets in order to keep labor costs within their Bid price, but I have also had to go behind many of these same electricians within 2 or 3 years and find/correct the faulty backstabbed connection. I often wonder how these electricians explain to the homeowner why they experience issues after they paid a professional to do the job right the First Time.
Anyway, thanks again for what you do to advance all skilled craftsmen and women.
Sincerely, Rick, Master electrician
Palmer, the great state of Nebraska
Related Links:
---
Listener Feedback 4:
Chris in Chicago writes: Dear FHB crew, Great discussion at the end of Episode 420 on material costs and the state of the industry. Here in Chicago the remodeling and construction boom continues. I have not noticed much of a shortage of materials in stock at the big box stores. I do know ordering things is another story. Seems it is dependent on what you are looking for. HVAC and electrical components fall into the hard-to-get category.
As far as labor is concerned. Here in the metro area, we still have a strong union presence in most commercial work so there isn't as much of a labor problem because of the much higher pay compared to non-union. We also seem to have a large pool of non-native born workers in residential that i know does not exist outside of major metro areas.
When i travel to Wisconsin to see my folks, it is completely different. There are help wanted signs everywhere. Talking to the locals confirms that any kind of skilled tradesman up there is hard to find.
Related Links:
---
Question 1: Is it ever okay not to install DITRA over OSB?
Rich writes: FHB podcast crew,
Comment: Episode 419 discussed ditra over osb. The ditra installation instructions state that ditra may be installed "over any even and structurally sound OSB" in "a wet area". If properly installed, ditra provides both uncoupling and a moisture barrier and so the OSB is protected. A choice to not install over osb can be taken but there is no conflict with TCNA (as claimed by one of the FHB hosts). This question hit home for me because my wife and I remodeled our second-floor bathroom and were relieved to find the osb subfloor in excellent shape. (We were fortunate the previous tile was thinset into cement board and the latter was screwed into the osb subfloor. An impact driver with the appropriate bit cleanly removed all the fasteners). We focused on installing the ditra properly and sealing the seams and baseboards with kerdi-band.
Question: I live in Albuquerque NM where stucco is the dominant exterior layer. (10″ or less of rain per year and a sunny climate help mitigate many of stuccos' problems). Several years ago, I replaced an external door off my family room with a window; see the attached photo. Unfortunately, the contractor did not install an appropriate water barrier below the window to make up for the lack of a stem wall. And so, when the rain falls upon the window, a bit of water enters my home at the slab. Enough to damage the carpet tacking and dirty the carpet pad. I'd like to replace the carpet with a wood floor, though, and so what are my options to fix the problem? I am considering:
Removing the stucco, sheathing etc. beneath the window and installing something in place of the missing stem wall. What do I use?
The outdoor portion of the home by the window would be a nice place for an overhang, providing shade cover for the family room and adjacent kitchen.
install a small section of tile (over ditra of course) by the window so that the wood floor is protected from wind driven rain.
Good quality vapor barrier that I can roll under the drywall to reduce water damaging the wood floor.
I can do the last two fixes but would probably contract the first two.
Thoughts?
Thanks for the entertaining and informative podcast—I've learned a lot.
Related Links:
---
Question 2: How does a truss manufacturer handle situations where a range of measurements are given?
Barbara writes: Hello Patrick and crew, I'm listening to Mark talking about the trusses being installed on his new home, and I thought this might be a good time to ask something that's been bugging me about truss design. My 1959 home has a 4:12 hip roof. I want to completely tear it off and replace it with a half-story 2nd floor using attic trusses in order to have some living space up there. The current roof would have to be torn off in order to get accurate measurements, but I assume the supporting, opposing exterior walls are not exactly parallel to each other, leading to measurements that vary within an inch or two of each other. I could also get rough measurements without tearing off the current roof, by crawling around the shallow attic and taking measurements as best I can. That way, the current roof can stay on until the trusses are ready to be delivered. But somehow that seems foolish. How does the truss manufacturer handle a situation like mine, where a range of measurements are given? I realize they will make all trusses the same length. But given a range of measurements, what length do they go with? I mean, can the trusses be made 2" too long and then cut back as needed during installation? Or maybe I'm looking at this all wrong. Maybe they make them at the shorter end of the range, and then any gaps between the rim board and each truss are filled in during installation of the rim boards. I'd like to know the best way to proceed. This confusing situation has got to be explained to me so I can get on with the project!
KCA, Barbara
Related Links:
---
Question 3: What tips can you give to keep costs on a small cabin build to a minimum?

Becki writes: Hello, I just discovered your podcast and I'm hooked. Awesome job everyone!
I'm not a builder, but hope to build a few homes as a real estate investor.
The first project I want to build is more of a family project than an investment. It's a small A-frame cabin about 18' wide by 32' long on a lot just steps away from the beach on the Oregon Coast. I've emailed 8 recommended builders about it and haven't heard back yet.
My main goal for this first house is to learn how to work with a builder and also to keep this house on a low budget, so I can share it with family as a beach house, instead of use it as a rental.
What tips can you give to help keep costs down to a minimum on the build?
I hear slab foundations are cheaper, but I believe my lot would suit pier and beam better.  Would a pier and beam foundation cost a lot more?
I'm sticking to a simple straight A-frame roof with no side "pop-out" wings.
I would like a metal roof and a full window wall on the front. I would need a few "skylight" type windows as well.
I'm willing to do some work, but I get the impression that builders might not want the owner on the build site. Is this true? If so, is that mainly to do with insurance? Is there a way I could get on their insurance?
Another question, do you think builders might be hesitant to work on a small A-frame like this?
I'd love to hear all your thoughts.
Thanks so much!
Related Links:
---
Question 4: What are the best soundproofing product options available today?

Justin in Long Island, NY writes: Hi FHB, First of all, I wanted to thank you for creating this podcast. My wife and I are building our first home and we've learned a ton over the last year as we've worked through our design process. It's truly been an incredible resource, even for laypeople like us.
I've been thinking a lot about the soundproofing options for our place, so the last episode was well timed. I'd certainly be curious on a follow-up to that segment with some other options out there. For example, I'm considering QuietRock products for some rooms, as well as options involving Green Glue soundproofing materials.
Thanks again, Justin
Related Links:
End Note: Favorite builders on social media.
Marty writes: Patrick, on your December 31 Podcast, towards the very beginning, Ian made reference to builders he follows on Instagram- do you mind sharing which ones he views (would recommend)? He made reference to the fact that "we all look at the same ones" — thank you in advance.
Steve Baczek  •  Matt Risinger  •  Ben Bogie  •  Benjamin Morton  •  Tim Uhler  •  Big Dog Construction  •  Squared Away Contracting  •  Trillum Architects  •  Trill Hill Farm  •  DiBlasi Painting  •  Drywall Shorty
Patrick, one more question. Any good camps in the Summer for high schoolers to attend where they can learn a trade, e.g., work on a home construction similar to the high-school classes I heard on one of your podcasts? Wish you a fabulous 2022.
The December 31 show was excellent (helpful, informative, at times fun).
Best Regards, Marty
---
Check out our latest Project Guide: Siding & Exterior Trim!
Check out our FHB Houses:
Visit the Taunton Store  •  Magazine Index  •  Online Archive   •  Our First Issues   •  All Access
---
Help us make better episodes and enter for a chance to win an FHB Podcast T-shirt: www.finehomebuilding.com/podcastsurvey
---
If you have any questions you would like us to dig into for a future show, shoot an email our way:

[email protected]

.
If we use your question we'll send you a FHB Podcast sticker!
---
FHB Podcast T-shirts!
Represent your favorite podcast! Available in several styles and colors. Made from 100% cotton. Find the Podcast t-shirt and more cool products in the Fine Homebuilding Store.
---
Fine Homebuilding podcast listeners can now get 20% off anything in the Taunton store, including Insulate & Weatherize.
Use the discount code FHBPODCAST to take advantage of this special offer.
---
We hope you will take advantage of a great offer for our podcast listeners: A special 20% off the discounted rate to subscribe to the Fine Homebuilding print magazine. That link goes to finehomebuilding.com/podoffer.
The show is driven by our listeners, so please subscribe and rate us on iTunes or Google Play, and if you have any questions you would like us to dig into for a future show, shoot an email our way: [email protected]. Also, be sure to follow Fine Homebuilding on Instagram, and "like" us on Facebook. Note that you can watch the show above, or on YouTube at the Fine Homebuilding YouTube Channel.
The Fine Homebuilding Podcast embodies Fine Homebuilding magazine's commitment to the preservation of craftsmanship and the advancement of home performance in residential construction. The show is an informal but vigorous conversation about the techniques and principles that allow listeners to master their design and building challenges.
Other related links