I Wish Tools Were More Expensive
Andy Engel reflects on the price and durability of tools over the years since he entered the trades in 1979.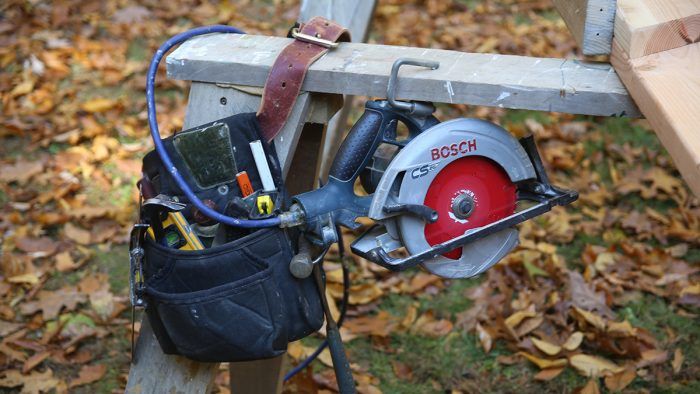 In 1979, right after graduating from high school, I showed up for my first day of framing houses. I wore a $19.99 Sears tool belt filled with hand tools cadged from my dad. The boss set me to work with Ray, a long-haired, Marlboro-sucking man with a bad attitude. He took one look at Dad's 16-oz. Rocket hammer and said, "Where'd you get that thing? Your Playskool set?"
I worked with Ray just long enough to develop a thick skin and a critical attitude toward tools that didn't work well or last. With my first paycheck, I bought an indestructible, blue-handled Estwing hammer. And in the decades since, I've spent thousands on professional-grade tools from Makita, Bosch, Milwaukee, Porter-Cable, and others.  
Two purchases I made in the early 1980s were a Makita 7-1⁄4-in. circular saw and a Makita 10-in. miter saw. I still use both of them, though the circular saw is now a beater, used only for masonry, and the miter saw comes along only on certain jobs because of its limited cutting capacity. Nonetheless, 35 years of service is pretty good. 
At about the same time, I also purchased a new reciprocating saw. It still works, but I upgraded it last summer—or so I thought. My new saw certainly has more power than the old one, and the tool-less blade change is sweet. But within a couple of months, the new saw ended up in the shop for what I expected to be warranty service. Grease was leaking out of the orbit control. The manufacturer declined to warrant the repair, claiming I'd abused the saw, overheating it and liquifying the grease. My old recip saw had endured that same level of abuse for 30 years, and it didn't leak grease. And while I appreciate the new saw's power and convenience, I don't want to trade ruggedness and durability to get them.
I have similar complaints about other new tools. I bought a 3⁄8-in. drill around the same time as the reciprocating saw. The keyless chuck locks closed in use to the point where opening it requires pipe wrenches. Using bits sized within the drill's advertised capacity, I can smell the insulation burning off the windings. This drill will not last even the 10 years its predecessor did, and that drill bored thousands of holes in oak back when I installed stair railings for a living.
Even hand tools aren't what they were. I've been in the trades since carpenters still hand-nailed trim. I set thousands of nails with a nail set and knocked loose hundreds of hinge pins. I lost more than a few nail sets, but I never had one fail. Not once.
A year or so back, I bought a three-pack of name-brand nail sets. They don't get used as much as nail sets did in 1980, but they're still necessary tools. I trusted the manufacturer, and I liked the rubber padding on their shanks. But not long after I bought them, the tips started mushrooming over, making them hard to withdraw from the wood after setting a nail. 
I contacted a brand manager at the company about the problem. When he heard I'd used a nail set to remove hinge pins, he said I was abusing the tool. Really? By removing hinge pins?
After 40 years in the trades, I'm pretty diligent about proper tool use and maintenance. In other words, I'm much less likely to abuse a tool now then I was when I started out. I really don't think I'm the problem here.
Tool companies, and the markets they serve, have changed dramatically since I entered the trades. There used to be a clear distinction between professional tools and homeowner tools. Pro tools were too expensive for occasional homeowner use. Homeowner tools weren't accurate enough, powerful enough, or durable enough to stand up on the job site. You bought homeowner tools at Sears, KMart, or True Value. You bought professional tools at lumberyards or contractor supply houses. Maybe you shopped from a catalog and mailed a check to Seven Corners Hardware. Today the latter is gone, and local lumberyards are closing. Sears and KMart are one and are on life support. Craftsman Tools, once the crown jewel of Sears, is now owned by Stanley Black & Decker. Everything is different.
The big changes began in the 1980s and 1990s, when the DIY market exploded. Suddenly there were a lot more do-it-yourselfers buying tools than there were professionals. As a result, more and more companies wanted to share in this bounty, including the old-line professional tool companies. That's when the line between professional and homeowner tools started to blur, and the marketing folks invented the word "prosumer." 
The burgeoning DIY market fueled the proliferation of The Home Depot and Lowe's stores, which became the places where people bought their tools, at least until the internet and Amazon came along. At that point it was very easy to comparison shop, and price points became paramount. 
Mergers, acquisitions, and the global economy also changed the face of the tool industry. Today one Hong Kong–based company, Techtronics Industries (TTI), owns Milwaukee, AEG, and Ryobi, as well as the licensing rights to sell tools at The Home Depot under the Ridgid name. Meanwhile, Stanley merged with Black & Decker and produces tools under the DeWalt brand. It also owns Porter-Cable and Craftsman Tools. Trying to keep track of it all is crazy-making. 
The tool companies I remember have sold out—literally. They're now owned by international conglomerates driven by algorithms that maximize shareholder value, selling volumes of tools to anyone with a few bucks. Supplying reliable tools to me and to other professionals doesn't seem to matter anymore. 
Today brand loyalty isn't earned so much as it is conscripted with proprietary battery platforms for cordless tools. It used to be that a company's reputation was something it earned by providing quality goods and service. But now reputation has given way to branding. And a brand can simply be bought. That's what happened in 1992 when Black & Decker reintroduced the DeWalt name after realizing that customers no longer associated Black & Decker with quality power tools. And when TTI wanted a strong brand for its exclusive deal with The Home Depot, it bought the rights to use the Ridgid name, which had been associated with professional-quality plumbing tools since 1923.
But maybe I'm asking too much. After all, there is an upside to all of the competition: Tools cost less. A new 7-1⁄4-in. Makita circular saw from one of the big-box stores costs less than I paid for the same saw in the early '80s. If you factor in inflation, the decline in price is stunning. And what's more, the new saw has a built-in light. (Whoever started adding lights to job-site tools deserves a Nobel Prize.)
With more and more tool companies competing for our money, companies constantly redesign their tools, increasing power and adding features, to gain advantage over each other. The depth adjustment on my new Bosch router is in its own league. Impact drivers, coupled with new screw designs, have changed how I fasten virtually everything. Reciprocating saws and jigsaws have orbital settings that make them fly through cuts. Track saws have opened up a new world of job-site accuracy.
More power, more features, and less cost—shame on me for wanting durability, too. After all, planned obsolescence is nothing new. It has been around at least since the 1920s, when the auto industry introduced model-year design changes to induce car sales. And after 100 years of churn and consumerism, we've reached a point where the typical truck buyer cares more about the number of cup holders than about what engine is under the hood. I doubt most power-tool users are any more discerning.
What's surprising is that increased competition in a market usually leads manufacturers to improve durability. That's what happened with American automobiles after the Japanese started importing more-durable cars in the 1970s. But that hasn't happened with power tools, at least not in my experience.
I find that many tools seem to be designed to last about five years. That's great for manufacturers and retailers, but horrible for consumers and for the environment. Certainly we can do better than filling up our landfills with old power tools and dead cordless batteries. And for professionals at least, inexpensive tools cost more than you think. The repair for my new recip saw might have only been $25, but the half-day I spent taking it to the repair shop and then picking it up again cost me as much as the tool itself. That manufacturer has a lot to do to win back my trust. 
Dressing up a new tool with lights and clutch settings while simultaneously switching to plastic gears to lower the cost feels like a bait and switch. It lacks integrity, especially if it's done so that a company can sell me a replacement in five years. It used to be that I could rely on brand names to predict the quality and durability of a tool. But I've had enough supposedly professional-­level tools fail me in the past three years that I've lost faith. It makes me both angry and sad. 
It also makes me willing to spend more money, and it makes me curious about the German company Festool, whose products cost twice that of other tool brands. I only own a few, but once I adjusted to their quirks, I've never been disappointed in them. Some are more than 20 years old and still going strong. What is it about German tradespeople that they're willing to pay more for superior-quality tools?If Festool is still around after more than 20 years in the U.S. market, maybe it's a sign that I'm not the only carpenter in this country who wants to buy tools that his kids can inherit.
Sadly, contributing editor Andy Engel passed away suddenly earlier this year. View his In Memoriam here.

From Fine Homebuilding #307
---
RELATED STORIES