Subslab Insulation With Mineral Wool
Travis and Joe of Catalyst Construction describe how and why they installed Rockwool Comfortboard under what will be the finished concrete floor.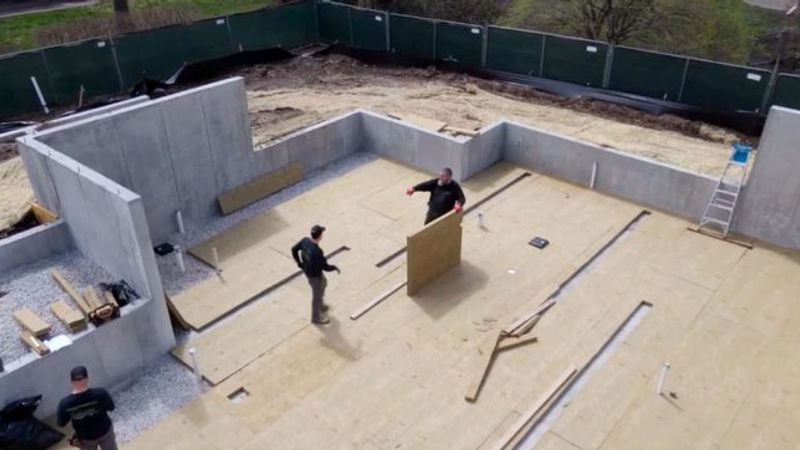 Welcome back to Fine Homebuilding House 2022 in Prairie Village, Kan. Along with the team at Forward Design Architecture, we opted to install Rockwool Comfortboard mineral-wool insulation under the slab for its vapor-open quality and to increase the comfort of the concrete surface, which is the finished basement floor in the house. In this subslab application, you can either use Comfortboard 110, or Comfortboard 80.
Comfortboard has a high compressive strength, so we are able to walk around on the product without damaging it. It's great to not have to worry about it being damaged by foot traffic. Later, the insulation will be be covered with a poly vapor barrier and a rebar grid will be installed on top of the poly to reinforce the concrete.
Installation
Some things to consider when installing Rockwool is that you'll want to wear gloves, and if you're inside cutting, you're going to want to wear a face mask and some safety glasses. Because our install was outside, we went with gloves and long sleeves partially because of weather, but also to keep  the mineral-wool fibers off of our skin.
Installation is as simple as taking the panels from the truck and arranging them on the ground as you would when sheathing a floor system with plywood. Because we have 4-ft. by 8-ft. panels of Comfortboard 80, we can move pretty fast, covering 32 ft. with every placement.
Tools
Typical tools for the install are a tape measure and an insulation knife to cut the pieces to length and around plumbing penetrations. Mostly, you'll want to make tight cuts, but sometimes cut them 1/4 in. oversized so the pieces friction-fit together.
There will be two levels of finished concrete floor in this basement: the main level and a raised portion with a step and landing—about 200 sq.ft.—at the bottom of the stairs. We built up this section with layers of Comfortboard rather than bring in thousands of pounds of gravel or trying to excavate the basement in two levels. By adding the additional insulation, we achieve additional R-value for comfort and faster prep for the basement slab.
---
RELATED STORIES