Tools & Materials
The Indispensible Rafter Square
Modern versions of this compact framing-layout tool strive to improve on the iconic original.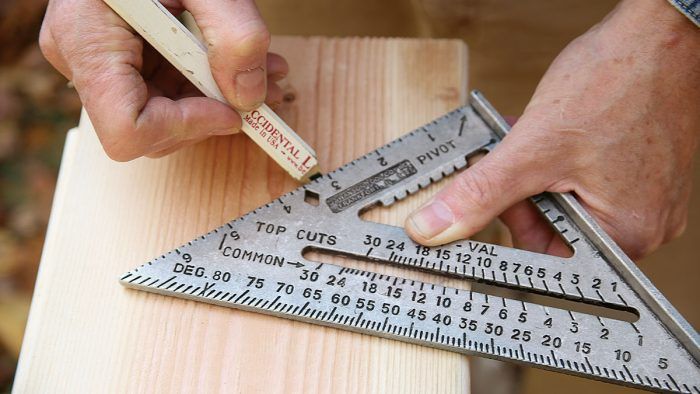 Synopsis: The rafter square, invented by Albert Swanson and patented as the Speed Square, is a must-have carpentry tool. Almost a decade since its invention, the Speed Square is still sold today, and is nearly identical to the original. But as builder-at-large Justin Fink describes, there are also dozens of other rafter-square options on the market, including a few modern versions that offer some unique advantages.
---
I don't know a single carpenter, if hard-pressed to scale back to carrying just a handful of tools—the ones considered too important to be beyond immediate reach—who wouldn't include a rafter square. That's probably why, when Albert Swanson showed up to work one day in 1925 with his invention, later patented as the Speed Square, his fellow carpenters all wanted to buy one.
Nearly 100 years later, the Swanson Speed Square is still sold today (and is nearly identical to the original), but it also has heavy competition from other brands, with each new product looking to improve on the earlier versions.
What follows here is by no means a comprehensive survey of the dozens of available rafter squares—some of which are gimmicky, or just copycats of the Speed Square—but it will give you a cross section of product options. You'll get a sense of which modern versions of the tool include useful innovations, and whether they might be worth considering.
A century in the making
Despite its much smaller size compared to a full-size framing square, Swanson's rafter square packs a lot of useful no-math shortcuts for carpenters. Seven inches from heel to point, the rafter square became the go-to for quickly marking stud layouts on pairs of 2×4 wall plates. But most notably, this was the tool that pioneered a shift toward what Swanson dubbed the "one number method" of calculating roof pitch. The traditional method of aligning two numbers on a steel framing square along the edge of a piece of lumber for marking the cuts at the top and bottom of a rafter—the "8" and "12" marks for an 8-in-12-pitch roof, for example—became a simple matter of pivoting the much smaller rafter square to the "8" to get the same results. The included "HIP-VAL" scale took care of marking hips and valleys, and the tool included the actual degrees as well, making it easy to switch between a full 90° scale and the simpler one-number method.
It's hard to nitpick on the classic Speed Square, especially considering the company is still creating a version of the tool that's very near to the original design and sells for about $10—but there are drawbacks to this square. Compared to the precision of modern laser-cut competitors, the fatter, unpainted markings and rounded edges on the Speed Square are  clumsy. It's not a major hurdle in framing work (the tool's original purpose), but for other more detailed layout tasks, the lack of precision makes accurate marking more of a gamble.
Justin Fink is FHB's builder-at-large. Photos by Melinda Sonido, except where noted.
From Fine Homebuilding #296
To read the entire article, please click the View PDF button below.
View PDF
Previous:
Essentials for a Carpenter's Tool Belt
Next:
Specialty Levels