Podcast 565: Honeycombed Concrete, Owner-Built Cabin, and Keeping Craft Alive During Soul-Bashing Work
Adhesive roof underlayments, air-sealing band joists, brick veneer, Patrick's rants, problem concrete, cabin foundation options, and challenging construction work.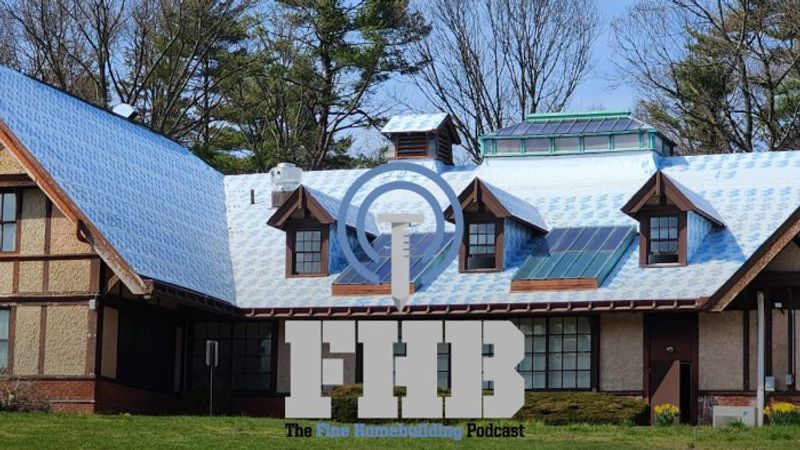 ---
Follow the Fine Homebuilding Podcast on your favorite app. Subscribe now and don't miss an episode:
Help us make better episodes and enter for a chance to win an FHB Podcast T-shirt:
www.finehomebuilding.com/podcastsurvey
Dyami weighs in on roof underlayment. Todd has a plan for air-sealing and insulating band joists. Adam shares thoughts on induction cooking and explains the geothermal gradient. Jay needs a fix for honeycombed concrete. Daniel is building a cabin but he's unsure of the foundation. Nicole asks how to keep craft alive when you're doing gross or physically demanding work.
---
Editor Updates:
---
Listener Feedback 1:
Dyami writes: Dear FHB podcast,
I just listened to the December 8th episode (#519). The discussion of using a peel-and-stick roof underlayment under the entire steep-slope roof assembly peaked my ears.
I usually find Mike Guertin's comments about roofing a bit too conservative relative to the experience I've had in a 25-year career in roofing, but his comments regarding having zero downside to using a full peel-and-stick membrane under the steep-slope roof were spot on with one small exception.
He stated that you would have to use the same membrane if you were ever to go over it again, and would only be able to go over it once for a total of two layers. You didn't endorse the Florida method of installing the peel-and-stick over a standard felt paper that has been mechanically attached (nailed).
To address having to use the same peel-and-stick, I must offer that assuming the asphalt shingles last about 25 years, the odds of finding the same peel-and-stick when it comes time to re-roof are very low. In my experience, this mandate is only because manufacturers have not tested and cannot certify that their membranes will stick to other peel-and-stick membranes. In practice I've never seen this as an issue when we're patching on to old peel-and-stick membranes, and on the low-slope side there are peel-and-stick membranes that are specifically designed to have other membranes adhered to them. I would not worry about having to match brands.
Regarding having a maximum of two layers of peeling, I've not seen this restriction anywhere. We don't want to have a situation where the customer has inches of peel-and-stick underneath their roof if we're talking about adding a third layer and the shingles have lasted an average of 25 years. Instead at the 50-year mark remove the shingles, cut out any peel-and-stick that is loose or otherwise unsound, and then add another layer of peel-and-stick (or perhaps at that point a nailed felt paper would be fine and would be a bit off label in terms of trying to match any spec or code).
Finally, to address the Florida design, while it does allow for the removal of the peel-and-stick, I would argue that that is against the purpose of the peel-and-stick. Resilience was brought up at the beginning of the discussion. By sticking a peel-and-stick membrane to the plywood sheet, a degree of resilience is added that no nailed-on felt (real or synthetic) can provide. I would trade the additional resilience and lower installed cost of a peel-and-stick membrane applied directly to the deck over a peel-and-stick membrane applied over a nailed-on felt any day of the week.
When I recently roofed my house, I had no hesitation in installing peel-and-stick ice and weather shield over the entire plywood substrate prior to the installation of the new shingles.
Also, while Mike talked about using peel-and-stick over the entire surface if it will be exposed for a while, I thought you might get a kick out of these pictures of a 50,000-square-foot roof we're doing at a college. We removed the original approximately 100-year-old slate over winter break and used a premium ice and weather shield with 180-day exposure rating. The day after commencement we will begin the installation of synthetic slate.
Keep up the great show and thanks for humoring reactionary opinionated emails such as this one.
Related Links:
---
Listener Feedback 2:
Todd writes: FHB Team,
First, I would like to offer a sincere thank you to Taunton Press for the wonderful content on FHB and GBA. It has changed the course of my life for the better. My fiancée and I had to save for the better part of a decade to make our dream of homeownership come true. We were planning an owner-builder Pretty Good House until the price and availability of materials during COVID caused us to reconsider. Land also skyrocketed due to the large influx of economic refugees from other states. We didn't want to continue to hemorrhage ever-increasing rent money while we waited for the market to recover, so in mid 2021 we bought an older home that met our needs to fix up. It's a 1957 brick ranch with a sunroom and a basement in a great neighborhood. The sunroom sealed the deal the moment my artist and green thumb fiancée stepped into the bright space. I was powerless to change her mind with my technical objections about energy details. However, having learned too much about building science and construction best practices to settle for flip-job quality, I made her agree as a condition to buy that we would fix up the house the right way within the constraints of our budget. This means phasing the work over three to five years, and I'll be doing virtually all the work myself. I would never have felt competent enough to tackle such a massive project (deluded or not), or flexible enough to change direction and take advantage of the opportunity without your help. Let this speak to the value of delayed gratification and years spent saving, learning, and planning. Renovations can be trickier than new construction, I couldn't have taken on this project five years ago. We have lived in the house for about two years now and I'm just beginning to really dig in. I'm basically gutting it to the structure for the most part and replacing everything. I'll share my progress at some point, as you may be interested in seeing how a lay person on a budget with no prior experience uses the information you've shared to accomplish (or not) a monumental project such as this.
Now for the reason I emailed. I was listening to the FHB Podcast episode #547 today, and I believe I may have a potential answer to the mudsill/rim-joist sealing question asked by a listener. This is what I'm planning anyway. I intend to spray the rim-joist bay with Pro Clima AEROSANA VISCONN to air-seal the joist bay, and then use mineral-wool batts to insulate. If the Pro Clima literature can be believed, this should leave the joist-bay vapor open enough to let the sill and rim joist dry to the interior. I'm sensitive to the comments made about the difficulty of removing such materials by future owners/tradesmen, but this approach seems like the right risk/reward ratio. Thoughts?
Respectfully,
Todd S.
Related Links:
---
Listener Feedback 3:
Adam from Chittenango writes: Hello FHB Podcast,
On several shows now, most recently #555, Ian has said that "his wife, a professional chef, doesn't like induction because it can't bring the pan back to heat fast enough." I have to assume that she was using was the small tabletop induction burners that can be used for catering as a replacement for the butane portable burners. Those tabletop versions are always going to be limited because they can't pull enough juice from a standard outlet.
We recently converted from a high-end Viking gas range to a lower-end Samsung induction range, and how fast the pans heat up is shocking. A pan can go from cold to the oil shimmering in less than 5 seconds if you crank the heat up high enough (but don't walk away because it will start to smoke 2 seconds later).  The difference here is that we had to have a dedicated circuit installed with the largest electrical cable I have ever seen in a residential building to supply enough power.
On another note: I can't believe it, but I think Mike Guertin misspoke on a podcast 559.  Mike said that "brick veneer is built on a brick ledge in slab and then doesn't move." That is true as long as the slab doesn't move, which isn't the case anywhere that has expansive clay soil. It is unfortunately normal for houses built on expansive clay soil to have the bricks move enough to have cracks open in the joints and then close up again depending on the current moisture levels.
On a different topic, I normally LOVE it when Patrick goes on a rant—those rants can be a highlight of any show!  BUT, I don't understand Patrick's dislike of the term geothermal for ground-source heat pumps. The Geothermal Gradient goes from the center of the earth all the way to the surface, so technically anything pulling heat out of the ground is getting geothermal energy. In general, the top 10 to 20 meters of the gradient is influenced by the local weather, so you could argue that horizontal-loop ground-source heat pumps are just using a geothermal battery for solar energy. But any vertical system that exceeds 10 meters is going to be getting a significant portion of its energy from the heat radiating from the core of the planet instead of from the sun.  So Patrick please keep ranting, but let this one drop!
Still loving the podcast!
Related Links:
---
Question 1: How can I fix honeycombed concrete on an exposed wall?
Jay, writes: Dear FHB podcast pros,
I recently had a foundation poured that was not properly vibrated and it left an area with aggregate and even rebar exposed on an interior wall that I was planning to leave exposed. Is there a way I can form up a thin veneer coat with boards and pour it? I can't really find much info on my few brief internet searches…maybe I'll ask chatGPT!
Thanks for the great episodes!
Related Links:
---
Question 2: What's the best DIY foundation for a small cabin?
Daniel writes: Hey there everyone!  I recently subscribed specifically to get the after show, as that is where the good stuff gets talked about.
I'm more just seeking advice, rather than having a specific question. I want to build a small cabin in Michigan. I have lots of experience building ADUs and lots of time, but not a ton of money. I thought getting a builder's license would get me a bank loan, but it did not. They all want an experienced builder to GC. Any ideas on the cheapest way to go about the foundation. The quotes for basements and crawlspaces have been in the ridiculous price range, not to mention all the contractors said it's too small of a job for them. The foundations I've used for ADUs have been several layers of compacted stone with 4×6 skids, all under 300 sq. ft. I'm looking to build a rectangular structure with a single sloped roof, about  800 to 1000 sq. ft. I am thinking of renting a Bobcat with an auger and using concrete piers. Do you think this is the most DIY foundation option? I plan on hiring out the well and septic, but would like to do everything else myself.
Thanks for everything you do!
Related Links:
---
Question 3: How do you cope psychologically with physically challenging work?
Nicole writes: Hello Hosts!
I'd like to propose a riffing subject for you guys: How to Overcome the Soul-Bashing Beast of Uncooperative and Physically Challenging Work (while keeping craft alive).
I'm an avid listener, which surprises me because I'm a former model whose children are close to grown and I spent 51 vacuous years thinking things like "drainage" and "vapor barrier" and "rafters" were ultra lame. However, I am a carpenter's daughter, and I was raised in Alaska and New Mexico. So, it was likely just a matter of time before I refocused on the real problems in my daily life (like drainage, vapor barriers and rafters).
Too many details to fill in to explain how I got to where I was today, which was screaming at the top of my lungs at an uncooperative 4-in. duct in my tiny unfinished attic.
As my home's self-appointed and frugal heroine, I've been remedying a growing list of stupid things that are ruining my house. I've been warming up to freeing the bathroom exhaust fan from 29 in. of gross insulation and giving it a proper outlet through the roof. This Old House YouTube has a 7-minute walk-through of this task. I've been watching, planning, and thinking about it for weeks.
I won't bog you down with the details of the issues I encountered, because I'm more interested in hearing what you have to say about the psychological-beating aspects of home renovation.
There's something about doing what I thought would be a simple task, while squatting on 2-in. rafters, while having my hands coated in roof cement (which I now know is tar), while being covered in cellulose insulation (which I now know is feathers), and wrestling with a 4-in. aluminum pipe fitting that won't really fit outside of OR inside of the pipe that's attached to the roof vent I just installed, and then trying to cut and unroll super-sticky foil tape whose roll won't actually fit in the space behind the pipe and the roof, all while sweating under my mask and goggles and misplacing my scissors every two seconds in the sea of cellulose…I'm guessing you get the idea.
I'm really, REALLY shocked about how many home maintenance and renovation tasks are incredibly physically irritating and much, much harder than I would guess. My question for you all is: How do you deal psychologically with these types of tasks that push you to your brink with their mile-high stack of small physical challenges that look manageable on paper but end up crushing your soul?
PS I'm not a wuss. I truly like to dig in mud, carry rocks, and work hard.
Thank you! Nicole
---
END NOTE:
Podcast 565: Members-only Aftershow — Permanent Wood Foundations
Mike, Andrew, and Patrick talk about what is and how to build a permanent wood foundation and the advantages and drawbacks of foundations made from pressure-treated lumber and plywood.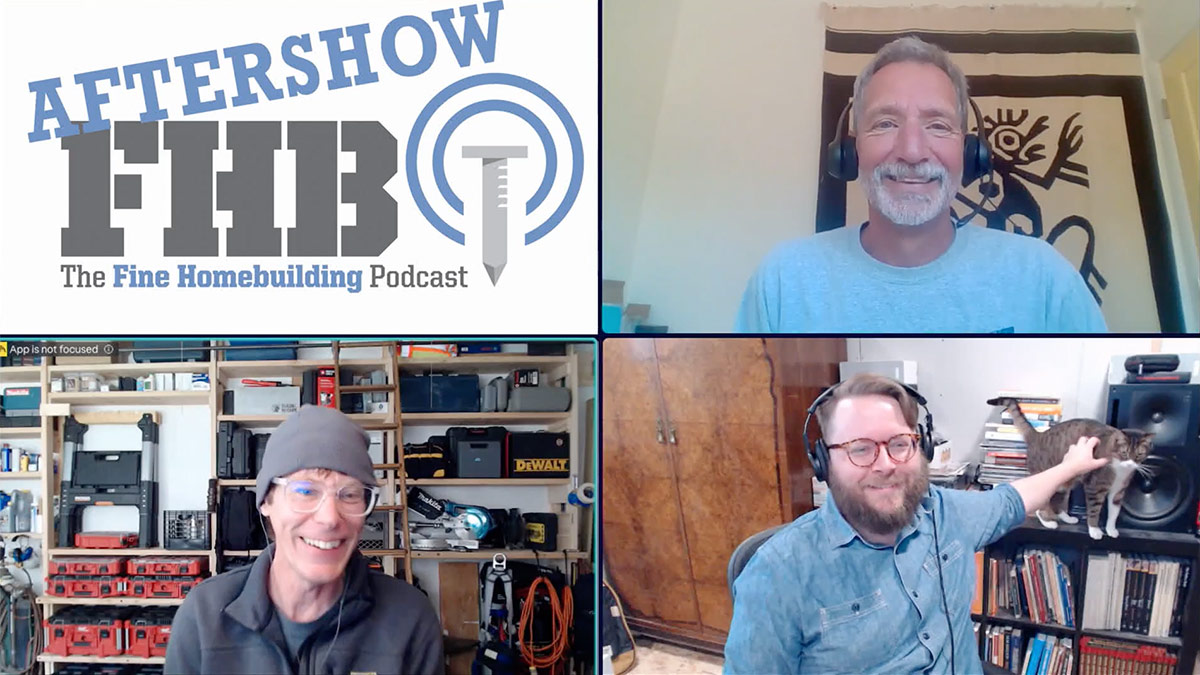 ---
Check out one of our latest Project Guides: Energy Retrofit!

Check out our FHB Houses:

Visit the Taunton Store  •  Magazine Index  •  Online Archive   •  Our First Issues   •  All Access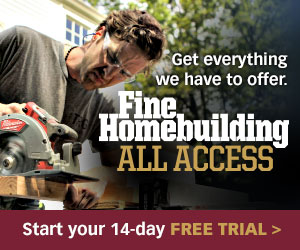 ---
Help us make better episodes and enter for a chance to win an FHB Podcast T-shirt: www.finehomebuilding.com/podcastsurvey
---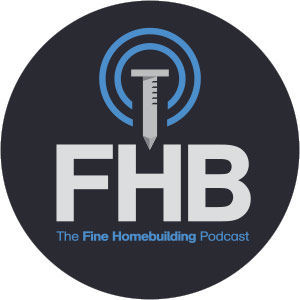 If you have any questions you would like us to dig into for a future show, shoot an email our way:

[email protected]

.
If we use your question we'll send you a FHB Podcast sticker!
---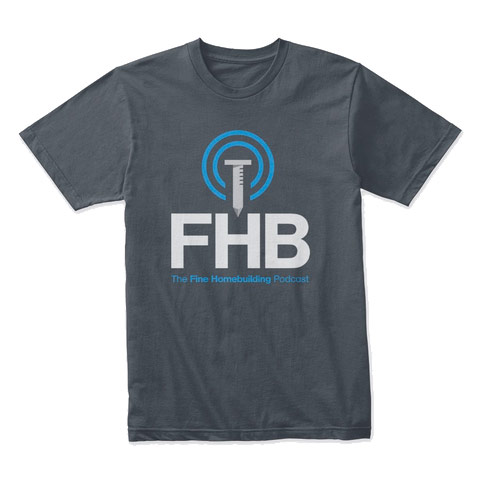 FHB Podcast T-shirts!
Represent your favorite podcast! Available in several styles and colors. Made from 100% cotton. Find the Podcast t-shirt and more cool products in the Fine Homebuilding Store.

---
Fine Homebuilding podcast listeners can now get 20% off anything in the Taunton store, including Pretty Good House.

Use the discount code FHBPODCAST to take advantage of this special offer.

"Finally, knowledgeable people talking about building reasonably-sized, high-performance houses for normal people with real budgets!"
— DanD, VA, 8/19/22, Amazon.com review
---
We hope you will take advantage of a great offer for our podcast listeners: A special 20% off the discounted rate to subscribe to the Fine Homebuilding print magazine. That link goes to finehomebuilding.com/podoffer.
The show is driven by our listeners, so please subscribe and rate us on iTunes or Google Play, and if you have any questions you would like us to dig into for a future show, shoot an email our way: [email protected]. Also, be sure to follow Fine Homebuilding on Instagram, and "like" us on Facebook. Note that you can watch the show above, or on YouTube at the Fine Homebuilding YouTube Channel.
The Fine Homebuilding Podcast embodies Fine Homebuilding magazine's commitment to the preservation of craftsmanship and the advancement of home performance in residential construction. The show is an informal but vigorous conversation about the techniques and principles that allow listeners to master their design and building challenges.
Other related links