Make a Shingle Holder
A ledger strip with a rabbet along one edge keeps sidewall shingles from falling before they're fastened.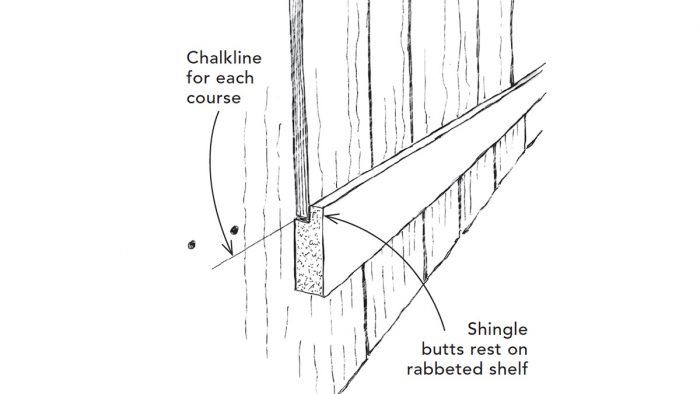 Cedar sidewall-shingle installers typically tack a straight wood strip on the wall to rack up a row of shingles before nailing them off. But on breezy days, they struggle to keep shingles from falling off until they have a chance to drive nails. I've tried all sorts of methods to prevent the shingles from falling—taught strings, wood guardrail strips, and nailing each shingle in place when I position it. But this solution is better.
I plow out a 3/4-in.-deep by 3/8-in.- or 1/2-in.- wide (depending on the shingle thickness) rabbet along one edge of a 1×3 or 1×4 pine ledger strip. The shelf of the rabbet is lined up at the desired exposure and the ledger is tacked to the wall. The shingle butts rest on the rabbet shelf and are trapped from falling off the wall by the vertical leg. The top of the shingles may tilt off the wall, but the rabbet stops them from falling farther. With the rabbeted ledger strips, you can rack up long rows of shingles quickly and then walk past with a nailer to fasten them tight to the wall.
—Mike Guertin, East Greenwich, R.I.
Edited and Illustrated by Charles Miller
From Fine Homebuilding #297
Previous:
Weaving a Vine Design into Sidewall Shingles
Next:
Damage-free Straightedge for Shingling