Wood-Trim Alternatives
Understand the differences between fiber-cement, cellular PVC, and wood-composite trim.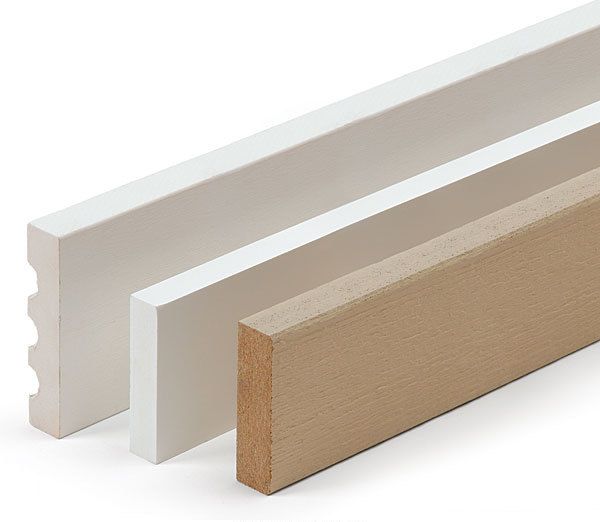 While solid wood continues to be the most popular material for exterior trim, its vulnerabilities leave big openings for alternative products. Builders who choose not to use wood typically look instead at trim manufactured from either cellular PVC, wood composite, or fiber cement. All three materials are less responsive to humidity variations than wood, which means that they hold paint for longer than wood. Each is of uniform quality and density, so there is little waste. Finally, these materials are more resistant to water, fungi, and insects than solid wood.
Fiber Cement
Cement, sand, and cellulose are the basic ingredients in fiber cement, and trim boards come with a smooth or woodgrain finish. Cutting them can involve a special sawblade or dedicated shears.
Care must be taken in handling long fiber-cement boards, which are heavy and can break if carried by one person. Once the trim is in place, however, it performs well: It is noncombustible, and its rate of expansion and contraction is so low that gaps between boards are unnecessary. (CertainTeed recommends that adjacent boards be butted with moderate contact.) Boards come primed or finished; all field-cut edges must be primed and/ or painted before installation. Check with manufacturers on which fasteners to use.
Some manufacturers replace much of the sand in their boards with fly ash, a by-product of coal combustion. This not only reduces the risk from inhaling the dust, which can lead to silicosis (a lung disease), but it also reduces the amount of fly ash that ends up in landfills. James Hardie uses no fly ash and claims that the material has a negative affect on durability. On the other side, CertainTeed and Nichiha claim to have developed stronger fiber-cement products with fly ash.
Postconsumer recycling of fiber cement is virtually nonexistent, but because the material is inert, its presence in a landfill poses no health or environmental risks.
Cost per lin. ft. of 1×4: 75¢ to $1.35
Manufacturers: CertainTeed, James Hardie, Nichiha, Plycem
Cellular PVC
Cellular PVC trim can be cut and shaped just like wood, with regular woodworking tools. Because it has a uniform consistency, PVC requires no special treatment of field-cut edges. As long as it was manufactured with a UV-inhibitor, it doesn't even need to be painted. If you choose to paint it, keep in mind that the drying time will be longer than with wood. This is because PVC does not absorb moisture, a characteristic that also makes PVC the only trim product that can be installed in areas where standing water may develop. Boards are available with smooth finishes on both sides, or with a smooth finish on one side and a wood-grain finish on the other.
Most manufacturers recommend that scarf joints and PVC cement be used on long runs. If installing on a cold day, you'll need to leave gaps of up to 1⁄8 in. on each end to allow for expansion. PVC expands and contracts more than wood, but following the manufacturer's installation instructions will limit potential problems. Only exterior fasteners should be used.
Whether PVC is a green product is a matter of debate. On the one hand, on many homes, it may never need to be replaced. On the other hand, it contains petroleum and has a high level of embodied energy.
Cost per lin. ft. of 1×4: $1.40 to $1.75
Manufacturers: Azek, CertainTeed, Fypon, Kleer
Wood Composite
Composed of wood fibers, phenolic resins, and wax, wood-composite trim can also be cut and shaped like solid wood. Field-cut edges need to be primed, and one manufacturer recommends a coat of paint as well. Boards come factory-primed and with a smooth finish on one side and a wood-grain finish on the other.
Look for composite trim that includes zinc borate, a wood preservative. Butt joints are generally preferred on long runs, with gaps to allow for expansion and contraction (see manufacturers' instructions for recommended gap sizes), but scarf joints may be used as well. Gaps should be filled with flexible caulk.
Composite trim is typically made from recycled, leftover, and/or sustainably harvested wood.
Cost per lin. ft. of 1×4: 70¢ to 90¢
Manufacturers: Collins Products, LP Building Products, MiraTEC
Previous:
Today's Best Exterior Trim
Next:
Boral TruExterior Trim