How to Install a Prehung Exterior Door
Watch carpenter Andy Engel install an exterior door so it looks and works great.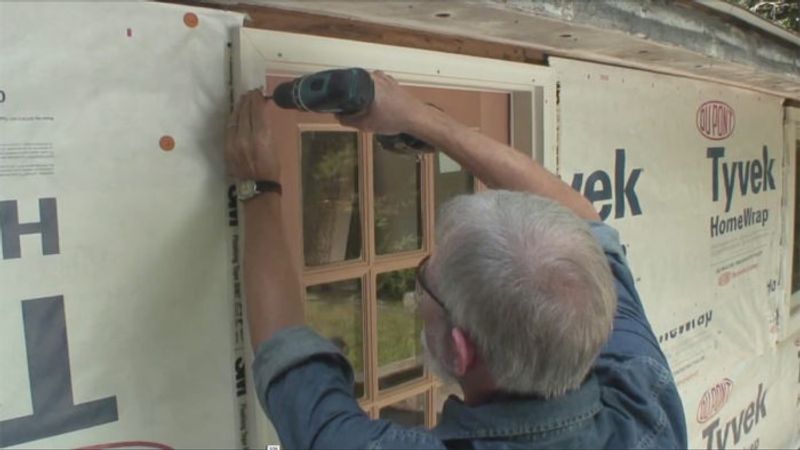 Synopsis: Installing an exterior door so it works and looks great is an essential building skill. Carpenter Andy Engel is going to show us how to do it.
---
Video Transcript: I first wrap the bottom and sides of the opening with flexible flashing, and then check the rough sill for level. This sill was near perfect, but if it wasn't, I'd shim it level.
After test-fitting the door, I apply three beads of window-and-door sealant to the bottom of the opening.
Next, I drive one 2-1/2-in. screw through the brick mold into the framing near the top hinge.
Then, I go inside to start shimming the door in the opening. Since the door bottom is sitting on a level sill, I only have to make the gap around the door consistent for the whole unit to be plumb. Here, at the top, the gap is wider at the latch side. Because the gap is wider on the latch side, I shim behind the bottom hinge. If the gap was wider on the hinge side, I'd shim behind the top hinge. Now that the gap is uniform around the door, I shim behind all the hinges for final fastening.
I remove one of the short screws in each hinge, and replace it with a 2-1/2-in. screw. These longer screws connect the jamb to the framing. Then I score the shims with a knife, and snap them off.
With the hinge side securely fastened, I close the door and adjust the latch-side gap, with shims above and below the latch. Then, I open the door and drive screws through the latch-side shims into the framing.
The final step is to drive 2-1/2-in. screws through the brick mold into the framing. I space them about every 12- to 14 in. all the way around the door.
And that's how you hang a door.
_________________________________________________
Attention all tipsters!
We're looking for any smart idea that would make a great There's a Better Way Video or that could be featured in the Tips & Techniques department in Fine Homebuildingmagazine.
We pay for any tips that get published
You can post tips in our submit a tip blog, or just email them to Fine Homebuilding care of Chuck Miller. Thanks!
Plus, browse 30 years of great ideas in our Reader Tips department.
Previous:
How to Install a Prehung Exterior Door
Next:
How to Install Doors in Thick Walls