How to Flash a Window Sill
Learn how to use flexible self-adhering flashing tape to waterproof the rough sill.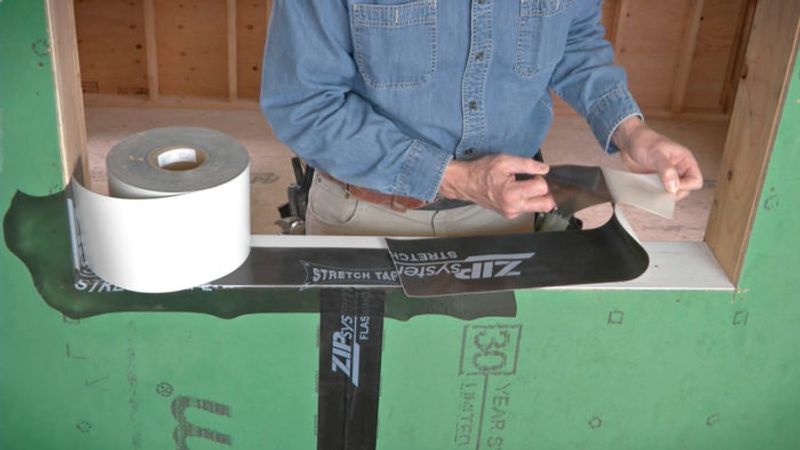 The first and arguably most important step in flashing a window or exterior door is to waterproof the rough sill. In this video, a piece of clapboard is used to slope the sill for drainage, and flexible self-adhering flashing tape is used to waterproof the framing.
The sill pan is the last line of defense in a window flashing sampling. To construct, slope the sill outward with a piece of clapboard thats cut to fit the sill.
Then tack it in place with the thin edge facing out and flush with the exterior of the sheathing.
Then draw a 4 inch guideline on the sill and up the wall 6 inches to guide the placement of the flashing.
Next roll out flashing tape, and cut a little past center. Because flashing tape is notoriously tacky and hard to manage we'll assemble ours in 2 pieces. The second piece overlaps the first by a few inches. For ease of handling, peel the backing off in small sections as you adhere the tape to the guidelines and overlap the first piece.
In corners, grip the tape firmly and stretch it out for it to wrap and seal to the sheathing. By accurately following the guidelines, there will be 4 inches covering the inside of the opening leaving 2 inches to lap over the sheathing.
If you have housewrap, be sure the flashing tape extends over it. Complete the installation by firmly rolling the entire sill pan with a J-roller and the sill pan is complete.
More on Flashing 
A Weatherproof Window Installation – Layers of redundant flashing and sealant ensure that the most expensive part of your house is also the best protected.
Can Liquid Flashing Replace Tape? – Residential builders are beginning to experiment with fluid flashing products developed for commercial jobs.
Installing and Flashing Windows Correctly – Builder, Rob Moody, explains how to install and flash windows correctly using a pragmatic approach with worst-case scenarios and long-term durability in mind. Learn how to install and flash your windows properly, making them watertight.
Next:
How to Install a New Window